NEBDN Certificate in Fluoride Varnish Application
120
guided
learning hours
SALE

Savings End Midnight Tuesday 13th December

SALE

Savings End Midnight Tuesday 13th December
NEBDN Certificate in Fluoride Varnish Application
This Course At A Glance
Get qualified to apply fluoride varnish
Take on more responsibility in your role
Fully accredited by the NEBDN
Student support sessions included
Designed for Dental Nurses
Exams not included
About Your Course
If you want more from your career as a Dental Nurse, you can take on more responsibility by applying fluoride varnish onto the teeth of dental patients. This preventative treatment can be highly beneficial to children and adults alike. Gaining this additional skill will make you more desirable as a dental professional.
This Certificate in Fluoride Varnish Application will give you the skills, knowledge and understanding to provide effective fluoride varnish applications for your patients.
Accredited by the NEBDN, through online study and practical training you will learn how to carry out fluoride varnish treatments correctly and safely in your dental practice.
The course will cover everything you need to know from patient management to the theories and evidence relating to the application of fluoride on the teeth.
By developing in-depth knowledge you will be able to confidently explain the treatment to your patients, including its major benefits. This will allow patients to feel at ease and give their informed consent ahead of the treatment.
You will also become a source of valuable knowledge to your peers, helping them to correctly inform and recommend the treatment to other patients.
Getting Started
learndirect is the leading UK online course provider. This NEBDN Certificate in Fluoride Varnish Application, which is equivalent to a Level 4 qualification, is nationally recognised and accredited by the National Examining Board for Dental Nurses (NEBDN).
This NEBDN course is delivered through a blend of online learning as well as practical assessments. This method of study gives you the flexibility to complete your course in a way that suits you, with minimal impact on your current commitments.
The course is suitable for those wishing to further their career, become competent in applying fluoride varnish and for those wanting to progress to become Hygiene Therapists.
The course also counts towards verifiable CPD.
In addition, you will need to pay the NEBDN examination fee which is £195.00.
Modules
Unit 1: Induction
Unit 2: Maintaining good clinical practice
Unit 3: Principles of oral health promotion and disease prevention
Unit 4: Dental caries
Unit 5: Conditions of the hard and soft tissues of the oral cavity
Unit 6: Fluoride and the practical application of fluoride varnish
Unit 7: Community-based fluoride application programmes
Unit 8: Patient management and communication
Entry Requirements
You need to be a qualified Dental Nurse who is registered with the General Dental Council (GDC) or Irish Dental Council (IDC) to enrol on this course.
To complete the Electronic Record of Competence you will also need to be currently working in a dental practice and have a supportive employer who is happy to supervise and sign off on your practical assessments.
To be able to communicate effectively with patients, their families and other dental and healthcare professionals you will also need to be competent in written and spoken English.
*You will have access to the course for 12 months only, after which, you can purchase extensions through your learning platform.
Assessment
To pass the course you will need to complete a combination of written and practical assessments.
These include:
A 90-minute online written examination composed of two sections:
Part A – 45 multiple-choice questions (MCQ)
Part B – 30 extended matching questions (EMQ)
*Please note, examinations are held twice a year in March and September.
Completion of a work-based Electronic Record of Competence (eRoC) composed of three sections:
Practical Competence Assessment Sheets (PCAS)
Case studies
Supplementary outcomes
This log of experience will help you capture vital information about the oral health education you are involved in upon prescription from your Clinical Referrer. You will need a workplace witness (a GDC registered dental professional) to grade your general performance. This will be against certain competencies and you will also need to reflect on your performance and skills.
Qualifications
NEBDN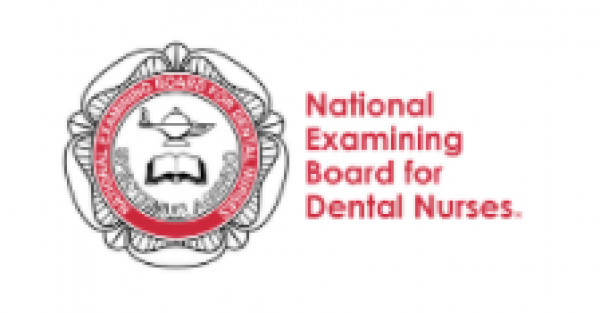 Upon completion of this course you will be awarded NEBDN Level 4 Certificate in Fluoride Varnish Application.
The National Examining Board for Dental Nurses (NEBDN) have been examining and awarding dental nursing qualifications for over 75 years. They are commonly acknowledged as the UK's finest qualification provider for dental nurses.

Developing your career
With this NEBDN Certificate in Fluoride Varnish Application you can expand your skillset, increase your employability prospects, be better positioned to advance your career and potentially command a higher wage.
Not only will you be qualified to apply fluoride varnish, you will also have the knowledge and confidence to inform dental patients and dental professionals about the benefits of the treatment. This is because the course is designed to develop your self-confidence by enhancing your skills.
In addition to increasing your earning potential, this qualification can also help you work towards a career as a Dental Hygienist or a Dental Therapist. Upon completion of your course you will be certified and ready to take the next step in your career.
Sign up to our Newsletter