GCSE courses
Nationally recognised qualifications
GCSE courses
GCSE courses
GCSE
GCSEs (General Certificate of Secondary Education) are subject-based academic qualifications. Students study towards GCSEs at secondary school in England and Wales over a period of two years, usually in Year 10 and 11, but the exams and qualifications are available to learners of all ages.
How will GCSEs affect my future studies?
Your GCSE performance is usually a good indicator of how well you'll do in A-level or other advanced studies – in fact, it's the only real hard-and-fast evidence of your academic abilities a college or university has to go on. Entry requirements for colleges and universities vary – so make sure you check with your preferred college or university what they will accept.
Most universities expect at least a grade 4 (C) in both English and mathematics, regardless of the subject you want to study.
The new GCSE grading system
GCSE grades changed in 2015 to numbers in place of letters. As you can see in the table below, old and new grades don't match up like-for-like. However, a 4 is being classified as a standard pass, which can be broadly compared to a grade C, while a 5 is a strong pass.
Grades 9-7 are roughly equivalent to the old top grades of A* and A.
See the table below to see how the new grade system compares to the previous: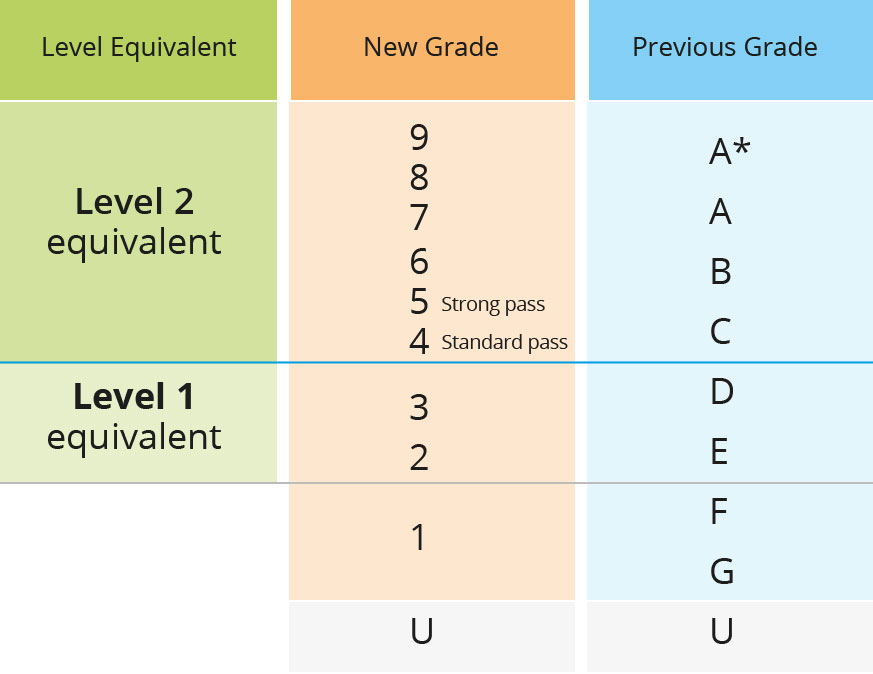 Our GCSEs
Our current offer includes English language and Foundation Mathematics.
Improving these skills will help to boost your confidence, providing you with the skills you need to succeed. Our track record is great – in our last year we had a pass rate of 72% - that's a whopping 39% higher than all other adult GCSE providers.
Over the past 5 years, learndirect has helped over 1200 learners to successfully pass their GCSE exams. We want to help you too.
All our GCSE courses are written to the Pearson EdExcel qualification specification.
Pre-registration for 2019-20 open now!
We're now accepting pre-registration for our GCSE courses starting in September 2019. There are limited spaces on our Supported courses, Tutorial and Marked Mock services so act fast to avoid disappointment. All learners who buy one of our Standard or Supported packages will get immediate access to our learning platform whereupon they can access introductory materials as well as undertake a Diagnostic Assessment. This is important to help you and our tutors understand where you are and what you need to concentrate on. On September 1st all course materials for Term 1 will be activated and available to you. Don't worry nearer the time we'll email to remind you about this and to make a start.
Now it's time to decide which option is best for you.
Fit GCSEs around your life - study online
Study at home in your own time - around your work
Take a mock exam and get marked feedback
Get extra help, if you need it, with an out of hours tutorial
GCSE support available
Access to content available 24/7

Access to our content in a unique programme catered to your individual needs, available 24/7 on all devices

Email contact with a tutor

Email contact – email correspondence with a tutor if you get stuck

One-to-one tutorials with a fully qualified tutor*
2 included
A marked mock paper with feedback
1 set included

Exam centre guidance

Exam centre guidance – helping you to find a place to take your exam

How long do you get access?
12 months
18 months
*Email support and tutorials available during office hours (Monday to Friday, 9am to 5pm)
Add-Ons
If you're learning with us and want a little extra support or another marked mock, take a look at our add-ons.
Additional marked mock with feedback: Includes a mock for all exams in the chosen subject. Our qualified tutors will mark it and provide feedback on what you've done well and where you need to revise.
Tutorials: Available both within and outside of office hours*, our one-to-one tutorials are tailored to your individual needs.
Out of hours tutorials are available on the following days and times:

Tuesday 7.00pm – 8.00pm and 8.10pm – 9.10pm
Thursday 5.00pm – 6.00pm and 6.10pm – 7.10pm
Saturday 10.00am – 11.00am and 11.10pm – 12.10pm
To book any of the above, please call 01202 006 464.