Even though we live in an age that has seen the most technological advancements and scientific breakthroughs, there is one hurdle we can't seem to break through just yet – the advancement of women in STEM subjects and STEM-related careers.  
There are multiple reasons for this, including the fact that women are still massively underrepresented in STEM careers and encouraged to take alternative routes in life. However, education plays a large part in their absence.  
Not enough STEM courses or degrees are presented as good choices for girls and women. As such, more than 3 quarters of STEM graduates in the UK are male and according to previous findings, just 30% of scientific researchers worldwide are women. 
learndirect want to help change this. That's why, in this blog, we demonstrate why both men and women should consider the science field and how we can help you get into a STEM-related career. We also run through other important elements like STEM meaning, women in STEM statistics and the empowering women who, despite the odds, are leading the way in this currently male-dominated field.  
What is STEM? 
Before we get started down the path of why is STEM important and the latest percentage of women in STEM, there is a question we need to clarify: What does STEM stand for? 
STEM education, quite simply, is a cluster of subjects that focus on four specific Science-related disciplines. These are Science, Technology, Engineering and Maths, which together make the acronym STEM.  
These disciplines collectively underpin the foundations of multiple sectors, from aviation to healthcare and more. Not only that, but due to their complex nature, students who study subjects within STEM develop critical thinking skills, become scientifically literate and advance in their innovative abilities.  
As such, STEM education is renowned for producing the next generation of engineers, inventors, scientists and industry leaders. STEM subjects then are areas of study that fall within the four disciplines.  
These include: 
Aerospace Engineering 
Astronomy 
Biochemistry 
Chemical Engineering 
Chemistry 
Civil Engineering 
Electrical Engineering 
Mathematics 
Mechanical Engineering 
Psychology 
Statistics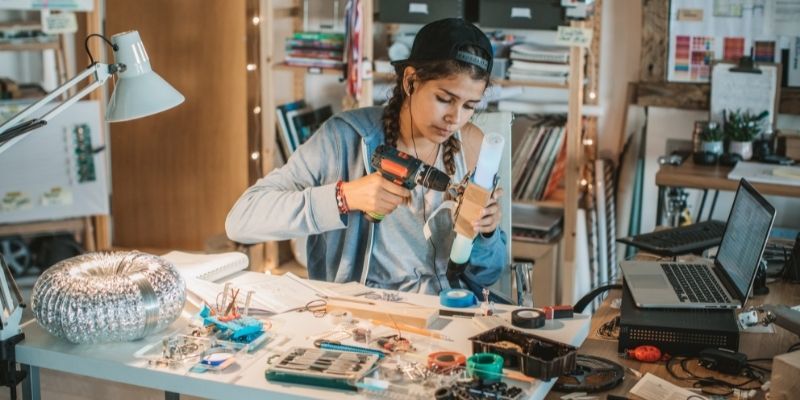 Women in STEM Statistics
Considering the range of fascinating careers that relate to the STEM disciplines, plus their ability to produce and encourage some of the greatest minds we have seen to date, you would think women, just as much as men, would be jumping at the chance to study STEM subjects.  
Sadly, this is not the case, and there is a massive gender imbalance throughout STEM subjects and STEM careers. To help you get an idea of just how wide the gender gap is, we have listed some women in STEM statistics from 2019 below: 
How Many Women are in STEM? 
Only 35% of STEM students in higher education in the UK are women 
Only 26% of UK STEM graduates are women 
The percentage of women in STEM jobs in the UK is 24% 
Computer science, engineering and technology fields have the largest gender imbalances 
From these women in STEM UK statistics, it's clear there is a lot more to be done to get more women in STEM subjects and transitioning into STEM careers. However, there is some positive news! Core STEM subjects have seen a year-on-year increase of around 1,000 female students, and government data has shown that there are now one million women in STEM careers in the UK! 
What are Some of the Benefits of a STEM Career? 
STEM subjects aren't the easiest of the academic bunch to master. They require commitment and a dedication to learning, to the point of finishing STEM qualifications and far beyond into your career.  
Why then, are we making such a fuss about people, especially women, studying the STEMs? In short, the answer to that is STEM learning can lead you to some of the most incredible career opportunities available!  
Highest Salaries 
Glassdoor reported that over their entire career, STEM-qualified workers earn about £230,000 more than their non-STEM peers. 
Flexibility 
Skills gained in the STEM fields are not only sought after but highly transferable too. For example, if you decide to change your line of work after entering a specific STEM industry (e.g., Chemical Engineering), you will be able to use those STEM skills in pharmaceutical companies, the medical industry and even in research labs. 
Even if you wanted to have a complete career change, STEM-related skills are in-demand for a wide variety of jobs outside of the STEM community, making it easy to switch lanes in the future. 
Growing Career Field 
STEM skills are in such high demand that most countries have programmes to bring in foreign talent, opening up a range of exciting and new overseas opportunities in the STEM field. It also makes it more likely to find work straight after graduation. 
Rewarding Work 
Studies have found that STEM careers are the most satisfying, with 70% of employees reporting that they are satisfied or somewhat satisfied in their current role. 
So, if you're interested in a high-tech career and are ready to embrace the world of STEM and all it has to offer, here are just a few of the courses that could help get you started: 
Science 
Women play a huge role in Science and Technology related fields, namely because, diversity in these areas of innovation and research leads to better outcomes for all.  
Diversity is essential in Science. Women bring unique perspectives to research as well as varied social perspectives, shaped by their cultural experiences, gender, age and experience. Gaining fresh insights into Science is critical to the expansion of research and the development of solutions to issues that hadn't previously been explored.  
The need for more women in Science has become so strong that an international Women in STEM Day was initiated, to recognise the critical role they play and to encourage more women and girls into this field. 
If you're scientifically minded and would like to explore this area of study prior to a Science-related career, you can study the below STEM Science subjects with learndirect:
We also provide GCSE Science courses, as well as A levels in Science STEM subjects.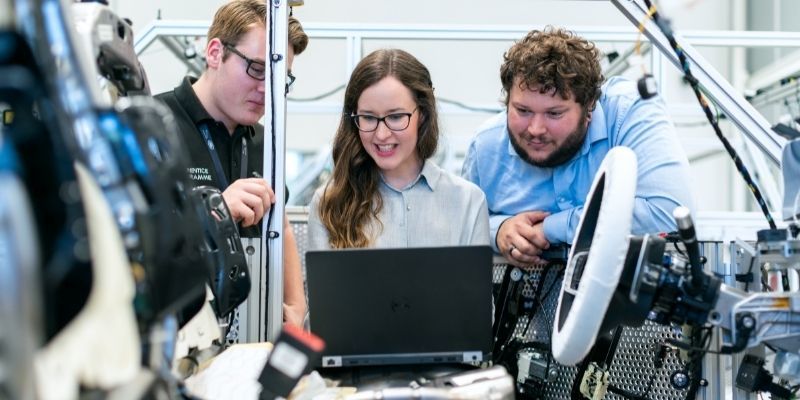 Technology 
The contribution that women have made to advancing the field of technology are well known. Famous women in STEM such as Ada Lovelace, the world's first computer programmer, Mary Keller, a nun turned Computer Science Engineer, and the glamourous inventor Hedy Lamarr, all made significant advancements to technology that have shaped how we view the world today. 
One of the many inspirational women in STEM quotes that are aimed at igniting the fire and passion in the future women of STEM includes: 
"Don't let anyone rob you of your imagination, your creativity, or your curiosity. It's your place in the world; it's your life. Go on and do all you can with it, and make it the life you want to live." 
- Mae Jemison, the first African American woman astronaut in space. 
If you have been empowered by the first women in STEM, and want to get to grips with technology, you can study online technology courses with learndirect. 
Some of our offerings include: 
Find more technology STEM courses in the IT Courses section of our website. 
Engineering 
One of the more female abundant areas of STEM is engineering. In the last ten years, women in engineering careers have doubled, going from 25,000 to just over 50,000! Despite this being a very good sign, the percentage split of women to men in this STEM field is still very low.  
The basic salary for women in engineering is around £35,000 per annum, and the industry predicts that 1.8 million new engineers will be needed by 2025, so this STEM industry needs you! 
With learndirect, you can study: 
Mathematics 
There are very few women Mathematicians. More male-dominated than other STEM areas, achievement in Mathematics often seems out of reach, and this leads many girls to abandon Math studies early on in their education. 
Some research indicates that this may be down to a matter of confidence. Despite outperforming boys overall, when it comes to Maths, girls have been shown to have particular anxiety towards the subject which sees them do worse in it compared to their male classmates.  
Studies suggest that having a more positive attitude towards Maths, coupled with encouragement from parents, families, teachers and other people of influence in their lives to study Maths, will help reduce this feeling and boost the morale around studying this STEM subject.  
If you would like to learn Maths, you can study the below Maths courses online with learndirect: 
You can also study online Maths GCSEs and Maths A Levels.  
Study STEM Subjects Online! 
The importance of women in STEM subjects cannot be stressed enough. If the gender inequality continues, society will continue to suffer from limited reach, in terms of research, perspective and experience.  
If we have piqued your interest in STEM subjects, but you're feeling slightly out of your comfort zone, one of the advantages of studying online is there's no fear of class judgment or not being good enough. 
Being an online student means your focus is on yourself and your own progress, rather than comparing yourself to others and being concerned with how you are progressing in comparison. What's more, our courses come with the added benefit of tutor support, so you can ask questions and seek guidance whenever you get stuck.  
By learning from the comfort of your own home, you have the opportunity to thrive and realise your true potential. So, why not give it a go? One short course could change your mind, your career and your life forever. 
Enrol Now 
Find out more about studying STEM courses and what they can help you achieve by talking to our Course Executives. They can run you through our entire range of Science, Technology, Engineering and Mathematics related courses, so you can choose the ones that suit your interests and your ambitions best.  
Call them now on 01202 006 464, speak to them online or click below to view our STEM-related Access courses in more detail!