Our Online Dog Grooming Course: Everything You Need to Know
We are a nation of animal lovers, with many of us looking after pets and considering them to be additional members of our families. If you adore animals – dogs in particular – and you want a career that involves caring for these four-legged friends, then consider becoming a Dog Groomer and qualify through an online dog grooming course.
A dog grooming professional does so much more than spruce up the coat of a client's dog! They help maintain a dog's hygiene health through a variety of treatments. While some may regard it as a pamper session, the essence of dog grooming jobs is providing a high level of hygienic care to a client's beloved pooch.
No two days are ever the same when working in this industry, and as a lover of dogs, you will go to work every day with a smile on your face! Here at learndirect, we provide an online dog grooming course that will get you ready for this exciting profession. Continue reading to learn everything you need to know about our online dog grooming course and the training involved.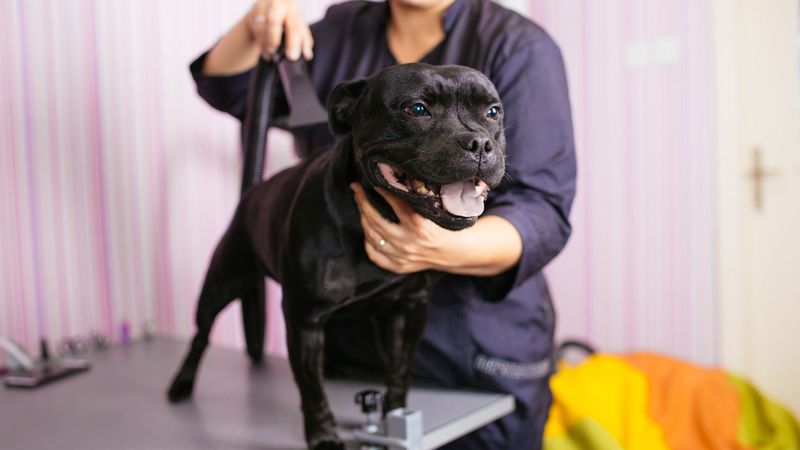 What Qualifications Do You Need to Become a Dog Groomer?
Many careers require you to go to college or university to get the qualifications you need to work in a specific role. However, for those of you keen to become a Dog Groomer, you won't have to gain a formal qualification. Instead, you can undergo a dog grooming course online.
Most employers of Dog Groomers will want applicants to have some form of training or experience, so by enrolling on a dog grooming course, you will put yourself in a strong position to secure the job you want. By getting to grips with what is involved in the role, you will be an admirable candidate.
So, while you don't need formal qualifications, undertaking a dog grooming course will be hugely beneficial in your pursuit to become a Dog Groomer.
Can You Do a Dog Grooming Course Online?
Of course! No longer will you be required to sit in a classroom and get restricted by term times when you enrol on a course. These days, learners can get the knowledge they need through online learning, which is something that we specialise in at learndirect.
In fact, we are the UK's leading online learning provider, offering a wide range of courses, including dog grooming courses for beginners. So, if you are keen to break into this industry, then let us help you. By studying with us, you will benefit from the following:
Flexible learning – With our courses being online, you can study from the comfort of your own home and in your own time, without the restrictions posed by classroom studying
Fit around your life – Most people choose not to go back into education because they have existing commitments, such as full-time work or childcare. Well, by studying a course of ours, you can fit your study schedule around your everyday life
Tutor support – With plenty of our courses being assignment based, the assessments are marked by experienced tutors, who will help you navigate through your chosen course
Industry-leading platform – Through our easy-to-use student portal, you will have access to all the course materials you need to complete the course and get your qualification!
You will benefit from the above list when you enrol on our online dog grooming course.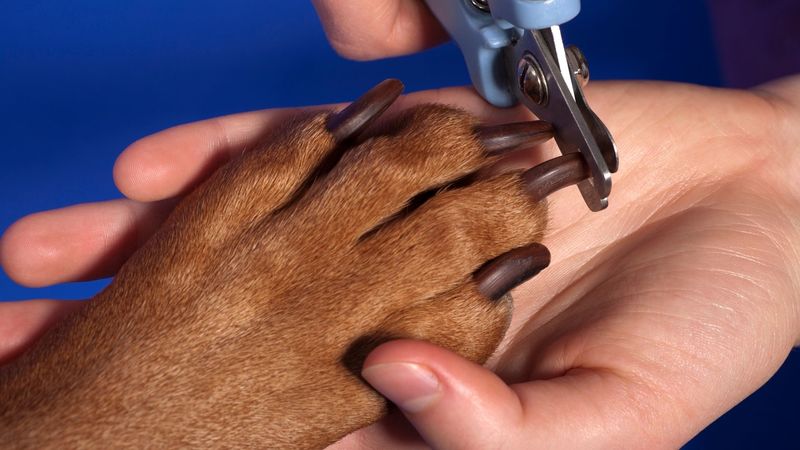 How to Become a Dog Groomer Online
At this point, you will know that it is possible to undergo dog grooming training through an online course, and ours is an ideal choice! If you're wondering how to become a Dog Groomer, and you are seeking dog grooming courses for beginners, then consider our Introduction to Dog Grooming Level 3 Award (RQF).
This course will provide you with essential techniques required in the role of a Dog Groomer, and you will delve into the importance of maintaining the health and well-being of dogs during your course. You will also benefit from the following while studying our dog grooming course:
Five days of practical training at an established dog grooming school
An Ofqual regulated Level 3 qualification
The dog grooming course is accredited by iPET Network, which is a regulated organisation that focuses on enhancements in the care and welfare of canines, felines, and other animals. By studying this course, you will be prepared to enter the working world as a qualified Dog Groomer.
What are the Entry Requirements?
To enrol on this dog grooming course, you do not need to meet any requirements, other than being at least 16 years of age. There is no need for qualifications or previous experience. Please note that you will need to have your own grooming equipment when you begin the practical element of the course.
What Will You Learn?
Your course will be split into two units, which we have outlined below:
Unit 1: Health and Safety in a Dog Grooming Environment
During this part of the course, you will learn the following:
How to promote and maintain the welfare and health of dogs and animals
The health and safety requirements of a dog grooming salon
How to use and clean equipment as well as how to perform risk assessments
Unit 2: Prepare, Style and Finish a Range of Dog Breeds
When you reach this stage of the dog grooming course, you will learn:
How to groom, style, and finish different dog breeds
The techniques and equipment needed for each coat type
How to handle varying sizes and shapes of dogs
The techniques required to safely bathe and dry canines
How to groom at least 3 dogs with 2 different types of coat
The majority of your course will be completed online, but you will get an opportunity to put your skills into practice. This is because our dog grooming course includes five days of practical training at a training school in Winsford, Northwich.
During the practical element of your course, you will learn from experienced professionals who will train you, giving you the opportunity to get hands-on experience. This part of the course consists of the following:
Groom at least three dogs
Experience grooming two or more different breeds
Perform grooming techniques on two types of coats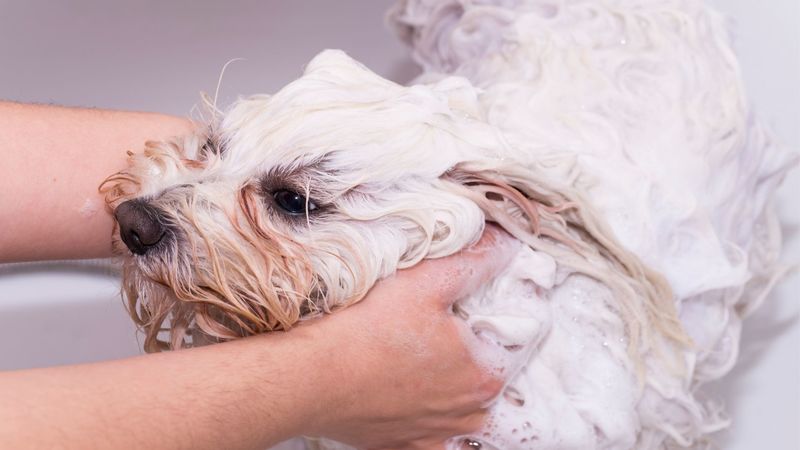 How are You Assessed?
There are two methods of assessment in our dog grooming course, but in neither will you have to do an exam! We have outlined our course assessment details below:
Unit tasks – Once you have completed each course unit, you will be tasked with a series of quizzes, activities, and essays. There will be additional course assessment methods based on the units studied
Five-day practical – During the practical element of our course, you will be assessed and supervised by experienced professionals
What Qualification Will You Receive?
Upon successful completion of your course, you will be issued with an Introduction to Dog Grooming Level 3 Award. This qualification is accredited by the iPET Network, which is an awarding organisation regulated by:
Ofqual
CCEA Regulation
Qualifications Wales
Is it Difficult to Learn Dog Grooming?
This is one of the first questions you are likely to ask yourself when wondering how to become a Dog Groomer. Dedicated courses will give you an idea of what to expect, but the difficulty level is dependent on your abilities and application.
There is no doubt that working as a Dog Groomer requires a level of physicality, particularly when dealing with large dogs, so you need to be comfortable in handling this. As well as the skills and techniques of dog grooming, you also need to possess the following:
A passion for animals
Ability to work well with your hands
Calmness in stressful situations
Strong communication skills
Patience and attention to detail
How Long Does it Take to Complete a Dog Grooming Course?
With our dog grooming course being delivered online, aside from the practical element, you have the freedom to learn at your own pace, which means you could get qualified in a matter of weeks! Remember, you can:
Study each unit from your own home
Fit your education around your existing commitments
How Much is a Dog Grooming Course, UK?
The cost of courses can vary, but with learndirect, we offer flexible payment options that will suit your budget.
Do You Need a License to be a Dog Groomer, UK?
Once you have completed your dog grooming course and got the qualification you need, you may be wondering if you require a licence to operate as a Dog Groomer. Well, you don't! Though, it is important to make yourself aware of animal welfare legislation.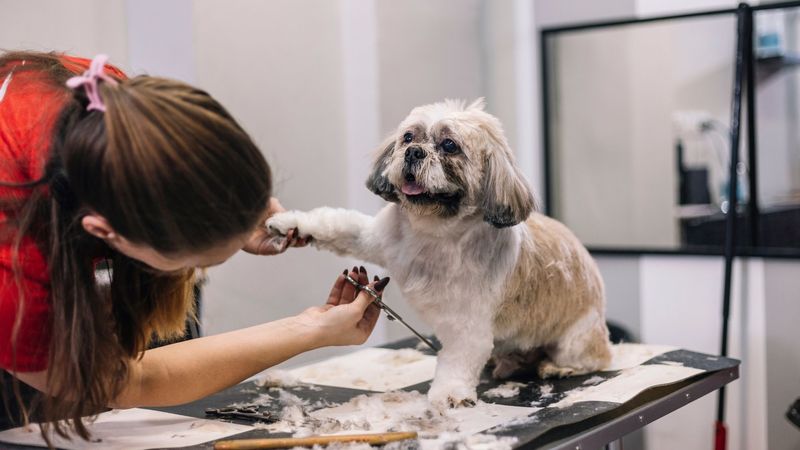 Are Trainee Dog Groomer Jobs Available?
Some salons do offer trainee Dog Groomer jobs, enabling you to learn as you go. However, one of the best routes to the role is through a specialist dog grooming course.
How Much Does a Self-Employed Dog Groomer Earn, UK?
After studying our course, you may want to go down the self-employment route. If you do, then your earning potential could be higher than that of an employed Dog Groomer at a salon. In fact, you could charge between £20-30 per treatment as local mobile dog groomers.
If you pursue a role within a salon after completing our course, then you should expect the following salary structure:
Average salary: £18,244 pa
Salary range: £13,000 - £20,000 pa
Enrol On Our Online Dog Grooming Course
If you are wondering how to become a Dog Groomer, then the first step you need to take is to enrol on our dedicated dog grooming course. Keep in mind, though, that we here at learndirect don't offer just the one course. We boast a range of courses, including the following:
Each course is regulated and recognised, and as soon as you enrol, you will be able to begin your learning journey! To get your career started or to learn more about our courses, choose one of the two options:
You can also keep track of all animal awareness days and events with our FREE calendar! Download it here.