For any dog owner, they will know instantly the importance of looking after a pet pooch because our four-legged friends are more than just a pet, they are a member of the family. Just like humans, dogs go through physical and emotional struggles that can take their toll. Fortunately, there are solutions in the form of treatments and practices. Canine massage therapy is one such treatment that is hugely beneficial to dogs of all breeds.
A canine massage is a treatment that is designed to provide relief to dogs who are feeling challenged in their everyday lives. If you are passionate about dogs and would like to learn how to provide this essential treatment, then continue reading. 
Below, we have identified the canine massage therapy courses UK learners can enrol on to kickstart their career. You will delve into the benefits of the canine massage and the steps you can take to achieve your career goal. 
What is a Canine Massage? 
Canine massage therapy is a therapeutic process that focuses on a dog's soft tissues within its body. When a dog is dealing with a physical problem, such as muscle soreness, then canine massage therapy will relieve their pain and treat the problem. 
Physical issues can crop up in these animals for various reasons, such as injuries and old age. By performing a canine massage, you can target the problem and provide some much-needed relief and mobility improvements. 
Many people assume that any struggles a dog experiences are solely physical, but that is far from the truth. Like their human owners, dogs deal with emotional problems, such as chronic stress. With the help of canine massage therapy, their symptoms can ease, and they can live a healthier life. 
How to Learn Canine Massage Therapy 
Before learning the practical elements of canine massage therapy, you need to understand the purpose, benefits, and the effects of delivering a canine massage. Only then can you progress on to learning the physical process of the therapeutic discipline. 
Traditionally, most canien massage courses, UK learners, would have to be studied in a classroom during term times, but you can undertake canine massage therapy courses online. With learndirect, you can study canine massage therapy through a blend of online learning materials and a practical skills demonstration.  
The Canine Massage Level 3 Diploma (RQF) is an Ofqual regulated course that gives learners the knowledge, skills, and techniques they need to work as a Canine Massage Therapist or set up their own canine massage business.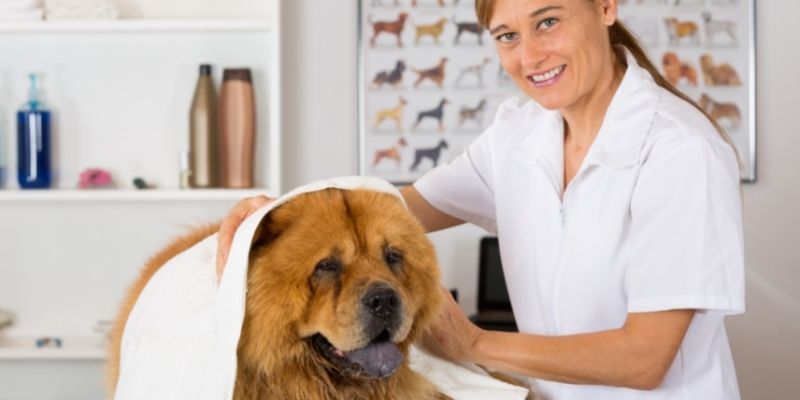 What is Covered in Canine Massage Therapy Courses? 
Enrolling on canine massage therapy courses is the best route to reaching your career goals in this sector. Our canine massage courses, UK learners, are comprehensive and cover a wealth of important aspects related to the discipline, including the practical elements and the beneficial outcomes of performing this therapeutic treatment. 
Our Level 3 Diploma will delve into various topics, including the following: 
Canine anatomy and physiology 
How to handle canines 
Canine behaviour in therapeutic environments 
Tissue healing 
How to treat orthopaedic and neurological conditions through therapy massages 
Aquatic massage 
As well as the above, you will also cover the below in your canine massage therapy courses: 
Advanced massage and soft tissue techniques 
Professional practice and multidisciplinary approaches 
Customer service 
Business management for canine massage therapy 
The practical application of canine massage treatments 
Keep in mind that to undertake this course, you need to be aged 16 or older and you must have GCSEs or Level 2 Functional Skills equivalent in Maths and English. Once you have enrolled on one of our canine massage courses, UK learners should know that they have two years to achieve the qualification. 
Even though the course needs to be completed in two years, you can finish it at a pace that suits you. This is due to the flexible online learning solutions presented. To obtain your Level 3 Diploma and begin your career in canine massage therapy, you will need to complete a series of tasks.  
All learners will have to complete internal assessments online at the end of each unit, and they will also need to complete a practical skills demonstration, which is held on the Isle of Wight or in Warwickshire. 
To pass your canine massage therapy course, you will need to achieve 84 credits. 
Benefits of Canine Massage Therapy  
Canine care extends to an array of different treatments, and when it comes to the benefits of canine massage, they are vast and extensive. If you are considering whether it is worth enrolling on canine massage therapy courses, then consider the many benefits that it will bring to the dogs that receive them. These include: 
Relaxing muscular tension 
Speeding up the recovery process from injuries or illness 
Assisting with the release of toxins 
Maintaining flexibility of joints 
Improving the efficiency of the lymphatic system 
Stimulating the sebaceous glands 
Improving gait faults 
Calming dogs that are struggling with anxiety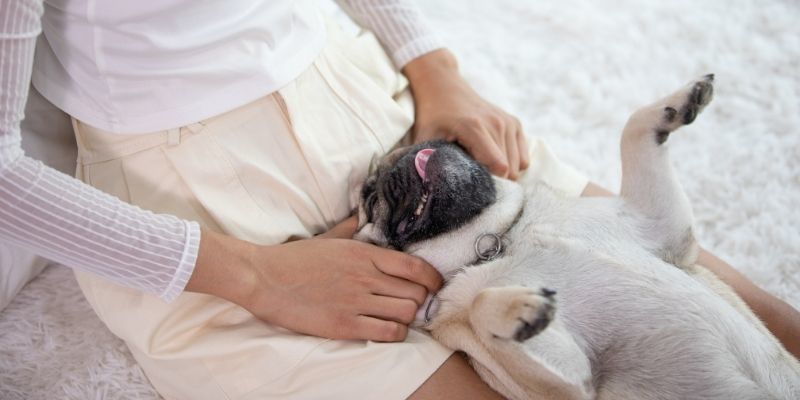 Canine Massage Career Options 
For anyone interested in pursuing a career in canine massage therapy, then the natural step is to gain professional status and work in this sector. Once you have qualified through canine massage therapy courses, you can either work as part of an organisation or set up your own business. 
If you go down the latter route, then there are a few things you need to take into account when planning the set up of your canine massage therapy business. These include: 
The UK licensing rules and requirements 
The market demand for canine massage therapy services 
Whether you are going to work as self-employed, in a partnership, or as a limited company 
Discuss your plans with an accountant  
Get Started! 
If you have a passion for dogs and would like to learn an essential therapeutic discipline that helps maintain the well-being of dogs, then obtaining the Canine Massage Level 3 Diploma will kickstart your journey. You will be able to use this qualification to perform this role either as part of a company or for your own canine massage therapy business. 
To learn more information about our canine massage courses, UK learners should speak to one of our Course Executives by calling 01202 006 464. Alternatively, you can contact us online or enrol on your chosen course by clicking below. 
You can also keep track of all animal awareness days and events with our FREE calendar! Download it here.