Busting Myths About Teaching Assistants
As a job that only began to surface in the 1960s, a lot of mystery still surrounds the role of a Teaching Assistant (TA). Unless you have worked in Teaching Assistant jobs yourself, or know someone close to you who has, it's hard to know exactly what the role entails.
This has led to a fair few myths and misconceptions being attached to the career, which have the potential to put people off pursuing this line of work or give them a negative opinion about the work they do.
As such a valuable role in the education sector, these myths must get debunked so people can see these everyday heroes for who they really are. To help, we've listed the most common Teaching Assistant myths below and the facts around them.
Being a Teaching Assistant is a Doss Job
One of the most frustrating myths about Teaching Assistants is that the job is easy or attracts those that have a natural aversion to work. Many people are of the opinion that the TA is more of a classroom attendant, and they are there to clean up, do the odd bit of admin, and not much else.
The truth couldn't be further from it! A Teacher's Assistant, at any level, has an important and active role in facilitating the learning of all pupils in the classroom. They have to be switched on and engaged in every lesson, recommunicating the teachings in ways that suit the learning style of the pupils who are struggling, so that they get more out of each lesson and advance their understanding.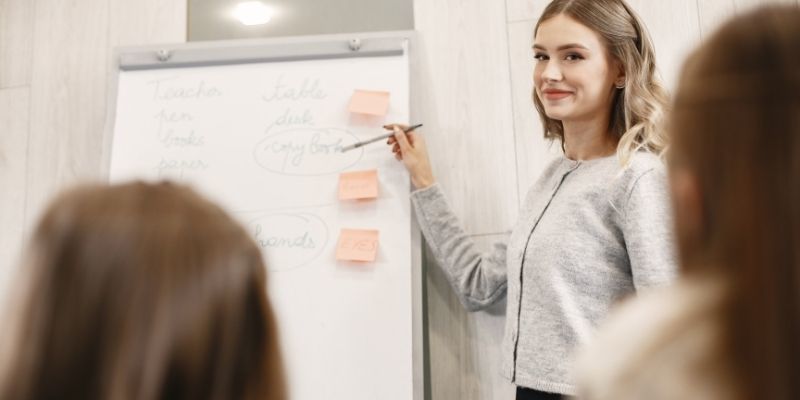 This means they need to be highly intuitive and have excellent people skills, to read children and discover what they need, without them necessarily telling them what that is. Teaching Assistants also help keep the peace when rumbles of disruption begin to show, helping the Teacher remain focused on delivering the valuable lessons that each child needs to progress.
Overall, the role of a Teaching Assistant is to help the learner make the most of their time in the education setting, both academically and personally. So their support stems further than the classroom as they are on hand whenever a pupil needs educational or emotional support.
A Teaching Assistant is Just a Tutor
While both Tutors and Teaching Assistants support learning, they have distinctly different roles and methods of doing so.
For one, Teaching Assistants work in the classroom during school hours, providing support to a number of learners during lessons taught by a Teacher. Private Tutors, on the other hand, tend to provide one-on-one support to learners in either the pupil's home or their own, though they can be found working in some schools.
For this reason, you will find many Teaching Assistants supplementing their daytime job with private tuition. The benefit of tutoring for the learner is their session is completely tailored to their learning styles and the specific tasks or assignments they need help with. Rather than a Teaching Assistant who typically supports the learning of a larger number of pupils at once.
You Will Never Lead a Class As a TA
This again is untrue. If you find yourself working in a Teaching Assistant job and you develop the desire to lead a class, you don't have to become a Teacher to do this. You can train to be a Teaching Assistant at different levels, with the highest being a Higher Level Teaching Assistant (HLTA).
As a Higher Level Teaching Assistant, you cover all the same responsibilities as Teaching Assistants at other levels, but you also have an increased level of responsibility. A perfect example is that you can teach classes by yourself, fulfilling this need to plan and deliver lessons without becoming a Teacher.
You can also cover Teacher absences both unplanned and planned so that the Teacher can have more time to plan their own lessons and mark work.

It's a One-Dimensional Job
It really isn't, there are so many ways you can position yourself as a Teaching Assistant. Besides opting to work with children and young people in primary and secondary schools, you can also work with adult learners in higher education settings.
In addition to this, you can take additional Teacher Assistant training to help learners with specific needs. For example, SEN Teaching Assistant courses allow you to become a Specialist Support Teaching Assistant. In this role, you can work specifically with learners who have problems with their speech, have dyslexia, dyspraxia, autism, other conditions, or a combination of conditions that make it hard for them to read, write and understand.
With this specialised Teacher Assistant training, you can work in public or specialist schools with a small group of pupils, or work one-on-one with learners and focus your attention on supporting their specific needs.
Similarly, this CACHE Level 3 Teaching Assistant course has a specific focus on giving you the skills to support Bilingual learners in a classroom. So, you can help children who speak English as an additional language settle into school quicker and enjoy their learning.
All Teaching Staff Need a Degree
If you're wondering what qualifications do you need to be a Teaching Assistant, UK learners, you'll be pleased to know university isn't a necessary step for this role. While needing a degree is true for Teachers, you don't need a degree to become a Teaching Assistant, even though many Teaching Assistants are degree level qualified.
In fact, it is completely possible to start Teaching Assistant jobs with a Level 2 qualification in English and Maths. Though, since it's a popular career choice, it's highly recommended you complete a Teaching Assistant certificate or diploma to gain the desirable skillset that is required. Plus, completing specific Teacher Assistant training, UK learners, especially at the higher levels, enables you to move into more senior Teaching Assistant jobs right away.
There Aren't Any Teaching Assistant Jobs
This again is a complete myth! There are in fact Teaching Assistant jobs available in abundance throughout the UK. At the time of writing, over 17,000 Teaching Assistant jobs were advertised on indeed.com, with many requiring an urgent start.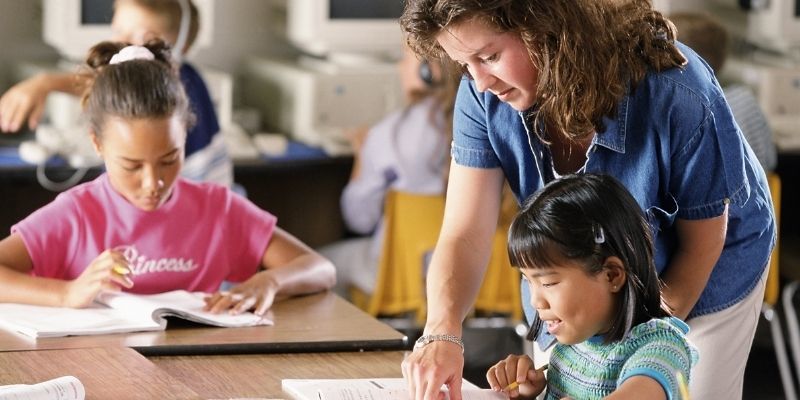 This is because Teaching Assistants are the most sought after in the early years and education sectors. Perhaps finally debunking the myths surrounding the role will encourage more skilled people who thrive on helping others, to finally take steps towards this essential career.
Train to Become a TA Online
If now you have heard the truth behind the myths surrounding the Teaching Assistant role, you fancy pursuing this career, learndirect can give you the knowledge required to make a start.
Our range of online Teaching Assistant courses can prepare you for Teaching Assistant roles at all manner of levels, as well as give you the specialist knowledge to work with learners with specific requirements.
We also have complementary courses on child behaviour, child psychology and more, that can boost your knowledge and help your CV stand out against the rest.
Whatever course you choose, opting for online training courses will make your transition into a Teaching Assistant role much more convenient and attainable. With no classes or timetables to stick to, you complete your Teaching Assistant training when it suits you. So there's no fear of prior commitments getting in the way of you and your goals.
Whether you want to study a Level 3 Teaching Assistant diploma, become a HLTA or study SEN courses, UK learners, we have training online courses to suit.
Find out more about how to become a Teacher Assistant now by calling our Course Advisors on 01202 006 464 or by contacting us online.