How to Become a Specialist Support Teaching Assistant 
School should be an enjoyable learning experience for all pupils. Where some may have additional needs, or Special Educational Needs (SEN) as they are otherwise known, Specialist Support Teaching Assistants help them to take full advantage of their education. 
If you're asking yourself 'What is SEN?', these are special needs and learning difficulties that can make it hard for some children to read, write and understand. These can include anything from problems with speech to dyslexia, dyspraxia, autism and other individual conditions, but it can also be a combination of conditions. All of these pose their own challenges. 
Teachers do an excellent job of imparting vital knowledge to young minds. Though with so many pupils to attend to, it isn't possible for them to cater to the individual needs of SEN children and young people. That's why SEN Teaching Assistants are such a vital cog in the education system.  
Find out more about this important role and how you can facilitate the learning of pupils in SEN schools and other educational facilities below.  
What is SEN Teaching Assistant?  
SEN Teaching Assistants, or Specialist Support Assistants as they are often referred to, work with a smaller number of pupils or provide one on one assistance. This allows them to focus their attention on the needs of the individual. Creating a positive bond with them so they can adapt the lessons in ways they will relate to. 
Their duties extend past the general tasks of a Teaching Assistant. An SEN Teacher Assistant still prepares lesson materials and supports Teachers, however, they take more of an active role in supporting the specific needs of SEN children. 
These SEN Teaching Assistant responsibilities evolve in response to the developments of each pupil. That's why it takes an intuitive individual to respond and react effectively, knowing what is required of them without instruction.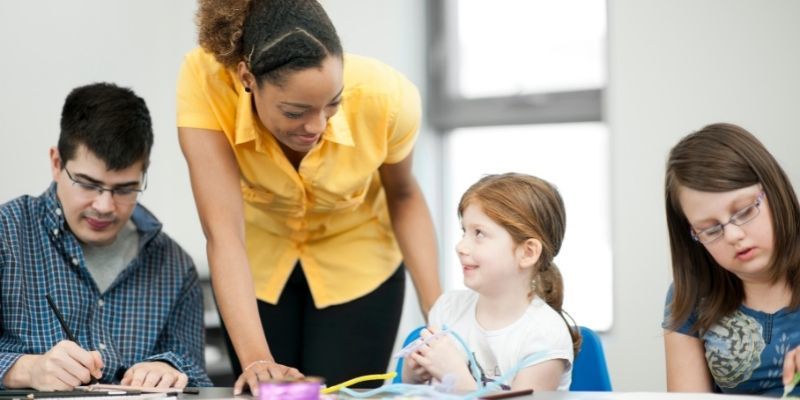 Specialist Support Assistants form a unique bond with the SEN children they work with, often advocating on their behalf. They communicate triumphs and setbacks with the wider SEN support network, allowing them to replicate successful learning strategies elsewhere. 
These skills are not something that comes with every Teaching Assistant qualification. So be sure to check that yours delivers this before you enrol. 
What Makes a Good SEN Teaching Assistant? 
There are certain qualities that are valued in any kind of Support Teacher. However, due to the complex needs of SEN children and young people, there are essential skills you need to possess to be successful in SEN Assistant jobs.  
These include: 
Being adaptable – Planning is key in any Teaching Assistant role, though, for SEN Teaching Assistants you must be prepared to drop these plans and adapt your approach should the needs of SEN pupils require something different 
Be patient, positive, and persevere – SEN Teaching Assistant jobs can no doubt be highly rewarding, but they aren't without their challenges. SEN students typically take longer to teach and repetition is often required on your part to build their knowledge. You need to be comfortable with this long road to results and be enthusiastic about their entire learning experience along the way 
Creating a comfortable routine – SEN students often feel most at ease when they have a routine they are used to. They can also be especially sensitive to their surroundings, so it's imperative you create a learning environment that calms them and allows them to thrive 
Form a positive bond – As an SEN Learning Support Assistant, you will often work closely or one on one with SEN pupils. The classroom is likely a less comfortable environment for them, so you need to build a strong rapport so you can learn everything possible about their personalities, learning styles and needs 
How to Become a SEN Teaching Assistant 
If you want to know how to become a SEN Teaching Assistant, there is no set route to get into SEN Teaching Assistant jobs as every school sets its own entry requirements. In most cases, you will need GCSEs in Maths and English at grade C/4 or above at least before you look towards any method of securing employment. 
Once you have these qualifications, you can make your way into Assistant SEN Teacher jobs via: 
A college course 
An apprenticeship 
Apply directly 
Volunteering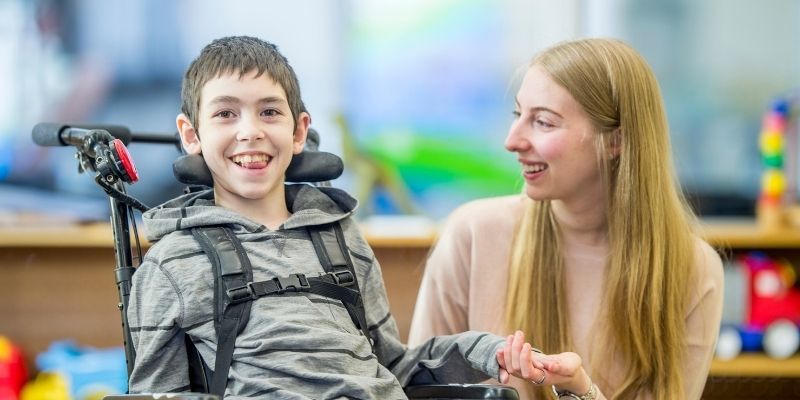 The most efficient and effective way of becoming an SEN Teaching Assistant, however, is by studying SEN courses that give you the knowledge and skills to cater to the specific needs of SEN students. That way, employers will know instantly that you have what it takes to help their learners get the most out of their time in school. 
Study SEN Courses 
The Level 3 Diploma in Supporting Teaching and Learning combines online education and hands-on experience to get you classroom ready. 
The modules teach you everything from safeguarding to recognising and responding to transitions in children's and young people's lives. 
They also take a detailed look at the principles of inclusive practice. This includes the rights of disabled children and young people and those with special educational needs. 
It will teach you how to understand the requirements of pupils with emotional, behavioural, social development, sensory and/or physical needs. 
Through a mandatory work placement, you'll experience the classroom first-hand, giving you the chance to apply your learning. This is a valuable aspect of the SEN training since most SEN Teaching Assistant positions ask for previous experience. 
Your application will offer an SEN qualification that demonstrates your value. You'll also be able to back it up with real-world examples of how you put your SEN learning into practice. 
With a revised syllabus, you can be assured you're learning in line with the latest SEN code of practice and educational methodologies. 
Awarded by the NCFE and recognised by Ofqual, this SEN course is looked upon favourably by employers of SEN Teaching Assistants. Upon successful completion, you can apply for specialist support roles in: 
Nurseries 
Infant schools 
Special schools 
Secondary schools 
Independent schools 
You can also take on more responsibilities as a Teaching Assistant or put your qualification toward a foundation degree. This provides you with the opportunity to work your way toward becoming a qualified Teacher. 

Why Study SEN Courses Online? 
If you want to become a Specialist Support SEN Teaching Assistant, opting to study your SEN training courses online provides you with the most flexible way of making this career switch.  
learndirect is the UK's leading distance learning provider. By studying SEN courses with us you will benefit from: 
Online learning – Our SEN courses are delivered online, so you can make your way through the theoretical elements of the course from the comfort of your own home. All you need is a laptop or computer and a stable internet connection to get started 
Learn on your terms – With no classes or timetables, you are in control of your learning journey. No matter if you have children or family to care for, or existing work commitments, you can fit your studies around them with ease!  
Tutor support – We have professional tutors who are experts in their field on hand to help you throughout your learning journey. Should you need help or advice, reach out to them through our industry-leading learning platform!  
Enrol Now 
Why wait? If you want to become an SEN Teaching Assistant, learndirect has the courses and tutor support that will put you on the path to a successful and rewarding career. 
Get the qualification you need to provide specialist support as a Teaching Assistant. Enrol online today by clicking through to our online SEN course below or speak to our Course Advisors for more information on 01202 006 464 or by contacting them online.