A Breakdown of the Role: Teaching Assistant
If you're at a crossroads in your career and thinking of making a switch, you're no doubt looking for a new job that ticks a lot of boxes. Though, career ideals can be different for everyone depending on what they value and need.
Most people, however, would jump at the chance to secure a job that is rewarding and enjoyable, but also makes a difference and doesn't weigh them down with work they need to take home with them.
One such job that ticks all these boxes is working as a Teaching Assistant, or TA as they are otherwise known. This is a job that is far removed from the regular 9-5 and is becoming increasingly in demand as society further understands the value of the role of a Teacher's Assistant in the education system.
These reasons among many more are why so many people are looking to change their careers in the pursuit of Teaching Assistant jobs. If you think you would enjoy inspiring young minds as a Teacher's Assistant, this could be the opportunity you've been looking for!
To help you decide and answer the question of 'Would you like to be a Teaching Classroom Assistant?', we've answered common questions about this role below, from 'What is a Teaching Assistant?', to the duties they can perform and what you need to make a start in this career.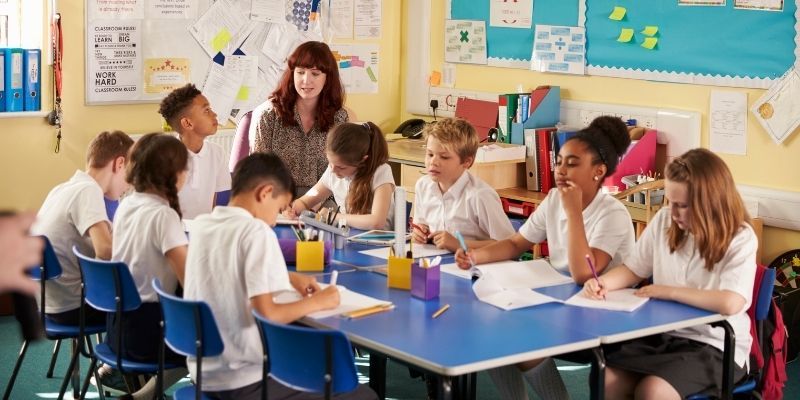 What Does a Teaching Assistant Do?
The role of a Teaching Assistant is incredibly varied, which is one of the main draws for people who can't stand a mundane routine. Your tasks will vary depending on the school you work in and the needs of the pupils you support, especially in the case of Special Educational Needs (SEN) pupils.
As a Teaching Assistant, you will be on hand to provide help and support to the Teacher and pupils when needed. You may be asked to work one-on-one with pupils with behavioural issues, special education needs or those requiring a little extra help. In some cases, while working as a Teachers Assistant, you could be required to assist pupils with physical disabilities move around the school.
You will mostly be helping pupils to better understand the lessons the Teacher is delivering after completing Teacher Assistant training. Perhaps explaining concepts in different ways they may understand better, or helping them figure out the answers to questions. You can expect most of your Teaching Assistant role to take place in the classroom, though you could also be asked to help supervise play and lunchtimes, class outings, or outdoor activities like PE.
As such a wide-ranging role, being adaptable is essential as a Teachers Assistant, as is knowing when to step in and offer your support. You will also need to be proactive and able to work well on your own, just as much as you need to effectively collaborate with others when necessary. With many children in the classroom at any one time, you also need to have your eye on the ball and solve problems swiftly as they arise.
How Do Teaching Assistants Support the Curriculum?
In short, Teaching Assistants help pupils gain more out of their education. Previously, Teachers would have had a hard time making sure each pupil in an often max capacity class fully understood every element of the subject being taught.
Now, with the additional support of a Teaching Assistant, pupils have much more chance of fully comprehending subjects and enhancing their knowledge. TAs can break down the lesson to suit the learner style of the pupils they work with, they can also help with tasks like lesson preparation by providing the Teacher with a more detailed insight into how each pupil likes to learn.
When Did Teaching Assistants Begin?
Teaching Assistant jobs first began to emerge in the 1960s, but they were first referred to as 'aides', 'helpers' or 'auxiliaries'. Now, the role is commonly referred to as 'Teaching Assistant', and there are numerous hierarchical levels within this role, from Teaching Assistant Apprenticeship all the way to a Higher Level Teaching Assistant.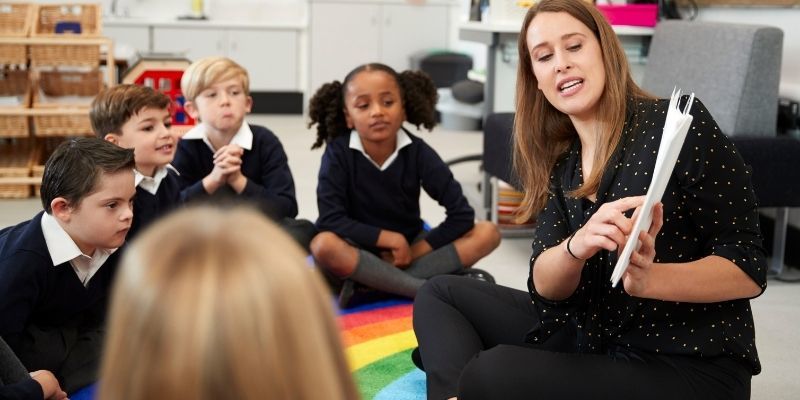 How Many Teaching Assistants Are There in the UK?
Around 244,000 Teaching Assistants are working in the UK today, and you can find them in most junior schools. The number of TAs has trebled since the year 2000, however, there is a cry for more Teaching Assistant jobs to be created as they are so beneficial in the facilitation of education.
Can Teaching Assistants Teach a Class on Their Own?
Yes, but only those who have qualified as a Higher Level Teaching Assistant (HLTA). Higher Level Teaching Assistants can teach classes on their own, cover absences and alleviate the workload of the Teacher by taking some lessons.
All other Teaching Assistants are employed to support the classroom function and help the Teacher where required. Should a Teacher be sick or unavailable, TAs can be called upon to supervise a class, though any extended period of absence should be covered by a Supply Teacher.
How Much Does a Teaching Assistant Earn?
When deciding on a new career venture, one of the main factors you will consider will no doubt be what you will earn. As such, many people considering becoming a Teachers Assistant will be wanting to know how much do Teaching Assistants earn. UK learners will be pleased to know, the Teaching Assistant salary increases with experience.
Level 1 entry-level Teaching Assistant jobs usually start around £17k, when you progress to Level 2 Teaching Assistant jobs this can go up to £20k and Level 3 Teaching Assistants can earn £25k per year.
This has the potential to increase with further Teacher Assistant training and progression to more senior and Higher Level Teaching Assistant jobs.
Do Teaching Assistants Get Holiday Pay?
Not always. The way you get paid as a Teaching Assistant will depend on where you work, your roles and your responsibilities. Though many Teaching Assistants are paid term-time only wages, in this case, you would not get holiday pay.
Can a Teaching Assistant Sign a Passport?
Certain official documents and passport photographs need to be countersigned to prove the identity of the person they are for. The government strictly limits the countersigning ability to certain individuals in society, one of which being 'a person of good standing in their community' or someone who 'works in (or be retired from) a recognised profession'.
Teachers and lecturers fall into this category, but Teaching Assistants are not able to sign a passport or other documents that require countersigning.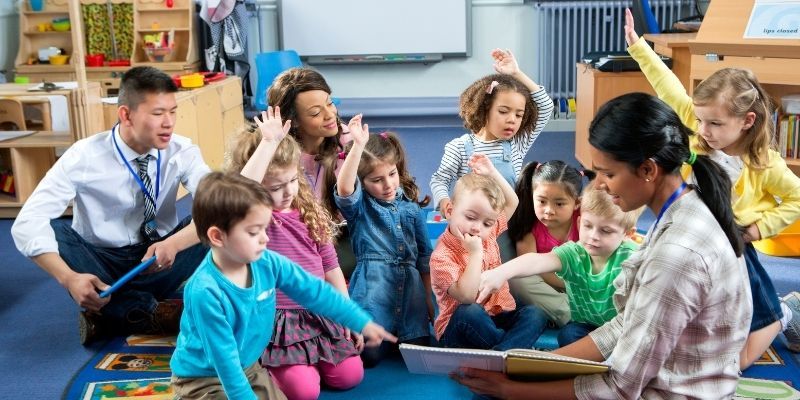 Are Teaching Assistants Key Workers?
When it comes to listing who is a key worker in the UK, the government have stated that the education and childcare profession does fall into this category and workers include:
Childcare
Support and teaching staff
Social workers
Specialist education professionals who must remain active during the COVID-19 response to deliver this approach
As such, Teaching Assistants are classed as key workers in the UK.
What to Wear as a Teaching Assistant?
Unless there is a set uniform, it's hard to know what to wear in a new job until you get a feel for the workplace culture and overall vibe. Some workplaces are more casual than others, but when it comes to educational establishments, you want to make the best impression and get it right from day one.
For this reason, you are probably wondering 'What do Teaching Assistants wear?'. While there are no hard and fast rules, a good guide for a Teachers Assistant would be to dress:
Comfortably
Practically
Smart
It may sound like a hard mix but you need to make sure you are presentable, appropriately covered and able to move around freely and be on your feet for long periods of time.
What Questions Should I Ask at a Teaching Assistant Interview?
A huge missed opportunity in an interview is not posing questions to the interviewer when prompted. So, when the end of your Teaching Assistant interview comes around, make sure you are armed with some pre-prepared questions.
This is your time to ascertain the school's culture, management style and ways of working in more detail. Remember, you aren't being difficult, you are showing interest and making sure both you and the school are the right fit for each other.
Some questions that are good to ask during a Teachers Assistant interview include:
Do you encourage further training for TAs in your school?
How is the teaching team structured?
What are your student discipline processes?
Where do you see the most value in your TAs?
What are the schools' key challenges and how would I be able to help overcome them?
How will you review and assess my performance?
Make sure to note things down during your interview too, as there may be things you pick up on that you would like to clarify. This is a great tip as it proves you have paid attention throughout and are actively interested in what the interviewer has to say.
Read our blog for inspiration on how to answer the questions the interviewer may ask you.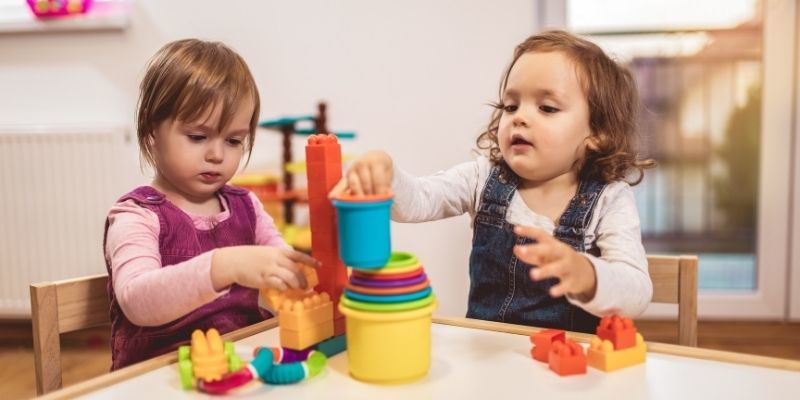 What Time Do Teaching Assistants Start Work?
A great perk about being a Teaching Assistant is the working hours, which cater perfectly to working parents and those who love to have their evenings and weekends to themselves.
As a Teaching Assistant, you can expect to work during school hours, so roughly between 8.30am to 3.30pm, though, there can even be flexibility in this. Teaching assistants only work in term time too, so you will always have the school holidays off for down-time or to spend them with your own children.
You can pick up more hours if you help support before or after school activities like after school care or breakfast service. You might also be called upon to attend parents evening and the odd training event.
For Teaching Assistants who want to pick up extra hours during the holidays, it would be well worth approaching the school in regards to helping with summer school activities.
Many TAs are also employed on a part-time basis, so you can certainly cater this career around your lifestyle.
How to Become a Teaching Assistant
If you like the sound of this career, you are no doubt wondering 'What qualifications do I need to be a Teaching Assistant?', or how to become a Teaching Assistant with no experience. UK learners will be pleased to know that there are minimal barriers to entering this career.
You don't need a degree to become a Teaching Assistant, so that means transition into this career can be extremely quick. While qualifications and experience in childcare, nursery, youth work and play are looked upon favourably, they aren't an essential requirement. So, it is entirely possible to become a Teaching Assistant without qualifications or prior experience.
You can get started in entry-level Teaching Assistant positions so long as you have basic literacy and numeracy skills, usually GCSEs or equivalent at grade C/4 or above.
However, if you want to work your way up the ranks as a Teaching Assistant, stand out against the crowd of other applicants and earn a higher wage, getting qualified is the best bet. learndirect provide a host of Teaching Assistant courses at different levels, to help you move directly into higher responsibility roles. By enrolling on an online Teaching Assistant course, you can learn how to become a Teaching Assistant at your own pace.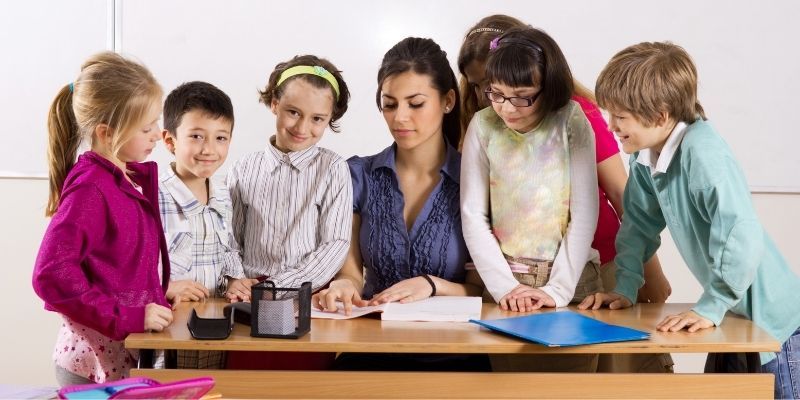 How To Become an SEN Teaching Assistant
One of the additional and valuable skillsets you can gain as a Teaching Assistant is the ability to effectively and professionally support pupils with Special Educational Needs (SEN). As these needs can be complex and challenging, schools look for specialist support teaching assistants to help SEN pupils to take full advantage of their education.
This takes specific Teacher Assistant training, find out more about how you can become a Specialist Support Teaching Assistant in our blog.
How to Go from Teaching Assistant to Teacher
Becoming a Teaching Assistant is a great way to get a feel for the classroom to make sure it's the right environment for you to work in. Once in, many TAs find they want to elevate their position in the classroom and complete the study and training required to become a Teacher.
If you fall in love with teaching and the classroom environment, you can do this too! Find out how to make the leap from Teaching Assistant to Teacher on our website!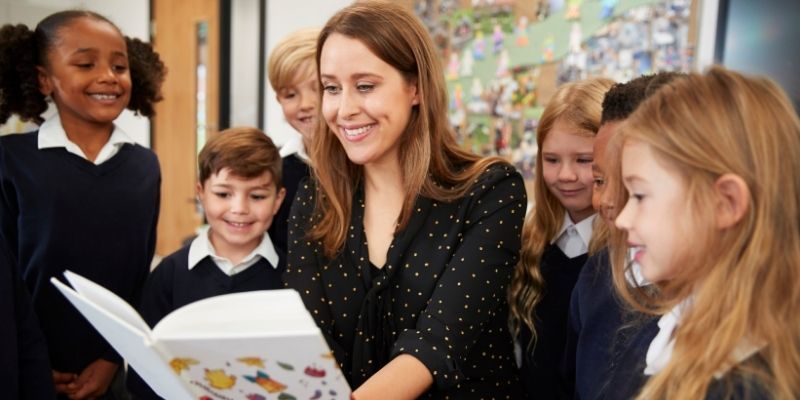 Enrol on a TA Course Today!
Now we have broken down the role of a Teaching Assistant, we can help you take the next step by getting qualified through our online Teaching Assistant courses.
Our distance learning courses and online Teaching Assistant courses help you build your knowledge and skills for the classroom in a way that is convenient for you. We have Teaching Assistant courses set at Level 2, 3 and 4, plus a myriad of courses that focus on areas like Special Educational Needs (SEN), child psychology, behaviour and more!
Find out which is the perfect Teaching Assistant online course for you by speaking with our Course Executives on 01202 006 464 or by contacting us online!