Why Study Healthcare Professionals Courses?
Studying a course in healthcare is an excellent way to enter careers that are rewarding, dynamic and at the forefront of innovation. If you're considering a career in healthcare, you may be wondering what the benefit is of studying broader healthcare courses over those that are more specific.
For instance, learndirect's Access to Higher Education Diploma (Health Professionals) introduces you to the broad scope of healthcare services on offer today. This differs from other college-level courses in healthcare that focus on preparing you for one specific healthcare career.
There are certainly benefits of studying both, but if you aren't exactly sure which type of healthcare professional you want to be right now, opting for a broader healthcare course can be highly beneficial.
Learn About All Avenues of Healthcare
When you think about the different healthcare services on offer today, the list is almost endless. From cosmetics to cardiology, healthcare services help people in many fascinating and novel ways.
Patients with serious illnesses and life-threatening injuries can be brought back from the brink with modern medicines and ground-breaking surgical procedures. Babies born extremely prematurely now have much more chance of survival with the help of sophisticated incubation systems. Individuals with deformities or missing limbs can live life in ways that weren't possible before life-like prosthetics were invented.
These are just some of the ways healthcare services and professionals help people recover, enhance and maintain their health and well-being. By choosing an online healthcare course that isn't pinpointed to a singular provision, you will open your eyes to just how incredible and dynamic the healthcare sector is.
During an Access to HE Diploma (Healthcare Professionals) you will cover modules like:
Health and Wellbeing
Cell Biology
The History of the National Health Service
Human Reproduction, Growth & Development
The Roles & Responsibilities of Health Care Professionals
Introduction to Psychology
Human Nutrition & The Digestive System
Social Factors in Health and Social Care
You will also be introduced to the following topics:
The Human Endocrine & Nervous System
Understanding Dementia
The Human Muscular and Skeletal System
Classification and Use of Social Drugs and Medicines
Mental Health and Illness
Human Immunity
Understanding Poverty
Human Disease & Prevention
Equality and Diversity within Healthcare
This is immensely beneficial if you haven't yet chosen a particular area of focus. By learning such a broad range of topics in your healthcare courses, you will be able to identify areas you find particularly interesting or ones you excel in.
So, if you were wondering 'what do you gain from a healthcare course?' you can be assured you will be better positioned to make an informed decision when it comes to choosing your future career.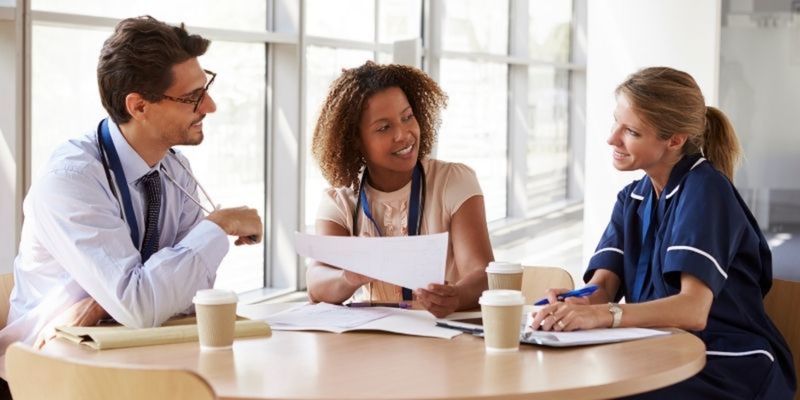 Study a Variety of Healthcare Degrees
If you want a career in healthcare, a lot of roles will require you to have studied a degree specific to that line of work. For instance, a Registered Nurse must study a nursing degree that is approved by the Nursing and Midwifery Council (NMC) before they can gain registration.
While this is absolutely a necessary step to ensure health professionals gain the exact skills they need, the steps before a degree used to be incredibly limited.
If you didn't have the exact combination of GCSEs and A-levels specified, you couldn't go to university. This would often leave would-be healthcare students feeling like their ideal career was out of reach if they didn't possess them.
These days, university is much more accessible, and there are more online healthcare courses and qualifications accepted as adequate preparation for students going into higher-level education. So, if you don't have GCSEs or A Levels, all isn't lost.
Besides studying Functional Skills courses in place of certain GCSEs, an Access to HE Diploma (Health Professionals) can get you into university without A-levels.
As a Level 3 qualification, it is an alternative to A-levels and is the equivalent of 3 A-levels.
What's more, the solid grounding of healthcare knowledge you'll receive allows you to study numerous healthcare-related degrees at university. This is a huge benefit of the healthcare course as it can help you become qualified in a variety of areas.
If you're not sure what courses are at uni to do with healthcare, there are many exciting subjects to explore. Degrees you can study after successfully completing your Access to HE Diploma (Health Professionals) include:
Dental Nursing
Clinical Psychology
Forensic Psychology
Nursing (Adult, Child, Mental Health, Special Educational Needs Learning Disability)
Radiography
Physiotherapy
Pharmacy
Medicine
Paramedic Practice
Dental Surgery
Occupational Therapy
It's worth noting that these are just some of the degrees known to accept this qualification and they are all subject to change. Entry requirements also vary between universities so it's up to you to make sure your Access to HE Diploma will be accepted before you enrol on the course.
Access Fascinating Health-Related Careers
Degrees in the above areas can lead you into a host of prosperous and rewarding professions, each of which is interesting and meaningful in its own way.
You could become a:
Dental Nurse – Work closely with the Dentist to ensure preventative and life-changing reconstructive treatments are delivered in a safe and sterile environment. You will be assisting the wider team in addition to comforting and reassuring patients who are anxious during treatment
Midwife – Have a front-row seat to a person's transition to motherhood. Your focus will be on safeguarding the health and well-being of the mother and baby. In addition, you will perform duties like hands-on physical examinations to assess their health as well as providing assistance during labour, administering pain management and other medications
Mental Health Nurse – Work closely with a multidisciplinary team of Doctors, other Nurses, Social Workers, Support Workers, Therapists and Psychiatrists to support the psychological and emotional well-being of anyone with ongoing mental health issues or illnesses
Diagnostic Radiographer – Use cutting-edge equipment to take images that help in the diagnosis of many types of illnesses and injuries
Besides helping people overcome challenges with their health, there are many benefits to a career in healthcare. From high earning potential to progression opportunities and more, find out more about the pros of healthcare jobs.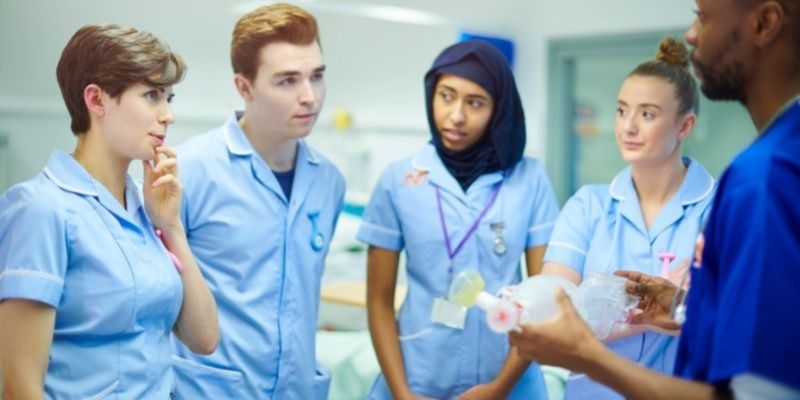 Gain Your Healthcare Qualification on Your Terms
Previously, the limited ways in which you could gain your education meant that many would-be healthcare professionals couldn't pursue the career they wanted because of their existing commitments.
Now, part-time, evening and online healthcare courses have put the learning journey into your hands. So, if you're looking at requalifying for a healthcare career whilst on maternity leave, you can learn while caring for your children. Or if you want to make a career switch but need to get qualified while working, it's completely possible.
Online healthcare courses especially facilitate this transition. As the Access to HE Diploma (Health Professionals) is entirely online, you can access the learning materials any time of the day or night. Just log on when you're free and work your way towards a healthcare degree on your terms.
What's more, while you have two years to complete the Access to Healthcare course, the ability to progress at your pace means you could get your qualification much sooner. On average, learndirect's students take between 9-12 months to finish our online healthcare courses.
That means you can get ready to apply for your healthcare degree within a year!
What College Courses are Available in Healthcare?
Besides the Access to Higher Education Diploma (Healthcare Studies), there are many other college courses available in healthcare.
You could take a more specific Access to HE Diploma, such as those in Midwifery or Nursing. These are excellent if you know for certain that's the career you want to pursue.
Additionally, there are many courses you can take to advance your skillset once you become a qualified health professional. Besides aligning you with certain specialist areas and enabling you to take on more duties, courses that directly add to your professional skillset also count towards your Continuing Professional Development (CPD). This is essential for maintaining your professional registration.
Just some of the online college courses in healthcare and related areas you could study with learndirect are:
Research Methodology in Nursing and Healthcare
Digital Dentistry
Grief and Bereavement Counselling
Infection Control
Bloodstream Infection
You could also go on to study:
Adult Care
Dental Radiography
Vulnerable Patients – Safeguarding Adults/Children
Anatomical Structures and Systems
Complementary Therapies
Caring for People with Learning Disabilities
For a more comprehensive list of healthcare courses available through learndirect, visit our website.
Benefits of Studying with learndirect
If you choose to study the Access to HE Diploma (Health Professionals) with learndirect, you will receive a host of benefits.
Aside from the flexibility of online learning, operating online allows us to provide a wider range of healthcare courses. This gives you more choice in what you study and the ability to shape your career in exactly the way you want.
Whether you want to become a manager or operate in a specialist area of healthcare, we have an online healthcare course to help you achieve your goal.
Our healthcare courses, UK learners, also come with dedicated tutor support and access to a team of Course Executives. Should you need assistance with your studies, simply reach out for guidance. You will also receive constructive feedback from your tutors to help you get the results you need.
In addition to this, we also provide an array of payment options to help you spread the cost of your course fees. What's more, you can enrol now and get started today!
Don't put off your transition into a healthcare career any longer. Our online Access to Higher Education Diploma (Healthcare Professionals) gives you the time and freedom to discover the different avenues of healthcare, while preparing you for a host of university degrees.
So, even if you don't know the exact healthcare role you want, you don't have to wait until you decide to get started. Call our Course Executives today on 01202 006 464 to find out more or contact them online.