What is Involved in a Dental Nurse Course with Placement?
Becoming a dental nurse opens a realm of career opportunities in the industry, but before you begin working in this field, you need to receive a recognised dental nurse qualification. A dental nurse course with placement is the best way for you to experience theoretical study and practical training. At the end of it, you will be confident in supporting dentists and patients during their appointments.
Below, we have outlined the roles and responsibilities of a dental nurse and the steps you need to take to work in the profession. You will also learn what is involved in the practical elements of a dental nurse course. UK-based learners who need help with finding a placement can enlist the assistance of our team at learndirect.
What Does a Dental Nurse Do?
A dental nurse completes a variety of roles as part of their job, with the primary emphasis being on supporting dentists during procedures and appointments. As well as working closely with dentists, as a dental nurse, you will be responsible for interacting with patients, easing any anxiety ahead of appointments, and advising them on oral hygiene.
It is a fulfilling and varied role, which also includes preparing fillings, sterilising dental instruments, keeping patient records, and ensuring the workspace is clean. Dental knowledge and a personable approach are the main attributes you need to thrive in this position. Plus, once you qualify as a dental nurse, you will be able to progress by learning additional qualifications.

How Do You Become a Dental Nurse?
You will require an accredited qualification to become a dental nurse, and through learndirect, you can study a dental nurse course that is approved by the National Examining Board for Dental Nurses (NEBDN). The NEBDN National Level 3 Diploma in Dental Nursing covers a realm of topics that are set out within the GDC (General Dental Council) Preparing to Practice publication. As an accredited dental nurse course, UK learners will be able to apply for a full-time role.
During the course, you will learn about a variety of oral diseases, treatments, and restorative dentistry, among many other topics. This dental nursing course will teach you everything you need to know, giving you the skills and techniques required to perform competently as a dental nurse. Much of the role involves providing support and help to patients who feel nervous in the dentist chair.
Through a combination of summative and workplace assessments, including a Record of Experience (RoE), you will be on your way to achieving an accredited dental nursing qualification. Some of the topics covered during the dental nurse course, UK learners, include:
• Dealing with Medical Emergencies – While the majority of patients that come into the surgery will have pre-booked appointments, some may require emergency assistance. During this unit, you will learn how to cope in emergency situations as a dental nurse, and the treatment process
• Professionalism and the Role of the Dental Nurse – You will need to be aware of the professional and ethical responsibilities of a dental nurse, as well as up to date legislation. This part of your dental nurse course will cover these elements
• Child Dental Health – In your career as a dental nurse, you are likely to be involved in procedures for child patients. To confidently assist, you will need to know how to demonstrate patient management skills, as well as how to prepare the workspace for various procedures, including restorative and orthodontic treatments
• Oral Disease – This section of your dental nurse course, UK learners, will focus on various oral diseases, including oral cancer. As well as learning about the diseases, you will also understand how these diseases can affect the oral cavity
To achieve an NEBDN National Level 3 Diploma in Dental Nursing you will have to pass three assessments, including a written exam, a practical exam and a provide a sufficient portfolio of evidence related to your in-practice experience.
Consider an Online Dental Nurse Course, UK Learners
Many people assume that to achieve an accredited qualification in dental nursing, you have to go to college, but learndirect offers you an alternative avenue. As the UK's leading online learning provider, we have helped more than 4 million students achieve qualifications in their chosen fields. The benefit of studying online is that you can tailor your study schedule to fit around your daily routine.
For example, if you are a parent to young children or work full-time, you can still successfully achieve a NEBDN National Level 3 Diploma in Dental Nursing with learndirect. This is because you choose when to study as opposed to sitting in a classroom. It is important to note, though, that this is a dental nurse course with placement.
This means that you need to either be working at a dental practice or arrange a placement in one. You are required to complete a Record of Experience, which needs to be overseen by a professional that is GDC registered. If you do not have a placement arranged or you are not currently working as a trainee dental nurse, we can find dental nursing vacancies near to you and help secure a position.
What Happens During Your Placement?
A dental nurse course with a placement involves you being supervised while working at a dental surgery. You will be required to carry out a range of clinical tasks related to dental nursing. This process can be completed either at a dental surgery you already work at or at a placement that you have arranged.
The Record of Experience (RoE) needs to be completed at this stage, and it should contain a portfolio of evidence highlighting your competence as a dental nurse when carrying out clinical tasks.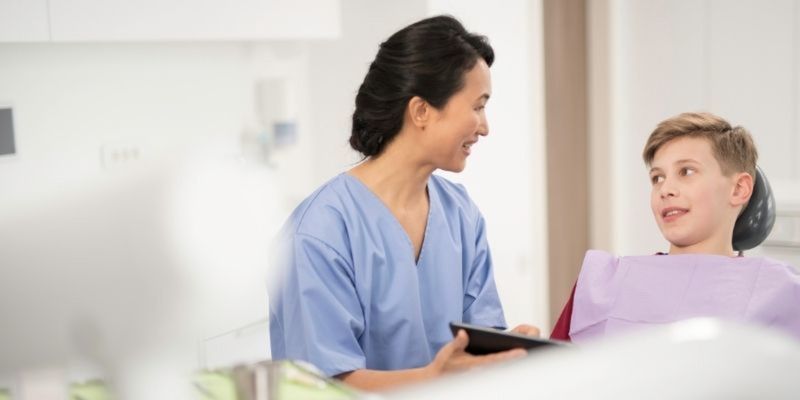 What Can You Do for Dental Nurse Career Progression?
Once you have qualified as a dental nurse, you will be required to complete 50 hours of Continuing Professional Development (CPD), as set out by the Enhanced CPD Scheme 2018 under the General Dental Council (GDC). Undertaking additional courses will ensure that you stay up to date with dental practices as well maintain a high level of competence in your job.
An example of a beneficial dental CPD course is the NEBDN Level 4 Certificate in Dental Radiography. Upon successful completion of the course, you will be able to perform both intra-oral and extra-oral x-rays safely. This adds a string to your professional bow, resulting in dental nurse career progression. There are many post-registration courses you can take for dental CPD, including:
• Oral Health Education
• Implant Nursing
• Sedation Nursing
• Orthodontic Nursing
• Fluoride Application
Get in Touch Now to Start Your Dental Nursing Course
If you are keen to start your dental nursing journey, then get in touch with learndirect today to begin a nationally recognised course. As soon as you enrol, we will send you all of the dental nursing course materials you need, so that means you can get started instantly!
Given that most of our students complete their courses within 9-12 months, you could be qualified as a dental nurse in a short space of time. It is entirely up to you when you study, giving you the freedom to tailor your learning schedule.
To speak to one of our Course Advisers, give us a call on 01202 006 464. Alternatively, you can send your query to our support centre. From course enrolment to flexible payment options, we can answer any questions you have. Get in touch now to begin your journey today!