Busted: Myths About Counselling
Counselling is an important service that allows people to work through their thoughts, emotions, issues and past experiences in a safe environment. It provides an unbiased listening ear, and the space to talk freely without judgement, which encourages people to open up and get things off their chest that may have been bothering them.
Private counselling also helps people unearth problems they didn't realise they had, as registered Counsellors are trained to make sense of a person's thoughts and identify behaviours or beliefs that contribute to their problems. The Counsellor then works with the individual to equip them with the tools and coping strategies to make positive change.
With so many benefits to person-centred counselling, why then does it have such a negative stigma attached to it? The answer to this largely revolves around myths and misconceptions surrounding the profession, who it's for and how it works.
If you've thought of getting counselling, or you're considering a career in this field and you're wondering 'What's it like to be a Counsellor?', it's wise to get the facts straight before you get started.
To help, we've busted the most common myths about the counselling profession, so you can walk into it with confidence and have a better idea of what to expect.

Counselling Myths and Misconceptions
Counsellors are renowned for tackling difficult subject matters head-on. From anger to grief and sadness, guilt to remorse and resentment, or even jealously, they've heard it all and then some.
Though, if you asked 'What is the most challenging for a Counsellor?', they'd likely reply with the fact that people have a completely incorrect and negative view of what they are about. This can hinder their work and make interactions with new clients more challenging than they need to be.
By busting myths about therapy and the Counsellors themselves, anyone in need of a talking Therapist can feel more assured about the process.
Counselling is for Crazy People
This is simply untrue. If you are wondering 'What are the common problems in counselling?', one of the key ones is the belief that you have to be 'crazy' to get it. Firstly, the term crazy is wrong on so many levels. Secondly, counselling helps people with all manner of issues and challenges, not just those relating to mental health.
Counselling is a talking therapy, which means a trained Therapist will listen to you as you talk through what you are thinking and feeling, then help you find ways to deal with the issues that are identified.
This could be any number of things, and counselling is commonly used to help people deal with:
Life limiting or life changing physical health conditions like infertility and disability
Challenging and potentially traumatic life events like bereavement, career stress or the breakdown of a relationship
Emotional challenges like low self-esteem or anger
Mental health issues and enduring disorders
Personal identification in terms of religion, sexual orientation, gender identity etc
Much more!
It Requires You to Lie on a Sofa
No, it doesn't. Thanks to movies and the media, the first image many of us visualise when we think of therapy is a person lying on a sofa while they pour their heart out to the Therapist, who will be making notes or looking deep in thought while sitting in a stiff leather armchair nearby.
While sofas can be used to encourage users of counselling services to unwind, in most cases, you will sit facing the Counsellor on an equal level, during your sessions. Essentially, counselling sessions work best when those using the service feel comfortable, so if you prefer lying back on a sofa, that is something your Counsellor will no doubt try to accommodate.

The Counsellor Will Just Interrogate Me About My Childhood
Again, films and TV shows are guilty of putting this idea in our heads, with almost comical scenes showing people divulging a host of thoughts, feelings and emotions with clear ties to other aspects of their life, and the Therapist simply responding 'So, tell me about your childhood.'
It's no wonder then that when people ask 'Why is counselling difficult?', it's assumed it's because service users are constantly probed about their younger years in an attempt to extract some deep-rooted trauma.
There's no denying, questions about your childhood will likely crop up, as this is a big part of your life that could shed light on the cause of your issues. However, the rest of your life will equally be explored.
No One Uses It
Yes, they do. If you were wondering 'How important is counselling in today's life?', the answer is, very! In the UK alone, over 1.02 million people accessed talking therapy services through the NHS counselling last year.
If I Didn't Work Well with One Counsellor, the Others Will Be the Same
This couldn't be further from the truth! Like Hairdressers, you just need to find the one that suits your style.
Things might not have worked out with one Therapist, but that's not to say they were wrong in what they did. Each professional in this space has their own experiences and expertise that have led them into working in therapy.
This means each Therapist will have a unique set of counselling skills, approach and ways of working. So, if you don't gel with the first one, simply try another! There's nothing wrong with shopping around.

Couples Counselling is Just for Couples on the Brink of Breaking Up
It really isn't. Relationship counselling can be started at any time and is more effective the sooner you implement these tools with your partner.
Learning how to communicate effectively, resolve conflict calmly, be intimate and considerate of your partner's feelings can prevent the problems that typically lead couples to seek help at the toughest points in their relationship.
Getting equipped with these skills early on can only be a good thing for those looking to have a long-lasting, loving bond with their significant other.
Children are Too Young for Counselling
No, they aren't! Therapy is just as important a service for children as it is for adults. Like relationship counselling, the sooner you start the better, as therapy provides tools that can help you deal with, manage and overcome obstacles throughout your life.
The National Institute for Health and Care Excellence (NICE) also recommends talking therapy over medication for children facing certain issues, to reduce the likelihood of dependency on this medicine in later life.
Counselling isn't as Effective as Medication
There's no denying that modern medicine has enabled us to overcome the unthinkable and live life in ways that were once thought to be impossible. However, that's not to say it's the solution for all ailments.
Therapy provides service users with tools and coping strategies that can help them manage their problems without the need for medication. Granted, medication can be the better option for individuals in some instances, but the specifics of their situation must be assessed before medication is advised.
Each case must be evaluated individually and revised on an ongoing basis to make sure the therapy, combined with medication or not, is yielding the best results for the service users.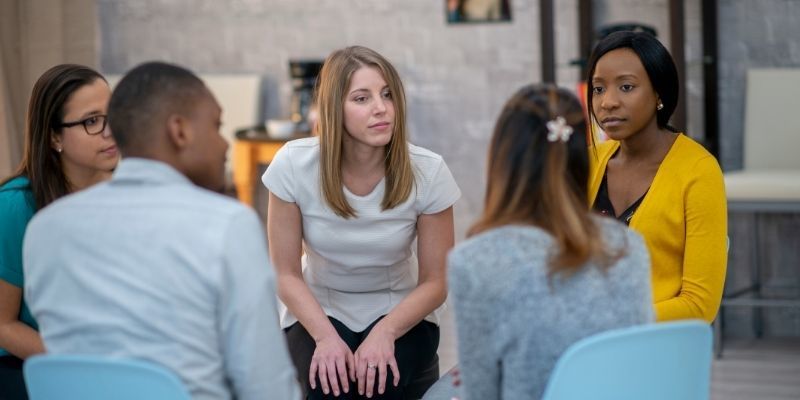 It's a Waste of Time and Money
It is often thought that therapy, if not something provided to 'crazy' people, is a luxury only afforded by the rich and famous. Yes, private counselling services cost money, and yes, you need more than one session to see any real benefit, but it's not the money pit many people assume it to be.
Time-wise, each service user will have different requirements which will dictate how long they need to see a Therapist. For some, therapy will only be needed on a short-term basis, others may need therapy sessions that continue for months or years.
NHS counselling statistics have shown that people completing a course of treatment have received, on average, as little as 7.5 sessions. So, it doesn't necessarily take long for you to achieve your goals through counselling.
In terms of cost, counselling is offered to people on the National Health Service (NHS) for free, though there is often a waiting list. If you opt to pay for private counselling, the price will vary depending on the Therapist you use and your location. Therapy sessions range between £10-£70, but health insurance can help with this, and discounts can be applied to students. You can often get a free consultation with a private Therapist to get a feel for them and explore their fees before making any commitments.
You Can Get the Same Support from Friends and Family
While it's certainly a good thing to be able to lean on your family and friends for support, it's not always the ideal choice for dealing with every problem.
For a start, there is no certainty of confidentiality, so your incredibly personal issues might end up being aired where you don't want them to be. Another factor you need to consider is your loved ones aren't trained to provide talking therapies or equip you with the tools you need to tackle your problems. They can also be biased, potentially judge you or find offence in what you say.
However, there is no worry about 'What should you not say in counselling?', as your Counsellor is a non-judgemental party that is far removed from your everyday life.
How to Get into Counselling
Now we have debunked the common myths about counselling, we hope you have a much clearer idea of the role of a Counsellor and what happens in counselling sessions. If you are wondering what it takes to become a Counsellor, you likely have questions like 'What qualifications do you need to be a Counsellor?', and 'Can I be a Counsellor without a degree?'
The answers aren't exactly clear cut. There aren't currently any strict entry requirements to become a Counsellor, however, many counselling jobs expect you to be a member of a professional body such as the British Association for Counselling and Psychotherapy (BACP), the UK Council for Psychotherapy (UKCP) or National Counselling Society (NCS). All of which stipulates the need for a qualification at foundation degree or diploma level.
For this reason, aspiring Counsellors will typically study counselling or related courses at university (like Psychology), or they will complete the three-stage diploma approach that is required to qualify. You can find out more about how to become a Counsellor in our blog.

Which Counselling Course is Best?
If you are about to delve into the world of study to become a Counsellor, you're likely wondering what counselling courses you should choose. Now, the best counselling course depends on you, your goals and what you aim to get out of the counselling course.
If your interests are in the business environment and you're wondering 'Is career counselling a good career?', you will no doubt be suited to business counselling courses. Whereas if you like the idea of helping children, you should look into child counselling courses.
There are also introduction to counselling courses that let you explore the subject before more in-depth study, and accredited counselling courses that provide nationally recognised awards and qualifications.
With learndirect, you can study:
Counselling Certificates
Counselling Skills
Drug, Solvent and Alcohol Abuse Counselling
Dysfunctional Family Counselling
Integrated Therapeutic Counselling
Stress Counselling in the Workplace
Accredited Counselling Courses
Counselling Skills Level 2 (RQF)
Counselling Skills Level 3 (RQF)
Counselling Skills Level 2 plus Substance Misuse Awareness (RQF)
Explore these distance learning counselling courses and others on our website.

Study Counselling Online!
If you're ready to embark on counselling training, build your knowledge of talking therapies and their uses, you can study counselling training courses online with learndirect.
The benefits of studying counselling courses online include:
Study from home – No matter if you're simply dipping your toe in the water to see if counselling is something of interest to you, or you're ready to get accredited counselling qualifications to put towards your career, we have solutions you can complete online. This means you can learn comfortably at home – all you need is a stable internet connection and a computer, laptop, or tablet
Flexible learning – With our online learning courses, there are no classes or timetables to stick to, so you can choose when to learn. Perfect for aspiring Counsellors who currently work or have young children to look after
Tutor support – Reap the benefits of online study with the support of classroom learning. Our counselling courses come with access to support from experienced tutors, who will help you navigate through your studies, provide you with feedback and mark any assignments you need to complete
Industry-leading digital platform – Our training online courses are taught through an innovative online platform that stores everything you need in one place
24/7 access – Have access to your counselling course materials 24 hours a day, 7 days a week for the duration of your study period
Find out more now by speaking with our Course Executives. They can run you through our entire counselling course offering, the benefits you receive as an online counselling student with learndirect and the quickest way for you to get started.
Call them now on 01202 006 464 or reach out to us online.