Success Stories: Daliyah Santana
Before coming to learndirect Hounslow, Daliyah had been unemployed for 5 years and a single mum to her daughter. She was at Ealing Jobcentre where the Jobcentre Advisor recommended she came to learndirect to do some courses. She hoped that by completing some courses and gaining certificates she would achieve her goal of completing her education. By adding these to her CV this would make her stand out to employers. Daliyah's dream was to gain her confidence back and get a job.
Developing Daliyah's confidence
Her self-esteem and confidence were low and she was unable to see how she could better her life. She was very quiet on the first few days of the course and didn't join in with the discussions or ask questions. Staff worked with her to help build confidence through gentle encouragement and praise. She was asked her to help other learners with spellings and understanding how to answer questions – which she did in a very enthusiastic way. It was through this and the various modules within the employability course, such as recognition of achievements and skills and effective communication that helped her become more motivated and confident.
Daliyah was able to update her CV to show her skills and have her first mock interview to talk about what she is good at. She gained knowledge about where to look for jobs and how to learn from interviews, whether she passed them or not.
Completing a customer services course
She started off only wanting to do one course but as her confidence has grown, she went on to do a customer services course and set medium and short term goals. Daliyah sent her CV to various employers and secured an interview with Argos in Feltham. She was successful in becoming a customer service assistant on a temporary contract. She gained a permanent contract and recognition from her team for her hard work and excellent customer service.
The job has helped her to be more motivated, set goals, she is proud of her achievements and feels an example to her daughter. She is happier and is upbeat as a result of doing the courses.
'I am really happy I came to learndirect, the courses have been very beneficial. I have gained so much knowledge, how to apply for jobs, dress for a job, it is a lovely atmosphere at learndirect Hounslow, the staff and tutor were very nice and helpful. I look forward to coming to do my courses. I would recommend learndirect to anyone if they want to change their life.'
Facebook reviews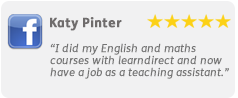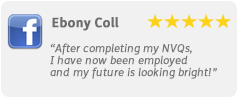 Ways to get in touch

---