Success Stories: Craig Gresham
Craig was diagnosed with dyslexia when he was 16 years old. His school days were unhappy as there was little understanding of the impact of dyslexia on students'ability to learn and Craig's teachers thought he was just slow and lazy.
Craig and his parents fought hard to get him the help he needed but naturally, Craig's confidence and motivation were affected and school was a very difficult environment for him. However, Craig persevered with his studies and went on to College, where his dyslexia was finally diagnosed.
Determined his negative school experience was not going to hold him back, Craig realised he was skilled at practical work and gained a job as a car mechanic but his confidence was knocked once again when he was made redundant in November 2015.
His job coach at Jobcentre Plus referred him to dip in Batley to learn new skills that would improve his employment prospects. As Craig had only previously used a computer for very basic tasks, he enrolled on a BCS Level 1 ECDL Certificate in IT User Skills. He was hopeful that learning about different applications would give him skills that employers would value.
Craig says, "The help I received from the tutors at dip, Batley was top notch"! The tutors at dip understood how limiting dyslexia can be and offered Craig specialist support, including help with reading.
They showed him how to adjust the screen display and font size on the computers. Craig found using the headsets particularly useful as the audio facility meant he could hear instructions as well as read them.
Encouragement at every stage
Craig did not find learning easy. There was a lot of information to take in and he had to re-sit a couple of his exams. However, he believes the tutors were absolutely brilliant at encouraging him at every stage. He says, "They took time to go through my errors with me, helping me to understand where I had gone wrong and checking my understanding. I had lots of opportunities to practice and I was thrilled when I passed all the exams."
Now Craig is looking forward to the future. He is waiting to hear the outcome of an interview he attended for a job as a driver's mate. He is confident about applying for roles he would not have been considered for in the past. Now he is extending his job searches to include jobs that will utilise his new IT skills, such as stock checker or data controller roles within the warehousing industry.
Craig says,
"I have so much confidence now. Nothing can get in my way. I am determined to get the help for my own son, who also has dyslexia, that I never had. The tutors at dip really encouraged me to believe in myself again."
Facebook reviews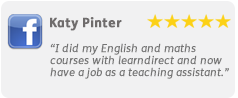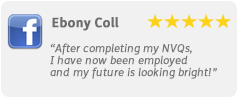 Ways to get in touch

---