Foundation Certificate in People Practice Level 3 CIPD
100
guided
learning hours
Foundation Certificate in People Practice Level 3 CIPD
This Course at a Glance:
Break into the HR or L&D industry
Gain universally recognised skills
Affordable payment plans available
Get qualified within a year
No experience required
100% online learning
CIPD Accredited
About your Certificate
Are you looking for an exciting new career that allows you to use your people skills and be sociable every day? If this sounds like you, you could be become a people professional, and what's more, you don't need any prior experience to get started!
Companies around the world may be growing more reliant on technology, but they wouldn't get anywhere without a brilliant workforce behind them. This is because each person brings different skills, knowledge and perspective to the table. Though, without effective nurturing and management, these talented professionals will soon take their skills elsewhere.
As a people professional, you can be the person who makes sure the workforce is properly cared for. You will make sure they are effectively managed, developed and have a clear path to grow and enhance their skills.
If you are naturally good with people and are passionate about giving each individual a chance to thrive, you would be perfectly suited to a career in The People Profession. The area of business that focuses on recognising the impact and value people have in business.
This is much more than just Human Resources (HR). In this line of work, you need management skills, strategic expertise and knowledge of people practices.
This is exactly what the CIPD Level 3 Foundation Certificate in People Practice gives you, by studying this industry recognised course, you will gain the skills to become a forward thinking people professional. With no prior knowledge needed, you'll get everything you need to make it in a career that cares for the workforce.
You will learn everything from the external influences that impact businesses, to the best way to shortlist candidates for recruitment. You will also develop skills related to your own personal development, such as how to recognise and accept your own mistakes and show empathy to others. All of which puts you in a better position to be the people person in business.
Your 7 Step CIPD Level 3 Learner Journey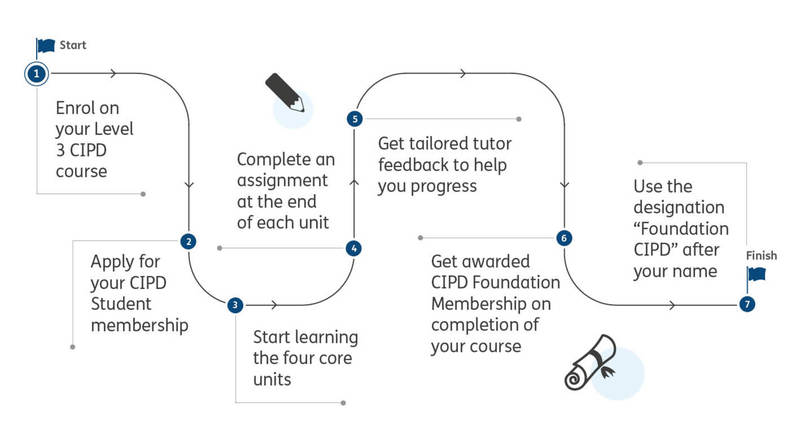 Getting Started
learndirect is the leading UK online learning provider, helping thousands of students every year achieve their academic goals. This CIPD Level 3 Foundation Certificate in People Practice is a globally recognised industry qualification that is accredited by the Chartered Institute of Personnel and Development (CIPD).
learndirect is an approved Study Centre, offering CIPD qualifications. The CIPD is the professional body for experts in people at work. For more than 100 years, they've been championing better work and working lives by setting professional standards for HR and people development, as well as driving positive change in the world of work.
With hubs in the UK, Ireland, Middle East and Asia, the CIPD is the career partner of choice for more than 150,000 members around the world. They are the only body in the world that can award Chartered status to individual HR and L&D professionals.
This course enables you to strengthen your knowledge of Human Resources and Learning & Development, so you can gain the skills needed to be a successful people professional. It also makes you eligible for CIPD Foundation Membership, which allows you to continue developing your career by studying at the Associate Level. For information on the cost of memberships with the CIPD, view their website.
The course is delivered through an engaging array of online learning materials. So you will find your education both interesting and rewarding.
Our online courses allow you to work towards your qualification around your existing responsibilities. Making your transition into a HR or L&D related career much more accessible.
Modules
Unit 1: Business, Culture and Change in Context
On completion of this unit you will:
Understand the external influences that impact businesses, including goal setting
Understand how to define workplace culture and how people's behaviour shapes it
Understand how organisations are whole systems and how your actions affect others
Understand how people learn, adapt and develop in different ways
Understand how people professionals impact people, and best to manage change
Unit 2: Principles of Analytics
On completion of this unit you will:
Understand how evidence-based practice informs outcomes
Understand how to use data to inform decision making and interpret financial information
Understand the concept of creating value for both customers and stakeholders
Understand the role of analytics and other technology in enhancing working practices
Unit 3: Core Behaviours for People Professionals
On completion of this unit you will:
Understand how to develop insight into different approaches using ethical principles
Understand ethical values and how to contextualise them within your work
Understand how to rectify issues and contribute opinions in a respectful and inclusive manner
Understand ways to recognise and accept your own mistakes and show empathy to others
Understand how to reflect to consolidate and improve your knowledge, skills and experience
Unit 4: Essentials of People Practice
On completion of this unit you will:
Understand effective recruitment of individuals through the assessment of employee lifecycles
Understand different recruitment methods that support your application of skills
Understand ways of preparing material for job roles and how to attract candidates
Understand how to shortlist candidates, hold interviews and the associated follow-up actions
Understand diversity and inclusion in recruitment, employee relationships, and performance
Requirements
There are no entry requirements for this course, though experience working in a HR role is beneficial.
Once you have enrolled on your CIPD course, you will need to become a CIPD Student Member. learndirect will cover the first 12 months Student Membership with the CIPD.
If you take longer than 12 months to complete your course, you will need to cover the cost of your CIPD Membership after this point.
For information on the cost of memberships with the CIPD, view their website.

Assessment
A range of units make up this qualification, with an assignment at the end of each. You will submit your work to your tutor for marking and tailored feedback.
Qualifications
Upon successful completion of this course, you will be awarded the CIPD Level 3 Certificate in People Practice.
*Regulated Qualifications Framework (RQF) Level 3 in England and Northern Ireland. Credit and Qualifications Framework (CQFW) Level 3 in Wales. Comparable to Level 5 in Ireland, Level 6 in Scotland, Level 4 European Qualifications Framework (EQF).
Developing your career
By studying this CIPD Level 3 Certificate in People Practice course, you will become eligible for entry level roles in HR and L&D such as a:
HR Assistant
HR Staffing Coordinator
Entry Level Recruitment Consultant
Entry Level Training Coordinator
If you're already in an entry level role, the modules covered will also upskill you to take on roles with more responsibility.
You could pursue positions such as a:
HR Administrator
HR Associate
HR Representative
HR Analyst
Facilitator
Training Deliverer
Learning Administrator
Further Qualifications and Prospects
As this course makes you eligible for CIPD Foundation Membership, you can continue to progress in your career by studying higher level qualifications in this area.
These include the:
CIPD Level 5 Associate Diploma in Organisational Learning & Development
CIPD Level 5 Associate Diploma in People Management
Both of these courses will allow you to progress into senior roles such as:
HR Specialist
Personnel Manager
HR Director
Chief Human Resources Officer
Learning And Development Manager
Head Of Learning And Development
Instructional Designer
Digital Learning Designer
More Than
Just Learning
With


Boost your wellbeing and career prospects at the same time with a major perk offered only to learndirect students! CLUB FIVE is the exclusive wellness and health partner of learndirect, providing a revolutionary fitness programme that is packed full of daily workouts. Whether you want to sweat it out with a HIIT workout or relax with a mindful Yoga session, the programme has various options designed to enhance your overall wellbeing.
Sign up to our Newsletter