Associate Diploma in People Management Level 5 CIPD
100
guided
learning hours
Associate Diploma in People Management Level 5 CIPD
This Course at a Glance:
No exams
100% online learning
Progress to mid Level HR roles
Study when and where you like
Leads to CIPD Associate Membership
Perfect for HR students and professionals
Gain an internationally recognised qualification
About your Diploma
Human Resources is much more than just handling the hiring and firing of employees. Without professionals in this area, businesses would lack the expertise to manage and nurture their most prised asset. As a HR professional, you can affect positive change in business culture and lead both the enterprise and its workforce towards long-term success.
However, there is a substantial difference between supporting change within your organisation and helping drive it forward. If you're ready to take this next step in your HR career, you'll need to develop the skills that allow you to implement HR initiatives from a strategic standpoint.
The CIPD Level 5 Associate Diploma in People Management teaches you how to do just that. Covering everything from how HR helps businesses achieve strategic objectives to how data can be harnessed to increase performance. Through this course, you will become equipped with the skills and knowledge to progress into roles that have more authority in the decision-making process.
If you're an established professional in a HR role looking to make the move into management, or you've studied HR in some capacity and want to expand your knowledge further, this course is for you.
Not only will you gain an internationally recognised industry qualification that sets the bar at a senior level, you can study whenever and wherever you like. So, you can complete your course quickly and move into the next phase of your career much faster than otherwise possible.
Your 7 Step CIPD Level 5 Learner Journey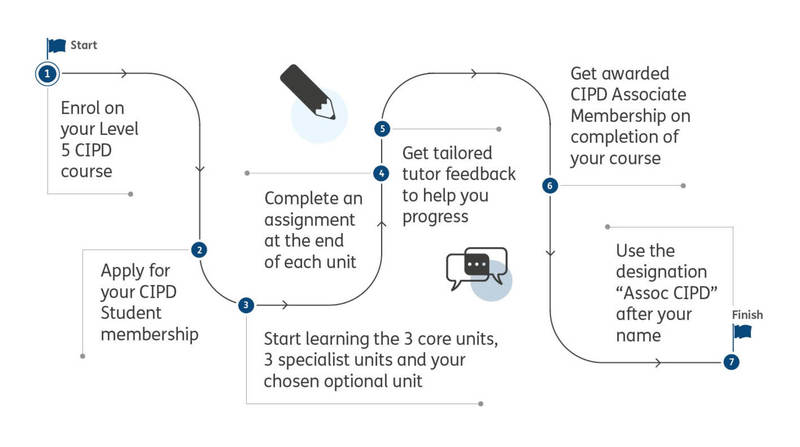 Getting Started
learndirect is the leading UK online learning provider, delivering flexible online courses that put your education into your hands. This globally recognised CIPD Level 5 Associate Diploma in People Management is an industry qualification that is accredited by the Chartered Institute of Personnel and Development (CIPD).
learndirect is an approved Study Centre, offering CIPD qualifications. The CIPD is the professional body for experts in people at work. For more than 100 years, they've been championing better work and working lives by setting professional standards for HR and people development, as well as driving positive change in the world of work.
With hubs in the UK, Ireland, Middle East and Asia, the CIPD is the career partner of choice for more than 150,000 members around the world. They are the only body in the world that can award Chartered status to individual HR and L&D professionals.
A CIPD Student Membership is essential to achieve this qualification, and completion of this course will lead to CIPD Associate Membership. After which you can continue developing your skills further via CIPD training at the Advanced Level. For information on the cost of memberships with the CIPD, view their website.
The course is delivered through an engaging array of online learning materials. So you will find your education both interesting and rewarding. Being online, you can also work towards your qualification around your existing responsibilities. Making your progression into mid-level HR roles much more feasible.
Modules
This course consists of seven units in total. You will cover:
Unit 1: Organisational Performance and Culture in Practice
On completion of this unit you will:
Understand the connections between organisational structure and strategy
Understand organisational priorities, how to interpret theories and what drives change
Understand how to build diversity and inclusion
Understand how people practice connects and supports wider strategies
Unit 2: Evidence-Based Practice
On completion of this unit you will:
Understand the methods re-applied to diagnose challenges and opportunities
Understand critical thinking and how different ethical perspectives can influence decisions
Understand the benefits and risks of solutions for improving people practice issues
Understand how to measure the impact people practice makes to organisations
Unit 3: Professional Behaviours and Valuing People
On completion of this unit you will:
Understand how to champion inclusive and collaborative strategies
Understand how to design and evaluate solutions for positive working relationships
Understand how the role of a people professional is evolving
Understand how to assess your own strengths, weaknesses and development areas
Unit 4: Employment Relationship Management
On completion of this unit you will:
Understand how to develop practices aimed at supporting better working lives
Understand how to differentiate between employee involvement and participation
Understand emerging trends in conflict, mediation and arbitration
Understand performance, disciplinary and grievance matters
Understand employment law and the types of employee representation
Unit 5: Talent Management and Workforce Planning
On completion of this unit you will:
Understand labour market trends and their significance for workforce planning
Understand the impact of a changing labour market on resourcing decisions
Understand supporting succession and contingency planning
Understand turnover and retention trends, and how organisations build talent pools
Understand the importance of managing contractual arrangements and onboarding
Unit 6: Reward for Performance and Contribution
On completion of this unit you will:
Understand the principles of reward and how policies and practices are implemented
Understand how people and organisational performance impacts approaches to reward
Understand how data can be gathered and measured and used in benchmarking
Understand how to develop reward packages and the legislative requirements that impact them
Understand the role of people practice in supporting managers to make reward judgements
Unit 7: Advances in Digital Learning and Development
On completion of this unit you will:
Understand the impact, risks and challenges of technological development
Understand how to create engaging digital learning content and the systems for delivering learning
Understand the skills required to facilitate online learning, including your development plan
Requirements
As the course is aimed at experienced HR professionals, related qualifications are strongly recommended as preparation to study this course. However, if you don't possess these but have a substantial amount of work experience, this can be considered in place of HR qualifications.
Once you have enrolled on your CIPD course, you will need to become a CIPD Student Member. learndirect will cover the first 12 months Student Membership with the CIPD.
If you take longer than 12 months to complete your course, you will need to cover the cost of your CIPD Membership after this point.
For information on the cost of memberships with the CIPD, view their website.

Assessment
A range of units make up this qualification, with an assignment at the end of each. You will submit your work to your tutor for marking and tailored feedback.
Qualifications
Upon successful completion of this course, you will be awarded the CIPD Level 5 Associate Diploma in People Management.
Regulated Qualifications Framework (RQF) Level 5 in England and Northern Ireland. Credit and Qualifications Framework (CQFW) Level 5 in Wales. Comparable to Level 7 in Ireland, Level 9 in Scotland, Level 5 European Qualifications Framework (EQF).
Career
By studying this CIPD Level 5 Associate Diploma in People Management course, you will gain the expertise that enables you to enter or progress to mid-level roles in the HR profession.
The range of specialist modules you will cover also allow you to explore specific areas of HR that you would perhaps like to align yourself with going forward.
With this qualification, you can pursue roles like:
HR Manager
People Analyst
Employee Relations Manager
Diversity and Inclusion Specialist
Resourcing Business Partner
Reward and Benefits Manager
Talent Manager
Further Qualifications and Prospects
As this course makes you eligible for CIPD Associate Membership, you can continue to progress in your career by studying at the Advanced Level by completing a CIPD Level 7 qualification.
These include:
CIPD Level 7 Advanced Diploma in Strategic People Management
CIPD Level 7 Advanced Diploma in Strategic Learning and Development
The Advanced Diploma in Strategic People Management is designed to give you everything you need to advance to the top of the career ladder in HR. By successfully completing this course, you will be able to apply for the prestigious CIPD Chartered Membership.
You will also be able to progress to top-level positions such as:
HR Director
Chief Human Resources Officer
Vice President of Human Resources
HR Business Partner
More Than
Just Learning
With


Boost your wellbeing and career prospects at the same time with a major perk offered only to learndirect students! CLUB FIVE is the exclusive wellness and health partner of learndirect, providing a revolutionary fitness programme that is packed full of daily workouts. Whether you want to sweat it out with a HIIT workout or relax with a mindful Yoga session, the programme has various options designed to enhance your overall wellbeing.
Sign up to our Newsletter