There are few feelings like it. The tension in the air, the anxiety rippling through your body, the bated breath… all taking place while opening A-level results that will decide your future.
The outcome in the next five seconds will determine whether you'll be jumping for joy or panicking as you find you haven't got the results you needed to take the next step in your plan.
Rather than let the dread set in, we're here to tell you that you don't have to succumb to the post-results day blues. We have backup options that will keep you on track to success so you can still smash your goals out of the park!
What To Do If A-level Results Are Not Good
It's a common cry from learners who didn't get what they were hoping for: 'I got bad A-level results, what do I do?'
The first thing is, don't panic! There are many people out there who have gone on to great success after receiving poor grades, or not completing traditional qualifications at all.
Just cast your mind back to the Jeremy Clarkson A-level results Twitter posts that recirculate each year. While undeniably smug, they do get the point across that life isn't over if your A-level results aren't what you wanted.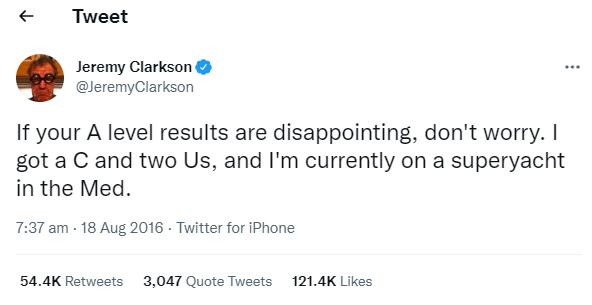 If you don't get the grades you needed, there are other ways to achieve your end goal. So, keep your chin up and keep reading as we explain what to do if you get bad A-level results.
Re-sit A-level Exams
The most straightforward option would be to re-sit the A-levels exams that you failed. In many instances people feel under tremendous pressure during exams, so first-time nerves can get the better of us. It's actually very common for those who fail their A-level exams to do much better the second time around. 
You'll need to talk with your college about the A-level exam resits process. For learndirect online a-level students, ours is explained here. 
Re-sit Your A-Level Course
If you need to re-sit the whole A-Level again, you can do this in a number of ways. This can be a lengthy process in classroom-based education, especially if there's more than one to re-take. However, when studying with learndirect, you can complete online A-level and iA-level courses in as little as 6 months!
With our online A-levels you can:
Study when you want – no classes or timetables!
Get the support of professional Tutors
Learn in comfort, from home
You'll also benefit from the following if you choose our iA-levels:
No coursework
No practical exams
More frequent exam dates
Only resit the part of the exam you failed!
With online A-levels and iA-levels in everything from Psychology to English Literature, there's nothing stopping you from completing your re-sits on your terms.
Study An Access Alternative
If there was a way to get the grades you need from three separate A-levels in one, you could shave off valuable time and reach university and your ideal career much faster. Thankfully, there is! You can completely side-step A-levels altogether. By completing an Access to Higher Education Diploma, you'll receive a nationally recognised Level 3 alternative.
These courses are quickly becoming the go-to for students who failed their A-levels and those who want to get on the fast track to their future. Our online Access Courses can:
Be completed within a year
Help you meet degree entry requirements
Give you the study skills you need for university
Be studied when it suits you
What's more, they have no exams! This is perfect if you get nervous in an exam environment and perform better in assignment-based assessments. Explore the courses that will help you become a Nurse, Engineer, Midwife and more on our website.
Get Your Degree Via A Degree Pathway
As the education system gets more on board with flexible alternatives to traditional qualifications, there are more ways to acheieve the coveted bachelor's degree. Our degree pathwyas are online equivalents to Year 1 and Year 2 of a bachelor's degree, and provide guaranteed admission to a nominated university to complete Year 3 and obtain your degree. 
Not only is this incredibly convenient and appeals to those who'd rather study at home than in a lecture hall, the entry requirements are also far less strict. So, if you missed the benchmark for your degree through the traditional route, chances are you'll be fine to study our degree pathway and get your degree without the need to go through UCAS Clearing. 
Find out more about our degree pathways here. 
Take A Gap Year
When you think about it, what's the rush? University isn't going anywhere and not everyone is certain of their future plans post-A-levels. Why not take this as an opportunity to see the world and tick a few things off the bucket list?
Gap years are an excellent way to gain some life experience and perspective before making big decisions. Plus, they don't have to be the penny-pinching trips that see you having to pay for cheap accommodation in a shared dorm…
Instead, you can get paid to travel and spend extended periods of time in exotic locations. All you need to do is get TEFL qualified and you could be paid to do a gap year in just over 6 weeks!
As a TEFL Teacher, you can: ·
Teach English as a foreign language in countries all over the world
Earn a steady wage while you travel
Stay put in one place for a year, or move from school to school
Have total freedom over your travelling by teaching English online instead
Get qualified in a matter of weeks
Test it out with an internship first Sound good?
Find out more in our TEFL faculty.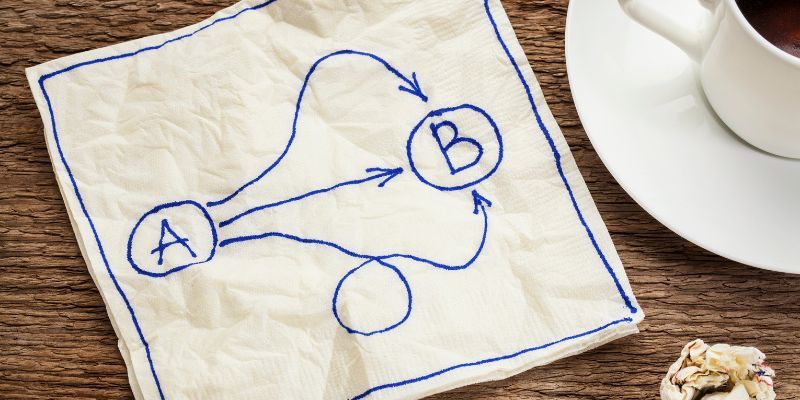 Complete A Career Course
You might think the only way into a professional career is by going to university, but there are many prosperous gated jobs you can access through online courses instead. If you put things into perspective, university can be an incredibly expensive and lengthy route into a career. While for some paths this is understandably unavoidable, for others it isn't. Plus, online courses make it easy to juggle other responsibilities like childcare or an existing job with the studies that will enable you to start the life you want.
Through learndirect, you can take online career courses that will qualify you to become an:
Plus, much more! So, rather than spend over £9,000 a year at university, study online courses that cost a fraction of the price and will get you qualified in much less time.
Benefits Of Online A-level Alternatives
As people's needs change over time, the education system has had to become less rigid in the way it expects learners to progress through the ranks of academic study.
Now, A-levels aren't the only way to get into university, and they certainly aren't needed for a host of well-paid careers.
This is just one of the many reasons why distance learning courses are quickly becoming the preferred way for learners to achieve their goals. So, if you didn't get the A-level results you wanted, don't stress. There's another way you can get there.
Studying online with learndirect allows you to:
Study courses at a cheaper price
Have more subjects to choose from
Set your own study/life balance
Cut the time it takes to qualify
Learn from anywhere in the world
Your A-level Alternatives Sorted!
Should A-level results day not go to plan, there really is no need to panic. With our quick and efficient online courses, you'll be back on track to your future in no time.
You don't have to wait to discuss your options either. Our team are ready to walk you through the courses we have available, so you know your options now and get prepared for either outcome. Call them now on 01202 006 464 or reach out to us online.