A Guide to Working in Canine Massage Therapy
Having a love of animals doesn't just bring enjoyment as a pet owner, it can also lead you into a rewarding career. For those of you who consider your dog to be part of the family, or dogs are your favourite animal, then why not take on a role that will enable you to treat these wonderful four-legged animals on a daily basis.
A Canine Massage Therapist is a professional who helps dogs alleviate stress and recover from injuries through a holistic massage method. Through a blend of canine massage techniques, therapists can help animals live comfortably and more content.
Rather than go down the veterinary route, study a relevant course that enables you to work in canine massage therapy. Our guide explains how to break into this profession and the animal course that will give you the canine massage techniques you need to become a professional.
What Does a Canine Massage Therapist Do?
Working as a Massage Therapist in the animal sector can be incredibly rewarding, but you need to become familiar with the role to discover whether this is the right career move for you. Massage therapists in this arena have a range of responsibilities, with their predominant purpose being to manipulate soft tissue in the animal's body for the following reasons:
Prevent injuries
Reduce pain
Alleviate discomfort
Reduce stress
Treat muscle spasms
This form of massage therapy for animals is holistic, which means that rather than just treat the specific injury, the entire body is massaged. This is done so that secondary areas – parts of the body that feel the effects of a primary injury – are also treated.
Remedial massage therapy is an approach used in canine massage jobs and it works by unknotting tight and sore muscles that have formed trigger points, which cause pain to the animal. Massage therapists for canines break down the restrictive scar tissue that has formed as a result of the animal's daily activities.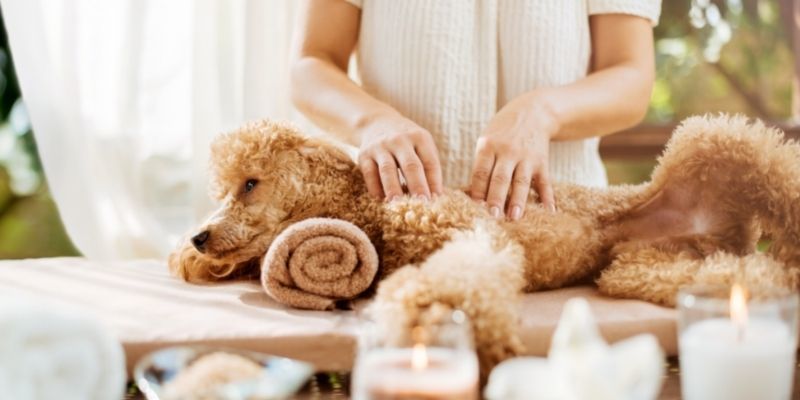 Is Massage Therapy Good for Animals?
Massage therapy is beneficial for dogs and all kinds of animals as the primary purpose is to alleviate any pain and discomfort, as well as prevent injuries from occurring. Essentially, these massage techniques enhance the function of multiple bodily systems, from circulatory and muscular to lymphatic and nervous systems.
An animal may experience muscle spasms and soreness due to an accumulation of lactic acid, which forms when the body is overworked. A massage improves circulation, which in turn increases blood flow and exposes the body tissue to more oxygen. There are many benefits of canine massage therapy, including:
Improved movement
Pain relief
Healthier coat and skin
Less stiffness in joints
Happier mood
Faster recovery from injuries
Feeling comfortable during walks
It is important to note that every dog is different, so the health benefits will differ depending on the animal. All massage therapists for dogs need to be able to tailor their treatment to the needs of the specific animal.
How Long is a Canine Massage?
The length of the massage for each canine is dependent on the number of areas the therapists are treating. Each animal has their own needs, but in general, a massage will take between 30 minutes and 1 hour. The severity of the issue may require animals to have multiple sessions over a period of time.
How Do I Become a Dog Massager?
Many professions require a certain level of qualifications, such as a degree, but when it comes to Dog massage therapists, there are no set qualifications. However, to work in animal massage therapy, you will need to undergo training via a dedicated course.
Also, a veterinary professional will only recommend you to a client if you are fully trained and insured.
What Canine Massage Therapy Courses Can I Study?
Massage therapy for animals can be perfected through relevant training, which you can undergo with the help of learndirect. As the UK's leading online learning provider, we deliver an extensive range of online training courses, including the Canine Massage Level 3 Diploma (RQF).
This course is delivered through a blend of online learning and practical training, which will teach you how to perform massage treatments on animals of the canine variety! The course will provide you with techniques and skills to perform therapeutic massage care on each animal that you treat.
The online portion of your course will consist of a range of modules, including:
Introduction to Canine Massage
Canine Anatomy and Physiology
Handling Canines
Canine Behaviour in Therapeutic Settings
Canine Assessment
Tissue Healing
Common Orthopaedic and Neurological Conditions Presented for Massage Treatment
Aquatic Massage
Advanced Massage and Soft Tissue Techniques
You will also delve into the nature of the workplace and how to run a professional practice, should you decide to venture out on your own and set up your own canine therapy business. This online course will also explore customer service techniques and how to manage a business of this nature.
The practical element, which consists of 11 days at a placement in Warwickshire or the Isle of Wight, will allow you to put your skills into practice. Upon completion of this part of the course, you will be confident in performing massages on any canine that is brought to you.
There is no need to have a veterinary qualification to work in this canine sector, but with this training and Level 3 Diploma, you will know the ins and outs of providing an essential animal service.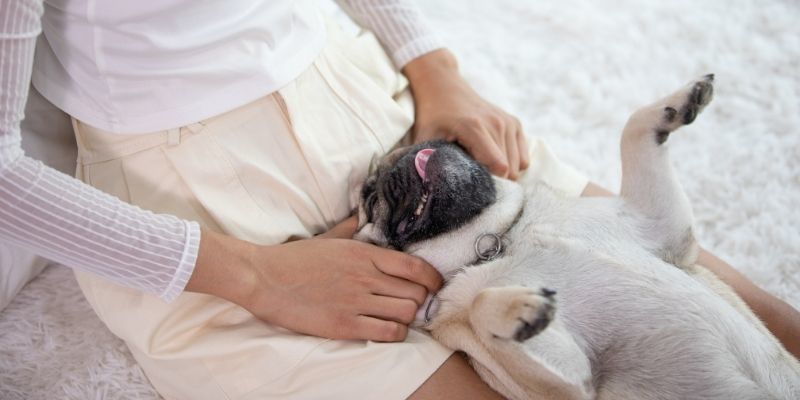 Are there Any Entry Requirements?
To enrol on this animal course, you do not need to have previous experience in working with animals, but you will need to have Level 2 qualifications in English and Maths. These can be in the form of GCSEs or Functional Skills Level 2.
If you do not possess these qualifications, then you can achieve them via an accredited online course with learndirect. Aside from these qualifications, there are no prior entry requirements and learners have two years to complete the animal course.
How is the Online Course Assessed?
Long gone are the days when achieving a qualification would mean sitting in a classroom for hours on end. Now, you can study a regulated course from the comfort of your own home. This change also means that the assessment process is different.
Rather than undergo an exam, you will successfully complete this canine course by completing a series of internal assessments online. The facts you need to know are:
Each assignment will be issued at the end of each module
The task will be based on the topics covered during the module
Experienced and qualified animal tutors will mark your assignments and provide feedback
You require 84 credits to achieve the diploma
How Much Does a Dog Massager Make?
There is no definitive salary for this role, but professionals within this canine sector tend to charge between £35 to £45 per session, but this is dependent on whether they are operating their own business, a mobile service, or are part of a company.
The closest profession to this canine role is an Animal Physiotherapist, but they perform a range of treatments, not just massages. An Animal Physiotherapist will be responsible for carrying out a range of procedures, including ultrasounds, and electrotherapy sessions.
The starting salary for an individual in this role is around £18,500 pa, but it can increase to £25,000 with more experience. A Senior Veterinary Physiotherapist has the potential to earn up to £65,000 per annum.
If you are looking to start out in canine massage therapy, it could be an eventual stepping stone towards becoming an Animal Physiotherapist.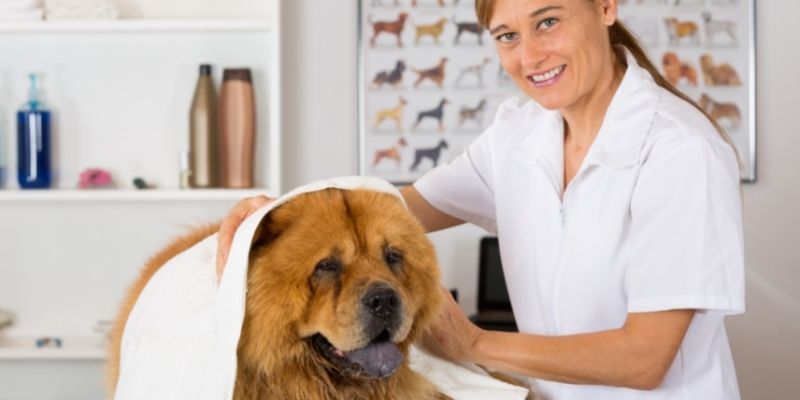 Start Mastering Canine Massage Techniques Today!
If you have a love for dogs and want to play a role in providing an important level of care to our four-legged friends, then learning the skills and techniques involved in becoming a Dog Massager is crucial. If you want to enrol on our dedicated online animal course, then speak to one of our Course Executives on 01202 006 464.
There are many reasons why you should choose learndirect to study animal courses, and we have outlined a few of those below:
Study from home – Whether you want to work in the animal sector or you need qualifications to get to university, we have online solutions that get you qualified online. This means that you can study from the comfort of your own home – all you need is a stable internet connection and a computer, laptop, or tablet
Flexible learning – Most of our online offerings can be completed around your existing commitments. You choose when to learn, whether it be during the evening, morning, or on your lunch break. This level of flexibility is ideal for individuals who work full-time or have young children to look after
Tutor support – Many of our courses provide access to support from experienced tutors, who will help you navigate through your studies, providing feedback and marked assignments along the way
Industry-leading digital platform – All of our courses, including our animal ones, are taught via an online platform that stores everything you need in one place
24/7 access – To complete your animal studies or any other of our courses, you can gain access to all the materials you need 24 hours a day, 7 days a week for the duration of your study period
To kickstart your career, there is no better place to get the qualifications and training you need! As well as giving us a call, you can also reach out online. Make the move to change your life today!
You can also keep track of all animal awareness days and events with our FREE calendar! Download it here.