Functional Skills are equivalent to GCSE level study, with Functional Skills Level 2 being the same as grade C/4. Functional Skills were introduced in 2007 to improve literacy and numeracy skills across the country and upskill employees, and with the introduction of ICT Functional Skills, learners have also been able to boost their technological capabilities. 
Functional Skills courses available are Maths, English and ICT. The core skills you'll gain from completing any of these courses are essential in many job roles. More than ever before an understanding of computers and digital software is important to employers, and you can enhance the knowledge you have by studying Functional Skills ICT Level 2 online. 
Below, we have delved into what ICT Functional Skills actually is, what you'll learn, how you'll be assessed, and whether Functional Skills is better than GCSEs. 
Getting to Grips with Functional Skills ICT 
Technology is constantly evolving and by being able to confidently use a computer, you're improving your employability. As such, Functional Skills ICT is the ideal qualification for those who didn't get their desired GCSE grade or didn't take GCSE ICT at all. 
Functional Skills qualifications are respected by employers and help your chances of securing a job. They also can provide a foundation of knowledge that you can build on with further study. However, despite their similarities, Functional Skills courses are not identical to GCSEs, and it's important to be aware of their key features and if they align with your objectives. 
With learndirect, you can study Functional Skills ICT Level 2 online as we are distance learning providers that offer an array of nationally recognised qualifications. Continue reading to learn more about our ICT Functional Skills course.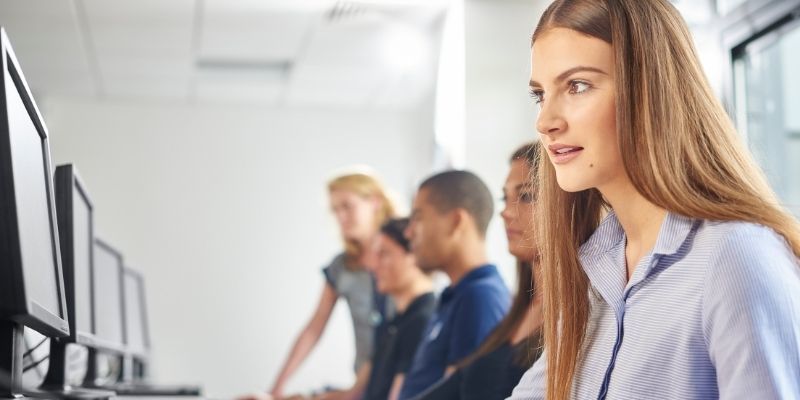 What You'll Learn in ICT Functional Skills
Functional Skills courses are skills-based qualifications. They're designed to supply students with practical knowledge in Maths, English and ICT for everyday situations. 
This is unlike GCSEs, which are academic qualifications that explore a broad range of topics. As such, students who opt for GCSEs will gain a solid understanding of key principles and theories on the subject they're studying. 
For learners looking to brush up on their ICT skills or develop a solid understanding of this approach, learning Functional Skills ICT Level 2 online is an ideal route to take. 
Functional Skills ICT Level 2 includes sections on: 
Using email software and the internet – Upon completing this Functional Skills ICT module, you'll be able to confidently use email software, including sending and receiving emails, adding attachments, and organising your contacts. You will also cover how to use the internet effectively and safely. 
Word processing – In this Functional Skills ICT module, you'll learn about the different features you can use in word processing software. You'll learn how to create engaging text-based documents using images, tables, and other formatting features. 
Spreadsheets – Spreadsheets are often used in many job roles and are a key part of ICT. As such, you'll cover how to record and analyse data and how to present it using charts and graphs in this element of the Functional Skills ICT course. 
Presentation – By the end of this Functional Skills ICT module, you'll have a strong understanding of how to present information in a slideshow. Using presentation software, you'll learn to use text, images, transitions, and animations to present your work. 
Database – Understanding databases and how to use them is an advanced ICT skill. In this part of your Functional Skills ICT studies, you'll learn to record a large amount of data and complete detailed searches for specific information. 
How Your Functional Skills ICT Level 2 Course is Assessed 
While studying our ICT Functional Skills course, you'll be assessed by online tests via our Functional Skills software. These tests will allow you to gauge your knowledge and demonstrate your understanding of the concepts covered in the modules. 

Once you've completed all your Functional Skills modules, you'll be ready for your final assessment. Functional Skills ICT is assessed through a single exam, which will cover the topics you've learned about and will challenge you to apply them to real-life scenarios. 
You're able to sit the exam remotely through our Functional Skills software if you have a webcam and a stable internet connection, so the invigilator can observe. If you do not have a webcam, then you will need to book a time slot at an exam centre near you. 
Why Study Functional Skills ICT Level 2 Online? 
Once you have obtained your qualification in ICT Functional Skills, you will be equipped with the knowledge and techniques to use ICT in your everyday and working life. Functional Skills will give you the confidence you need to tackle tasks you may have avoided in the past. Studying Functional Skills ICT Level 2 online is also beneficial for the following: 
Further and higher education – Whether you want to go to college or university, almost all educational establishments require some form of Level 2 qualifications as part of their entry requirements. A Functional Skills ICT Level 2 qualification could be the difference between you getting into further and higher education or not 
Job requirements – Many entry level jobs require you to have a good level of literacy and numeracy skills, which is where Functional Skills English and Functional Skills Maths Level 2 qualifications come in. Obtaining an ICT Functional Skills qualification can also boost your employability prospects, particularly if your role involves working with computers and technology 
Should You Study GCSE ICT or Functional Skills ICT? 
GCSE ICT or Functional Skills ICT will provide students with the foundational knowledge that is expected in many workplaces. If you are debating which route to take, let us outline the differences: 
Course content – GCSEs are more academic and explore theoretical principles of what you are studying, while Functional Skills focus primarily on the practical elements so that you can feel confident utilising these skills daily 
University recognition - GCSEs are favoured by universities. So, if you're considering carrying on your education at degree level then it may be a better option. Although more and more universities are accepting Functional Skills instead of GCSEs, but please check with your chosen establishment before applying 
Length of study - GCSEs are usually completed within a year or two, whereas Functional Skills are GCSE grade equivalents, and can be completed in a couple of months. This is ideal if you're looking to upskill for work as there is very little time in between enrolling and getting qualified 
Neither qualification would be the wrong choice as long as it's right for your situation. 

Achieving Your ICT Functional Skills Qualification Online 
ICT Functional Skills can be completed through online learning, which is ideal for a qualification in understanding computers. By choosing to enrol on Functional Skills ICT courses online you're able to dictate the speed in which you work at.  
An ICT Functional Skills course is around 120 guided learning hours, so this means that if you were to study weekdays for two hours, you'd complete the course in 12 weeks. Of course, you're completely in control of your learning so use more time if you need to. 
Studying your Functional Skills ICT course online enables you to learn from home whenever is best for you, whether that's after the school run or just before an evening shift, it's up to you. You won't have to spend hours trying to rearrange your schedule to fit in classes as there aren't any. Simply enrol for Functional Skills ICT Level 2 online and begin learning. 
Despite the course not being led by a Teacher it doesn't mean you are alone. A dedicated and qualified tutor will be just an email away. So, you can rest assured that if you ever get stuck someone will be there to guide you through your Functional Skills ICT course. To sum up, you will get the below benefits if you study Functional Skills ICT Level 2 online with learndirect: 
100% online learning 
Complete ICT Functional Skills in a matter of weeks 
Study from home 
No timetables; learn around your existing commitments 
Tutor support 
Enrol on Our Functional Skills ICT Course Today! 
Whatever reason you have for getting qualified learndirect can help. We are the UK's leading online learning provider, offering a range of Functional Skills and GCSE courses. With us, you can study a range of nationally recognised qualifications, from Functional Skills Maths Level 2 to Functional Skills English and Functional Skills ICT. 
If you're especially nervous about studying ICT, Maths or English subjects, we also offer free English, free Maths, and free ICT courses, to help you get back into the swing of these subjects ahead of your Functional Skills course. 
If you're ready to get qualified in Functional Skills ICT, get in touch with a member of our team or speak to one of our Course Executives on 01202 006 464. Alternatively, click below to discover our course options.