Posted on 16/01/2019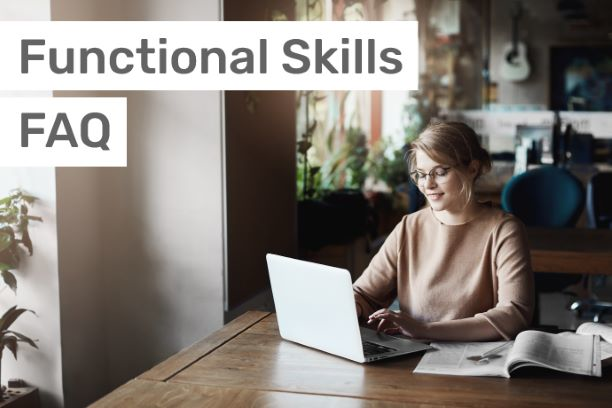 If you missed out on your level 4 (grade C) at GCSE, or need to catch up with maths and English, don't worry. Functional Skills Level 2 are an equivalent qualification to GCSE that could be for you. They offer learners useful skills in maths and English to help them get onto college courses, apprenticeships, further education and enter the world of work. Unlike maths and English at school, they offer practical skills and help you to face your demons in maths and English.
There are options to study online with 24/7 access to learning materials that will help you sit your paper-based exam in centres across the country.
Our FAQ covers everything relating to Functional Skills in maths and English right here.
Q: Is Functional Skills (maths and English) Level 2 the same as a GCSE?
Functional Skills at Level 2 is equivalent to a GCSE grade 4 (C on old grading system). Functional Skills is a qualification which is widely accepted as a GCSE equivalent.
Q: Can I study Functional Skills online? 
Yes. You can study Functional Skills online and study at your own pace. If you missed out on your C grade at GCSE, you could continue to learn online and achieve an equivalent qualification by getting your Level 1 or 2 Functional Skills qualifications.
Q: What are Functional Skills? 
Functional Skills are vital skills for learners in Maths, English and ICT, regulated by the government. They are useful for college courses and many jobs. Functional Skills are transferable qualifications that relate to many areas and sectors, such as accounting, business, childcare, electrical, sport, plumbing, student learning and teaching assistance, motor vehicle maintenance, tourism, and hair and beauty.
Q: What levels are there? 
There are Entry Levels 1-3, and Levels 1 and 2. Level 1 Functional Skills are equivalent to a GCSE Grade E-D (2-3), and Level 2 Functional Skills are equivalent to GCSE Grade C-A*(4-9). Entry levels give learners the basics in maths and English that you would use in everyday life. Entry levels might also work as a good refresher course if you struggle with maths or want to help your children with their homework.
Q: Do Functional Skills expire? 
No, Functional Skills do not expire.
Q: Who should take Functional Skills? 
Functional Skills (Level 2
maths
 and
English
) is ideal for people who did not get a grade 4 (or a C) at GCSE and who want to resit. Functional Skills are necessary to get onto an apprenticeship. Functional Skills can get apprentices up-to-date in English and maths, too. The training is centred on applied skills that help to use English and
maths in real-life scenarios.
Q: Why do employers like Functional Skills? 
Employers like
Functional Skills
because they help you to help them solve problems that arise in business. No matter whether you are a hairdresser, a beauty therapist, a mechanic, or a construction worker, Functional Skills gives you practical problem solving skills in maths and English.
Q: Why are they so popular? 
Over three million students have now chosen to study for Functional Skills since they began in 2014 and their popularity is rising. It is easy to see why they are
Ofqual's
most popular qualification after GCSEs. They offer applied skills that employers look for in employees in order to solve their business problems and provide valuable services. They build confidence for you to tackle commonly recurring problems in your job.
Q: Will Functional Skills be accepted by the university I want to go to? 
Q: How long will it take for me to do Functional Skills? 
Each level contains 45 hours of learning. Because you're learning online at your own pace, the length of time it takes depends on how many levels you need to study and how many hours per day or week you spend on it.
Q: How are Functional Skills assessed? 
English
has two online exams (reading and writing) and an assessment of speaking, listening and communication (four in total).
Maths
has one online exam. You book your exam yourself at the end of the course with our assistance. Everything you need to cover for the exams is included on the course. It does not matter which exam board you chose because our learning material is written to cater to all exam boards.
Q: Where do I take the Functional Skills exam? 
There are lots of exam centres around the country. We will give you guidance on how to find one and, if you're on the specialised package, we will help you to find one.
Q: What courses do learndirect offer? 
learndirect
offers
Standard, Supported or Specialised delivery options
with varying degrees of support. If you need a lot of help, we advise you to take the specialised package. If you choose supported or specialised, you get one-to-one tutorials. We will also mark mock exams and give you feedback about the topics you need to revise.
Q: Should I take Standard, Supported, or Specialised routes? 
It depends how much help you need and how difficult you find the subjects of English and maths. Specialised will offer you the most tutor support and feedback, whereas Standard requires more independent work.
Enrol on Functional English and Maths Online