Every stage of a person's life is important, but arguably one of the most crucial in terms of development is the early years, between birth and the age of 5. To help children feel nurtured and supported during this pivotal time, Early Years Teachers come into the fray. They aim to motivate and inspire on a daily basis through their work. 
If you would like to be part of early years education and help the next generation take their first significant steps into personal development, then continue reading! There are various steps that you need to take to apply for early years jobs, including a range of qualifications. 
Below, we have explained the qualifications you need to become an Early Years Teacher and outlined the roles and responsibilities of a professional who works in early years settings. We also discuss our range of accredited early years courses that you can take online to boost your career trajectory.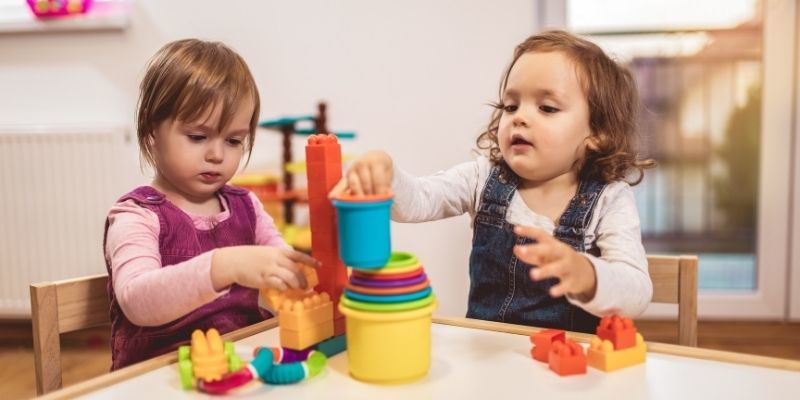 What is an Early Years Setting? 
Early years settings are places where early years education is carried out by trained educators. Before we outline the types of different settings, you need to understand what this level of education entails. The Early Years Foundation Stage (EYFS) sets the standards for learning, development, and care of a child from birth to the age of 5. 
To cover all of these elements, an Early Years Teacher will use games and play to help each child develop and learn the skills they need. The areas of learning include: 
Physical development 
Communication and language 
Literacy 
Personal, social, and emotional development 
Maths 
Expressive arts and design 
Understanding the world 
Please note that EYFS is applicable to schools and early years settings in England only. Scotland and Wales differ in terms of their early years standards. With this in mind, you should know that early years settings must be Ofsted-registered and they must follow the EYFS curriculum.  
There are different types of early years settings, and we have identified them below: 
Day Nurseries 
Private, not-for-profit, charitable organisations, local authorities, and the NHS are among the various types of providers who run day nurseries. There is no set size of day nurseries, as they can vary from 20 places to more than 200 places. Alongside a range of activities, some day nurseries provide breakfast and lunch. 
Pre-schools 
Pre-schools educate children from the age of 2 to the age of 5 and they tend to follow normal school term times. Generally, they are run by charities and voluntary committees, which tend to be made up of parents. 
Nursery Schools 
Unlike day nurseries, a nursery school has a trained Teacher or Headteacher in charge of the school. These early years settings are also more structured and include a variety of educational activities. There are different types of nursery schools, including: 
Independent nursery schools 
Private nursery schools 
State-funded nursery schools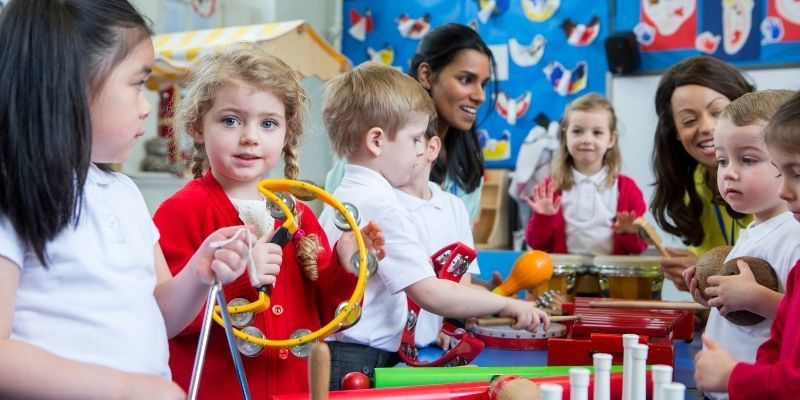 What is an Early Years Teacher? 
An Early Years Teacher (EYT) works to motivate, inspire, and nurture children aged 0-5 years through a range of resources. Their role consists of using imaginative techniques through games and play to help children develop communication skills as well as an ability to interact with others. If you are keen to pursue Early Years Teacher jobs, you will need to help create an environment that is safe, secure, and welcoming to all children. 
By undergoing relevant training, you will achieve Early Years Teacher Status (EYTS), which will allow you to work within private, independent, or voluntary early years settings. This status also enables you to apply for other early years jobs, such as in the reception year of an independent school, an academy or free school. 
The Roles and Responsibilities of an Early Years Teacher 
There are various aspects that you are responsible for when you work as an Early Years Teacher, and we have outlined a handful of those below: 
Encourage children to tap into their learning abilities through experiences 
Provide daily support and pastoral care 
Help children develop their physical abilities, as well as their personal, social, and language skills 
Use teaching resources and visual aids to assist a child's development 
Through stories, games, songs, imaginative play, and drawings, encourage children to develop their mathematical skills, as well as their creative flair 
Observe and assess a child's progress, keeping records of any changes and development 
Make sure that health and safety measures are put in place and followed 
Work with Teaching Assistants, other Early Years Teachers, and volunteers to plan activities  
Take part in various staff training days and meetings 
Keep a close eye on any changes within the curriculum 
What Qualifications Do You Need to be an Early Years Teacher? 
To apply for Early Years Teacher jobs, you will need to achieve Early Years Teacher Status (EYTS), which can be done through an Early Years Initial Teacher Training (EYITT) programme. To get to this stage, you will need a series of qualifications under your belt. We have outlined the academic steps you could take to achieve your desired role as an Early Years Teacher below: 
GCSEs and A Levels 
While there are a variety of EYITT programmes that you can embark on, it is important to note that each one requires you to have GCSEs and A Levels. You will need at least a GCSE in English, Maths and a Science subject at grade C/4 or above. It is likely that you will also require two or three A Levels. 
If you are starting a new career from scratch and don't currently possess the relevant GCSEs and A Levels to enrol on the programme of your choice, then hope is not lost! With the help of learndirect, you can study for these qualifications from the comfort of your own home. 
We deliver a series of GCSEs and A-levels online, which means you can prepare for the exams without having to be restricted by traditional classroom learning. While all of these programmes will accept A Levels, some will accept an Access to Higher Education Diploma as an alternative. This Level 3 qualification is the equivalent of 3 A Levels, and they cover vocational subjects, which is beneficial for teaching. 
If you want to study a degree that is related to early years education, then consider studying the Access to Higher Education Diploma (Education). This online course delves into industry-related topics and gets you prepared for university. Please check the entry requirements of your chosen degree or programme before embarking on your study. 
Once you have these qualifications and you have passed an enhanced Disclosure and Barring Service (DBS) check, you can continue your route towards Early Years Teacher Status. Consider the following options: 
Undergraduate 
Many individuals who want to pursue Early Years Teacher jobs opt for degree-level study. A degree that focuses on a subject related to early years education can lead to EYTS, but not every degree does, so it is important to check before you apply for a university course. 
Graduate 
If you already have an undergraduate degree but don't have any experience working with children, you can still achieve EYTS through a graduate programme. There are various programmes available, but most are full-time, include work placements, and last around 12 months.  
Employment-based Graduate 
Individuals who already work in early years education but require further training can achieve EYTS by undergoing a part-time programme that ensures they reach early years Teachers' Standards. 
Assessment Only 
If you are a graduate that has experience working with children aged between 0-5 years old and already meet early years Teachers' Standards, you only need to complete the assessment to achieve EYTS.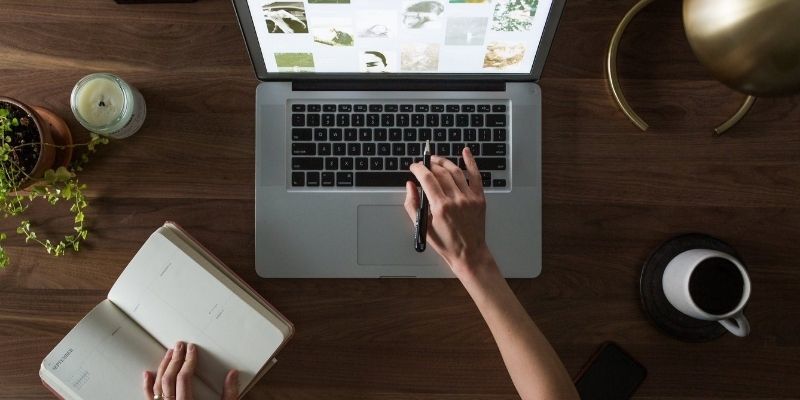 Can I Study Online? 
As mentioned, you can study for the GCSEs, A Levels/Access to HE Diploma you need through learndirect, the UK's leading online learning provider. Not only do we offer these regulated qualifications, but we also deliver a wide range of accredited early years education courses. 
With the knowledge you gain, you will be equipped to continue your journey towards a role as an Early Years Teacher. Among our portfolio of courses is the Diploma for the Early Years Workforce (Early Years Educator) CACHE Level 3 (RQF). Based on the framework of the Early Years Foundation Stages (EYFS), our course is a combination of online learning and practical training. 
In fact, you must be working in early years education or have arranged a placement to successfully achieve your Level 3 diploma. The qualification is accredited by NCFE CACHE (Council for Awards in Care, Health and Education). There are a range of topics you will cover in your modules, including the following: 
Healthy lifestyles for children 
Emotional wellbeing 
Support for unwell children 
Safeguarding legislation 
Equality and diversity 
Health and safety 
The value of play 
You will also explore the below early years education topics: 
Child development in literacy 
Child development in mathematics 
Support for children transitioning to school 
Cognitive development 
Speech, language, and communication 
Physical development 
Support for children with additional needs 
As well as completing a minimum of 350 hours at an appropriate placement, you will be issued with question papers to complete at the end of each lesson. These papers will be marked by your personal tutor and feedback will be provided to help you progress through the course. 
There are no exams, and you can tailor your study schedule around your existing commitments, making the course ideal for learners who care for young children or work full-time. The Early Years Workforce Diploma is one of a series of early years education courses that we provide. You can browse through our full early years portfolio, or check out the options below: 
Kickstart Your Career Today! 
If you have ambitions of becoming an Early Years Teacher, there are various avenues you can take. Whether you have no experience or currently work in early years settings, you can achieve Early Years Teacher Status (EYTS) in a variety of ways. 
For those of you who need to gain qualifications to meet entry requirements for an Early Years Initial Teacher Training (EYITT) programme, then turn to learndirect. By speaking to one of our Course Executives on 01202 006 464, we can advise you on the best steps to take to pursue Early Years Teacher jobs.  
Alternatively, you can find out more information by contacting us online or by clicking below. Don't waste any time in the pursuit of your chosen career!