Early years teachers work with children between birth and the age of 5. They not only enable parents to work but perform a vital role in children's early development. Research suggests that learning through play and socialising in an early years setting develops stronger cognitive and social abilities in children, compared to those who don't.  
For the child, Early Years Education is an opportunity to develop, learn and grow through playing with children of their own age. They will meet many child development milestones as long as they are nurtured and supported properly. By choosing to become an Early Years Teacher you will play an important role in the development of young children. You will nurture them through developing their first friendships, all the way to preparing them for primary school. 
Becoming an Early Years Teacher is more than just a 9-5 job. You will take a direct and active role in the progress of children in your care, helping them to develop. Professionally, training to be an Early Years Teacher opens up many opportunities. Aside from working in a nursery or preschool, you will also be in a position to start your own nursery or childcare service. 
If you want to help children through their crucial child development stages, then continue reading! We explain the routes you can take to become an Early Years Teacher and the child development courses you can enrol on to help you along the way. 
How Do You Become an Early Years Teacher? 
Much like a Teacher in a school setting, to be an Early Years Teacher you are required to be educated to a minimum standard. The training you undertake must lead you to Early Years Teacher Status (EYTS), and there are various avenues you can take to achieve your goal. 
Some institutes specifically offer degrees in early years education, while others provide child development courses, so research your options thoroughly before you commit to an approach. You will need a degree and at least a GCSE C/4 grade in English, Maths and Science. You will also need to take a test in numeracy and literacy to prove that you have basic skills in these areas. 
EYTS will allow you to work in a private, independent, or voluntary early years setting, but if you want to work in a school that is maintained by a local authority, you need to achieve Qualified Teacher Status (QTS) through an Initial Teacher Training (ITT) programme. This will demonstrate that you've met the Teachers' Standards and can apply for child development jobs as an Early Years Teacher.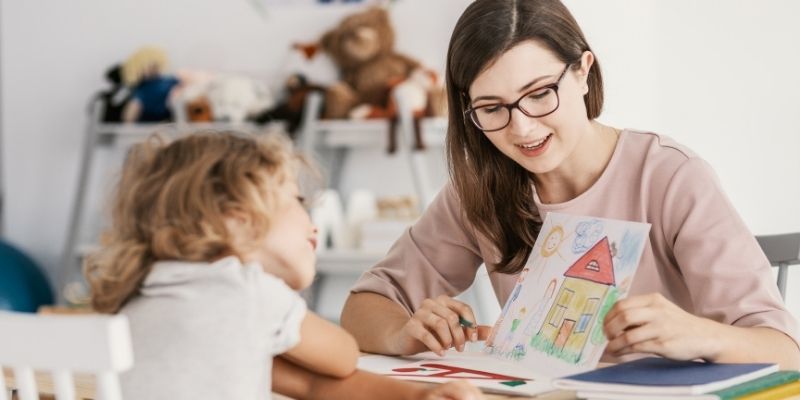 Below, we have outlined the various ways in which you can undertake the necessary childcare training. 
Training Routes 
There are several different routes into early years teaching, giving the greatest number of people the opportunity to train in child development. The good news is, whichever route you choose to take, you will gain Early Years Teacher Status (EYTS). 
Graduate entry – Usually a year of full-time study that includes a work placement. This route is designed for individuals that have an undergraduate degree but have little to no experience of working with children.  
Graduate employment-based – A one-year part-time route for graduates working in an early years setting who need further training to demonstrate the Teachers' Standards.  
Undergraduate degree – A full-time three to four-year route leading to EYTS. This route is for people studying for an early childhood-related degree subject. Please make sure that the undergraduate degree you enrol on leads to EYTS as not all universities offer it. 
Assessment only – This self-funded route takes three months and is ideal for graduates with experience of working with children from birth to 5 years old and who already meet the Teachers' Standards. This means that there is no need for further training. 
What If You Don't Have a Degree? 
If you don't have the qualifications you need to get an undergraduate degree, hope is not lost. There are options for you to consider, regardless of what stage of life you're currently at. Most university entry requirements ask for applicants to have a certain number of A Levels. 
If you don't currently have those qualifications, you can achieve them with the help of learndirect. We deliver a wide range of online A-level courses, each of which comes with a nationally recognised qualification. You can learn the syllabus online, and most of our packages include the exam fee. 
Access to Higher Education Diploma 
Alternatively, you can study for an Access to Higher Education Diploma, which is the equivalent of 3 A Levels and is widely accepted as an alternative to A Levels. However, you should check the entry requirements of your chosen university before applying. 
With learndirect, you can enrol on the Access to HE Diploma (Education), which is suitable for individuals working towards a career in education. This qualification can help get you into university to study a degree related to child development jobs. Moreover, it will also get you on to teaching courses if you want to pivot your career in the future. 
With most of these courses, you won't need previous experience or qualifications in order to enrol. Whichever approach you take, by the time you've gained your qualifications you will possess the knowledge, skills, and confidence for a successful career in early years education and child development.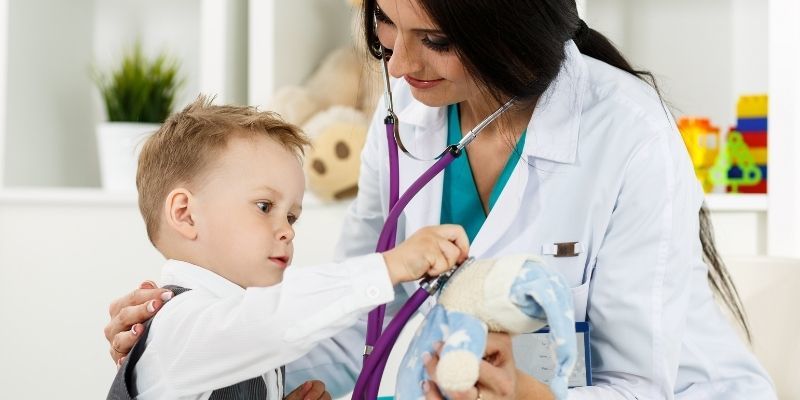 There are various modules that you will study during the Access to Higher Education Diploma (Education), including: 
Roles, Responsibilities and Relationships in Education 
The Developing Child 
Influences on Educational Achievement 
The Psychology of Learning 
The Human Nutrition and the Digestive System 
Theories of Child Development 
Language Acquisition 
The Development of Education 
You will also explore the following topics: 
Developmental Psychology 
Disability and Special Education Needs 
Play 
Short Story 
Managing Behaviour in the Classroom 
Human Reproduction, Growth and Development 
Sociology of Education 
Equality of Opportunities 
Safeguarding in Education 
During the Access to Teaching Course, you will also learn a range of study skills that will get you prepared for university, including how to write assignments. 
Other Child Development Courses 
While A Levels and Access to Higher Education Diplomas are designed to get you into university, you can extend your knowledge by enrolling on child development courses. For anyone wanting to become an Early Years Teacher, having foundational knowledge is incredibly helpful. Below, we have outlined some child development courses you may want to consider taking. 
Diploma for the Early Years Workforce (Early Years Educator) CACHE Level 3 (RQF) 
This child care training course is based on the Early Years Foundation Stages (EYFS) framework and provides training that will get you prepared to work with children up to the age of 5 years old. Approved by the Council for Awards in Children's Care and Education (CACHE), this course will provide you with the knowledge you need to support children through crucial child development stages. 
To successfully complete the Early Years Workforce course, you will need to either be working in an early years setting already or you will have to arrange a placement. This is because you will need to provide practical evidence as part of your course. The majority of your modules can be completed online and at a pace that suits you.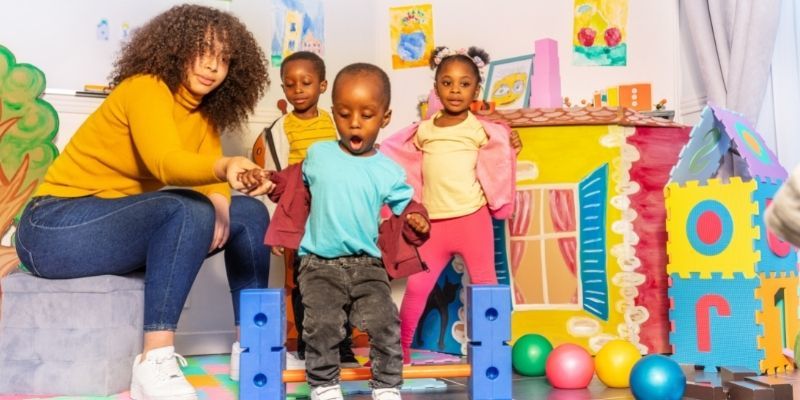 Child Development – Advanced 
For anyone looking to work in education, it is important to have a solid understanding of child development stages and the child development milestones that are reached. You will cover a wide range of topics in this online Child Development course, from how to support children during their development to the external influences that can affect their development trajectory. 
Child Care and Education 
The Child Care and Education course is based on the National Occupational Standards for Children's Care, Learning and Development. This Level 3 qualification will get you prepared for future roles working in child development. During the course, you will explore a range of topics, such as nutrition, communication, and how to care for children with special educational needs. 
What is an Early Years Practitioner's Role? 
No two days are the same for the average Early Years Teacher. If you choose to go down this route, you will be encouraging infants and children to learn and develop through play and teaching. An important part of this will be encouraging children to use their imagination, which will help them through various child development stages. 
You will be responsible for making them feel safe in their environment so that they can express themselves and try new things. This can be through arts and crafts, storytelling or using props such as toys and puppets. An extension of learning through play will be to develop literary, language and numeracy skills. 
You will develop a support plan tailored for each child to help them achieve key developmental targets ahead of their transition into primary school. A big part of this is helping to carry out tasks independently or work collaboratively with other children, rather than relying on you or your colleagues for support. 
You will also work with parents to address concerns or help to continue their development in the child's home setting. Working as an Early Years Practitioner is a challenging yet rewarding role, and it is the ideal route for anyone who wants to help children reach their child development milestones in a safe and secure environment. 
Take Your First Step Towards Child Development Jobs 
Choosing a career in early years teaching is to embark on a career of fulfilment. All you need to do is enrol on the right course for you and get the qualifications you need to achieve your child development career goal. 
Opting for distance learning gives you the advantage of organising your studies around your existing commitments. That way, if you're still working ahead of your career change, you don't need to choose between learning and earning. 
Plus, you get to set the pace of your education. So, if you want to complete your course in 6 months or two years, you have that choice available to you. All you need to do is give one of our Course Executives a call on 01202 006 464 or reach out to us online.  
There are flexible payment terms available to help you spread the cost. You will also have access to a dedicated tutor who will help you through the process, whichever child development course you choose. Call to find out more or click below to discover the range of courses available to you.