online only!

extra 5% off
25% OFF
Save £43.20 - Don't miss out!
Level 1 Award in Principles of Working in Early Years Settings
Get in touch with us and we'll call you back
Get in touch with us and we'll call you back
OUR PASS RATE
Teaching & Education
(National Average 73.8%)

79.3
%
SALE

Savings End Midnight Tuesday 12th December

SALE

Savings End Midnight Tuesday 12th December
Level 1 Award in Principles of Working in Early Years Settings
Understand management in an early years setting
Develop your knowledge in the core principles of working in an early years setting
Provides you with a strong foundation to progress with further learning
Expert tutor to guide you through your learning
Can be complete the course in as little as 3 months
Prepare for a career in early years
About your Course
The Level 1 Award in Principles of Working in Early Years Setting (RQF) is a great entry point for further learning and a fulfilling career in early years education. The course is made up of 4 online units to help develop your skills in an early years setting.
You'll develop a strong understanding of the roles and responsibilities of working with young children. As well as learn how to provide a safe and efficient learning environment in the 'management and organisation in an early years setting' module. Through this you'll gain a firm grasp on the necessary practises of running an early years establishment.
You'll also learn how to confidently work with children from birth all the way through to 5yrs 11mths old. By understanding the importance of play you'll learn how it will develop a child's language and communication, physical mobility and build confidence within themselves and the world around them.
Getting Started
learndirect is one of the UK's leading distance learning providers, but unlike most others, all our courses are available fully online. This method of study gives you the flexibility to complete the course in a way that works best for you.
Unlike a physical college where you'll have to adjust to a class timetable, you'll be able to learn whenever suits you best.
As soon as you enrol the information is readily available via our online portal. So instead of waiting until the start of the academic year to begin your learning, you can start straight away.
However, you won't be on your own. The course will be assessed by an expert tutor who guides you through your studies. They'll provide valuable feedback and answer any queries you might have about the contents of the course.
Modules
Principles of play for babies and young children
Management and organisation of early years environments
Principles of community development in early years settings
Roles and responsibilities in early years settings
Entry Requirements
There are no entry requirements, however English and Maths Level 2 or higher would be advantageous.
Minimum Age restriction
16
Average completion timeframe
The average completion time for this course is 6 months.
Assessment requirements
Assessments will be carried out using written questions.
Placement or Practical required
Volunteering in an early years setting would be advantageous
If placement or practical required, when?
Throughout the course
Is Membership Required?
No Membership
Certification Timeframe
You can expect to receive your certification within 12 weeks of successfully completing the qualification. Please note this can be longer if a EQA sample is required
Course Fees
All course fees, inclusive of all payment plans including our Premium Credit Limited option, must be settled before certification can be ordered.
*You will have access to the course for 24 months.

Assessment
The qualification is assessed by internally set and marked assessments subject to external quality assurance.
Where indicated in the unit specifications, assessment must meet the requirements of the identified assessment strategy/principles.
Materials for internal assessment must be submitted to TQUK for approval prior to use and must be mapped to the relevant unit, learning outcome and assessment criteria.
All learning outcomes and assessment criteria must be met to achieve a pass - there is no grading.
Qualifications
TQUK Level 1 Award in Principles of Working in Early Years Settings (RQF).
Successful learners can progress to other qualifications such as:
TQUK Level 2 Certificate for the Children and Young People's Workforce
TQUK Level 2 Certificate in Introducing Caring for Children and Young People
Successful learners can apply for job roles such as: While this qualification will not enable individuals to proceed directly into a job role, it will provide a foundation for further learning into this sector along with making an individual more eligible for volunteer work in this subject area.
OUR PASS RATE
Teaching & Education

79.3
%
(National Average 73.8%)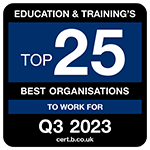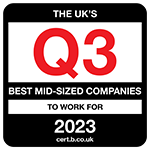 Sign up to our Newsletter