Why Study a Radiography Course?
If you're looking for a job that both improves and saves lives, you've no doubt considered a career in healthcare. Though, this doesn't exactly narrow your options. Every career in healthcare is important and the majority contribute directly to a patient's condition in some way.
So, what you need to consider is what healthcare career appeals to your interests and which ones have good graduate job prospects. If you're both fascinated by the human body and technology, a career path that ticks all these boxes is radiography.
Not only does this line of work require you to master the use of highly innovative technology, it positions you to help prevent patients from becoming seriously ill. This is because you have a unique skillset that identifies their ailments accurately and hopefully early enough that anything serious is treatable.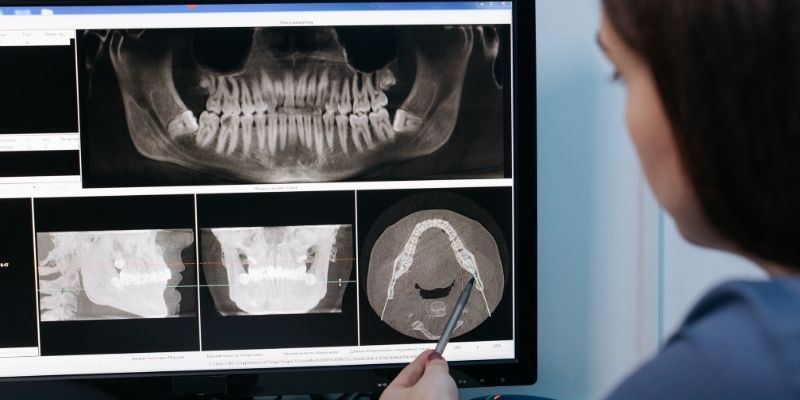 What Does a Radiographer Do?
As a Radiographer, your job is to utilise high-tech equipment and radiation to either diagnose or treat sick or injured patients. Depending on your skills and interests you can work in two areas:
Diagnostic Radiography
As a Diagnostic Radiographer, you will use a range of techniques and technology to identify the cause of a patient's illness or injury. To do this you will often use X-rays, MRI machines and ultrasounds. You will typically work in the radiology and imaging departments and support the patient care of most other departments in the hospital. This includes anything from A&E to the operating theatre.
Therapeutic Radiography
As a Therapeutic Radiographer, you will use different types of radiation to treat an illness or injury. In many cases, this will be for the treatment of cancer and tumours where you will typically use X-rays and other ionising radiation. You will work with patients on a daily basis to administer their treatment, this means you will tend to build a close professional relationship with the people you treat.
In either role, Radiographers are a big part of their patient's journey, as they support and care for people who are unwell, in pain, anxious and often uncertain about what their future has in store for them. As such, Radiographers are highly trained to deliver a sensitive, patient-focused healthcare service.
If either of the above radiography roles appeal to you, studying a radiography course will help you get on track to these vital careers.
What is Radiography Course?
When you study radiography, your course will focus on teaching you how to operate the technology involved and the analytical skills you need to correctly identify patient ailments. It will also have a heavy focus on the human body, so you understand the category and causation of diseases and illnesses, in addition to the way the body reacts to radiation.
Your course should also help you improve your patient care skills, so you can effectively handle the sensitive nature of your future work. The depths your course will go to on these subjects depends entirely on the level of qualification and type of radiography course you are studying.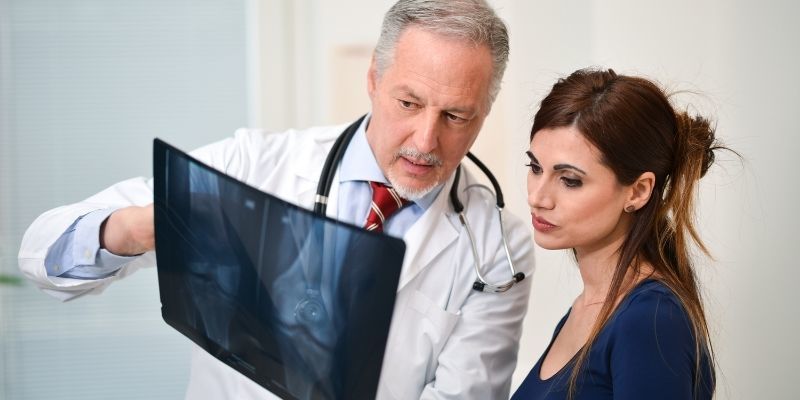 What Type of Radiography Course Can I Study?
There are a vast number of radiography courses. UK learners can study those that fit their needs whether they are looking to become qualified in radiography or learn radiography processes as an additional skillset for their current role.
Some of the ways you can study radiography in the UK are below:
Access to Higher Education Diploma (Radiography)
An Access to HE Diploma (Radiography) is designed to give you the ideal grounding of knowledge to prepare you for degree level study. It covers the core scientific and medical principles that are essential for safe working with radiation and hazardous materials. You will also learn how to provide the best support for the patients in your care.
Among many critical topics, you will learn about human disease and prevention, radioactivity, cell biology and your roles and responsibilities as a healthcare professional.
As a Level 3 qualification, you will be able to progress directly on to a university degree in radiography. This is because the qualification is equivalent to three A Levels and will enable you to meet university radiography courses entry requirements.
Radiography Degree Courses
Studying a radiography degree that is approved by the Health and Care Professionals Council (HCPC) is an essential step to start a career as a Radiographer.
At this point in your studies, you can choose which area of radiography you want to branch into professionally. Undergraduate degrees are offered in either diagnostic or therapeutic radiography. Once you complete your undergraduate degree, you can take your education further and study radiography postgraduate courses that allow you to move into a specialist area.
Should you wish to, you can study postgraduate courses in breast evaluation, mammography practice, medical magnetic resonance, forensic radiography and more.
Dental Radiography Course
Radiography is an essential component of hospitals and general medical centres, but it's also a requirement. This is because dental radiographs (X-rays) provide dentists with a more accurate picture of what is going on in a patients mouth.
You can study a dental nurse radiography course online that allows you to advance your career by taking on the responsibility of diagnostic imagery. This NEBDN radiography course trains GDC registered dental nurses, hygienists and therapists to the highest level so they comply with the Ionising Radiation (Medical Exposure) Regulations- (IR(ME)R) 2017 and the Ionising Radiation Regulations-IRR 2017.
Radiography CPD Courses
There are also a number of radiography CPD courses healthcare professionals can study to meet their Continuing Professional Development (CPD) requirements. Continuing skills development is essential within a number of healthcare careers, so studying these courses is a great way to gain new knowledge and skills in a highly useful area.
How Long Does a Radiography Course Take?
Your radiography course length depends on the type of course you decide to take and how you study it.
Radiography short courses like CPD courses can be completed in a matter of weeks or months, whereas the radiography courses that provide you with regulated qualifications will take longer.
The time spent studying can be reduced greatly if you decide to opt to study radiography courses online. This is because there are no classes or timetables to stick to, so you can progress through the learning materials quicker than you could in a classroom setting.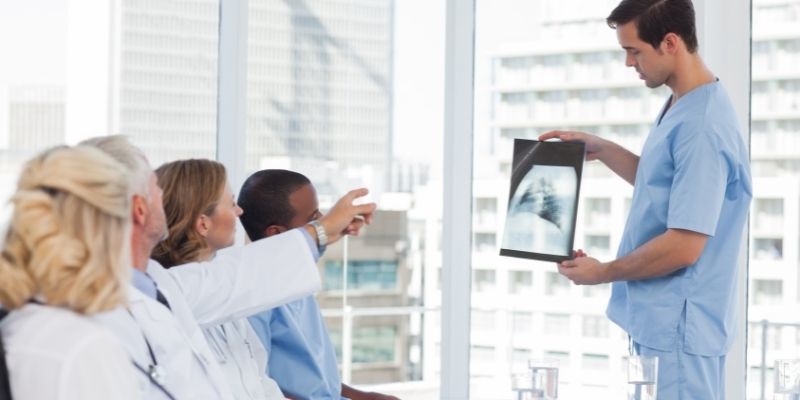 How Much Do Radiographers Earn?
When starting out as a Radiographer in the UK, you can expect to earn around £24,900 a year, which is a band 5 salary in the NHS. This will go up year on year in line with the NHS band scale. The average salary for an experienced Radiographer is between £35,000 to £40,000 per year (band 6).
The highest paid Radiographers earn band 7 or 8 salaries with ample experience and additional qualifications. These salaries respectively start at around £38,800 and £51,600 per year and will continue to increase over time.
Study Radiography Online
If you want to use the latest medical equipment to detect injuries and life-threatening ailments while there is still time to treat them, becoming a Radiographer would be a highly rewarding career.
You will need a compassionate nature and a degree that is approved by the Health and Care Professionals Council (HCPC) to get started. This is something you can work towards with our Access to HE Diploma (Radiography). As an entirely online course, you can gain the knowledge you need for university comfortably from home.
As an equivalent to A Levels it enables you to get qualified for university quickly. On average learndirect students finish these courses within 9-12 months, so you can be ready to apply to university within a year.
Find out more information about this course by speaking to one of our Course Executives on 01202 006 464 or by contacting them online.