Why Get Qualified in Foot Health?
What is something that you use each day that allows you to live your life freely, independently and helps improve your overall health? The answer is your feet. Without them, or the ability to walk on them as normal, your life would be severely impacted, and your health would decline.
This is because our feet are more valuable to us than we believe, but they are often the last thing we think of when it comes to our physical or mental wellbeing. Granted, many people pay for pedicures for aesthetic purposes, or a foot massage to relax and unwind, but they aren't as forthcoming to pay for services in foot health until there is a problem.
This all might sound like doom and gloom for the foot health industry, but the truth is in fact the opposite. The need for professionals in this space is escalating rapidly and there are a host of reasons why working as a foot health professional is something you should strongly consider.
Foot Health Matters
There are so many reasons why it's important to stay on top of your foot health. From your balance to posture, mobility, circulation, and organ function, your feet have a knock-on effect to the entire body. Should our foot health deteriorate temporarily or long term, we could experience a host of problems relating to these areas and more.
For these reasons, it's vitally important we look after them, which takes more care than we might originally think. Considering what our feet go through in life and the distance they allow us to travel, they would appear to be rather robust. However, in this small area of our bodies, there are 26 bones, 33 joints and more than 100 muscles, ligaments and tendons.
This not only makes our feet incredibly complex, but it also gives us a better idea of how delicate they are.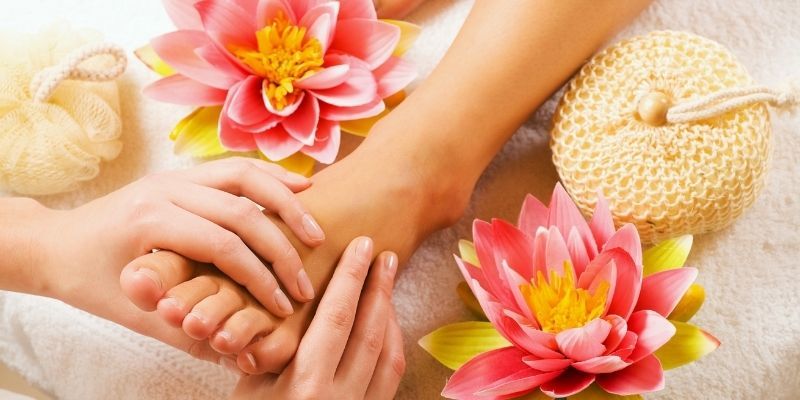 Some of the common foot health problems people can experience include:
Athlete's foot
Blisters
Bunions
Corns
Diabetic Neuropathy
Flat Feet
Hammertoe
Ingrown Toenails
Plantar Fasciitis, and more
Just a few of the issues these problems can lead to include:
Difficulty moving the toes or feet
Numbness, tingling and damage to the nerves in feet
Itching, cracking and peeling of the skin on feet
Pain in the feet, knees, hips and lower back
Redness, swelling and infection
Reduced mobility, resulting in weight gain and/or poor mental health
There is a Rising Demand for Foot Health Care Professionals
As more is being done to raise awareness of the impact poor foot health can have, more people are realising that foot health care is a necessity, as opposed to a luxury. This is seeing a rising number of requests for professional assistance to relieve foot health issues before they become a problem.
In the UK, the National Health Service (NHS) only provides a very small percentage of the foot care treatments on offer. So, people looking for these services are having to go to private foot health clinics.
In addition to this, UK diabetes rates are drastically on the rise. This is estimated to lead to a significant number of additional people requiring regular foot health appointments, to remain clear of ulcers and avoid leg, foot or toe amputations.
Therefore, if you are looking for a career that offers a certain degree of job security, getting qualified in foot health is a wise idea.
You could become a:
Chiropodist
Podiatrist
Foot Health Practitioner
What Does a Foot Health Practitioner Do?
As a Foot Health Practitioner, you can deliver treatments and provide advice to patients experiencing a range of foot health issues. These can include anything from bunions to calluses, cutting nails to removing hard skin and treating verrucas.
As such, the equipment required for foot health practitioners can be quite varied. To get started you will need:
Autoclave/Steriliser
Foot Files
Nail Clippers
Nail Files
Scalpel
Swan Neck Round Probe
You will also help provide general foot hygiene to patients who struggle to do it effectively themselves. In light of preventing more serious conditions from occurring, you will also monitor your client's circulation and limb health. Noticing changes in these areas can flag more severe problems and is especially important when dealing with diabetic clients.
In the incidence of coming across a more serious health concern, you will refer the client to the healthcare service they require. This could be their GP, but equally referrals to Chiropodists and Podiatrists are just as common as they deal with more invasive foot health procedures.
In any case, the work you do will help your patients live a life free of pain and with mobility long into their older years.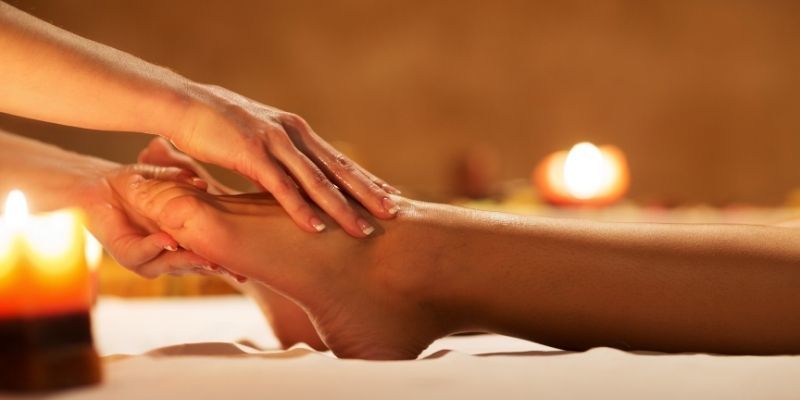 What Do Foot Health Practitioners Charge?
Besides the rewarding factor of helping people recover from debilitating, painful foot health conditions, becoming a Foot Health Practitioner is also financially rewarding.
Even if you decide to work as a part-time Foot Health Practitioner, you can still earn a great living. Wages and fees vary by location but, generally, a Foot Health Practitioner charges between £25-£40 per treatment.
In salaried positions, a Foot Health Practitioner can earn up to £30,000 per year with experience.
What Other Perks Come with The Job?
In addition to good earning potential, becoming a Foot Health Practitioner provides you with other perks that help explain why this choice of career is becoming so popular.
If you're a social person, Foot Health Practitioner jobs all require you to interact with the public and other related health professionals on a daily basis. As the clients you deal with will typically come to you for ongoing or follow up treatments, you will get to know them on a personal level. This helps make your working relationships that much more enjoyable as you become a familiar source of support in their lives.
Another draw to this foot health career is the flexibility it can provide. If you work as an independent Foot Health Practitioner, you can set your own working hours and rates of pay. This enables you to work more comfortably around your other commitments, as does working as a Mobile Foot Health Practitioner. In this role, you will provide foot health tips, treatments, and advise clients in their homes, during appointment times that suit you and them.
Working as a Foot Health Practitioner can also be a perfect segway into other careers. You can either add to your current offering by providing additional related services like pedicures, reflexology or massage. Additionally, as you will gain a detailed understanding of the work of Chiropodists and Podiatrists, you could then complete the further qualifications required to move into these roles.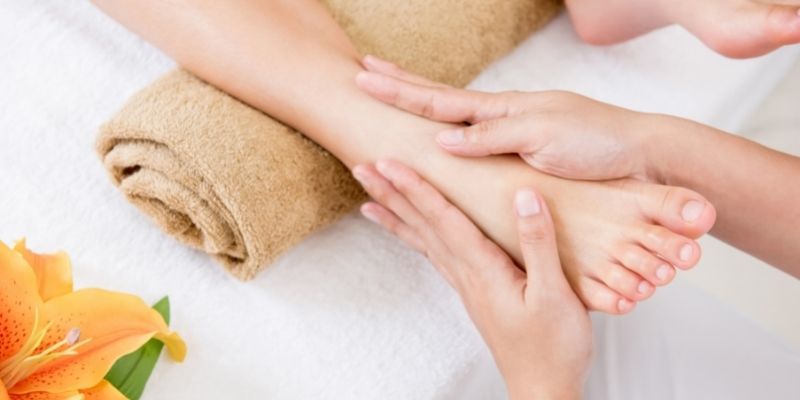 How to Become a Foot Health Practitioner
If you're reading this wondering how to become a Foot Health Practitioner, you will be pleased to know this career path doesn't require a degree. So long as you complete an accredited Foot Health Practitioner course that teaches you both the theory and practical skills required to care for feet, you can make the move into this line of work.
learndirect offer one such Foot Health Practitioner course that can be studied for the most part from the comfort of home. Our online Foot Health Care Practitioner (RQF) Diploma Level 3 is nationally recognised and is split between online foot health theory and hands-on practical training,
During the online theory element of the course that is studied at home, you will cover sector essential topics like:
Anatomy and Physiology
Infection Prevention and Control for Foot Care Practitioners
Understanding Pathologies and Treatments for Foot Health Care
Managing Foot Care for Diabetics
Preparing for Clinical Practice
Setting Up and Managing a Professional Practice
You will then complete 5-days of practical foot health care training which is carried out within a state-of-the-art facility. After this hands-on training, you will:
Be able to prepare for foot care treatments by carrying out all of the necessary risk assessments
Be able to make recommendations for treatment
Be able to carry out foot health treatments safely
Be able to record information relevant to foot health care
Be able to reflect on own practice
Study Foot Health Online
By choosing to take your Foot Health Practitioner course online, you will benefit from the flexibility distance learning courses offer.
Distance learning providers like learndirect enable you to study from home, whenever the time is right for you. So, no matter if you are requalifying for a new career as a Foot Health Practitioner around your current work commitments, or you need to study when the children are asleep, there's no need to worry.
Learning distance courses make education available to everyone, and our flexible payment options help you spread the cost of your course fees.
Find out more today about how you can become a qualified Foot Health Practitioner through an online with learndirect by speaking with our Course Executives. They can give you a full rundown of what the course entails, and the requirements surrounding the hands-on practical training.
Call them now on 01202 006 464 or contact us online!