Foot Health Care Practitioner (RQF) Diploma Level 3
Foot Health Care Practitioner (RQF) Diploma Level 3

Includes 5 Day COVID-Secure Practical Training
Key Points
Develop key knowledge and competencies in Foot Health Care
Promote awareness of good foot health
Learn to identify and treat foot health issues
5 days of practical training in our state-of-the-art COVID-secure training facility
Gain a recognised RQF Level 3 Diploma
Take your first steps into the health and social care sector
Learn the fundamentals of setting up your own practice
About your Diploma
The Lifetime Awarding Level 3 Diploma for the Foot Health Care Practitioner RQF Qualification (601/5502/4) is a fully recognised qualification listed on the RQF (Regulated Qualifications Framework). It carries 37 credits which can be transferred to progress onto further study (e.g. a degree).
The Lifetime Awarding Level 3 Diploma for the Foot Health Care Practitioner RQF develops the knowledge, skills and competence required for learners to work as Foot Health Care Practitioners. This qualification promotes awareness of preventing and treating foot disorders and provides information on setting up in practice. The knowledge, understanding and skills equip learners to be occupationally competent and gain experience in dealing with common foot and skin problems.
This Level 3 Diploma for the Foot Health Care Practitioner qualification is suitable for learners aged 18 and above who work, or who are looking to work, within the Health and Social Care sector, or those who want to have their own Foot Health Clinic.
About our Foot Health Course
Our course contains all of the mandatory units required by the Awarding Organisation and is designed so that you complete as much of the theoretical work as possible before you attend your practical training – at our state-of-the-art Foot Health Training Centre in Birmingham. By doing so, you can focus on the clinical aspects of your training whilst you are with your Clinical Tutor. You will work with real clients and will cover all aspects of running a clinic. You collect evidence of your clinical practice as you prepare for appointments and work with clients.
5 Day Practical Training
Your practical training will be held at our state-of-the-art COVID-secure training clinic in Birmingham. During your 5 day training, you'll work on real patients, allowing you to hone your skills and solidify your learning.
Throughout your practical training, you'll be supervised and supported by our experienced tutors who are successful practising foot health care practitioners themselves.
At the end of your week, you'll have the confidence and proficiencies in the required techniques to make you a success in the Foot Health Care world!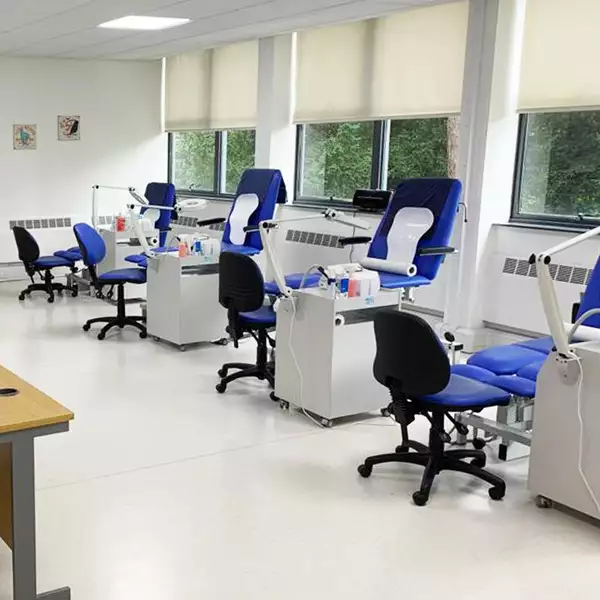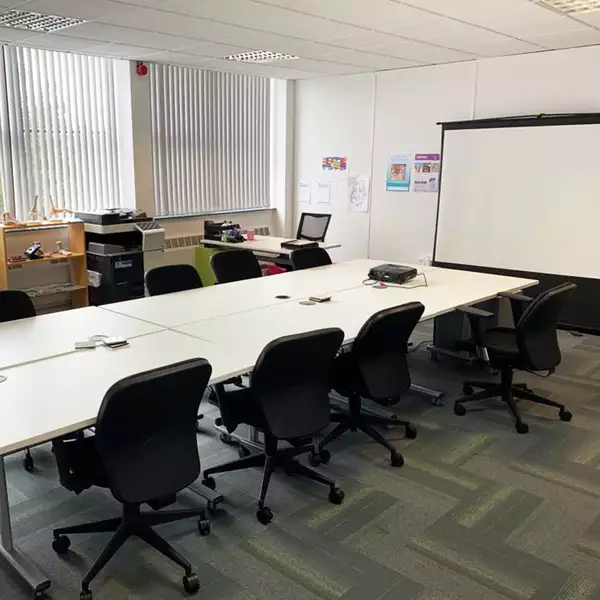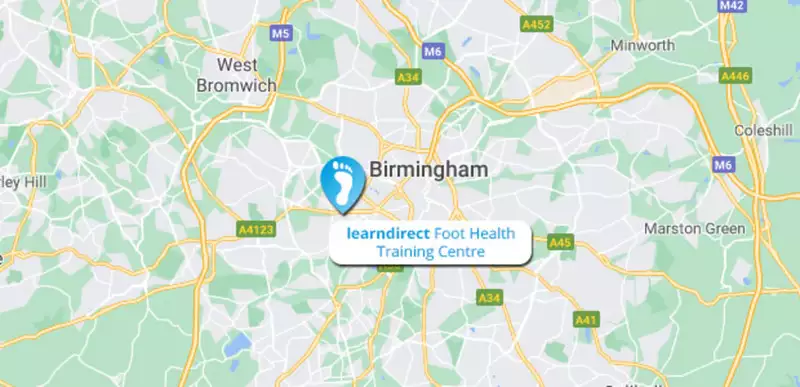 Launching your Career
As soon as you've gained your nationally recognised qualification you can start practising.
Your course will teach you how to set up and run a successful foot health care practice including understanding businesses logistics and how to plan your business.
This course will also give you a comprehensive understanding of anatomy and physiology. The course will also teach you about infection of the foot, how they spread and how they can be treated.
You will learn how to maintain foot hygiene and how to treat feet in a hygienic and safe way, preparing you for clinical practice.
learndirect is the UK's leading distance learning provider. So, you can be confident that this course will get you the qualification you need to succeed.
The course is developed by subject experts and accredited by Innovate Awarding. You will also get tutor support throughout your studies and 5 day practical training course in our state-of-the-art facility.
You can start your course as soon as you enrol via our online learning portal. Just log in and all your course materials will be there waiting for you.
Modules
Unit One: Anatomy and Physiology (T/506/9528, D/506/9524)
On completion of this unit you will:
Understand the relevant principles of Anatomy & Physiology in relation to foot health care
Know the importance of measuring blood pressure for foot health care
Be able to check the circulation of the lower limb
Understand circulatory disorders of the lower limb
Unit Two: Infection prevention and control for foot care practitioners (K/506/9526)
On completion of this unit you will:
Know how infection of the feet is caused
Know how infection can spread
Be able to maintain hygiene when administering foot care
Be able to use sterilisation methods for foot health care
Be able to dispose of waste safely in a foot healthcare environment
Unit 3: Understanding pathologies and treatments for foot health care (A/506/9532, M/506/9527, A/506/9529)
On completion of this unit you will:
Know the structure and function of the skin
Understand the importance of nutrition for skin health
Understand disorders and conditions which affect the skin of the foot
Understand dermatological pathologies of the foot
Know the structure, function of nails and dystrophies of the foot
Understand the importance of nutrition for clients' nail health.
Unit Four: Managing Foot Care for Diabetic (M/506/9530)
On completion of this unit you will:
Understand the regulation of blood sugar levels
Understand complications due to diabetes being uncontrolled
Be able to support clients with diabetes in foot health care
Explain the importance of recording all treatments and discussions in line with legal requirements
Unit 5: Preparing for Clinical Practice
In this unit, you will be preparing for clinical practice by completing an assignment designed to consolidate the learning you completed in units 1-4
You will check details of training and confirm that you are fully prepared to attend
Unit Six: Setting up and managing a professional practice (T/506/9531)
On completion of this unit you will:
Understand the business logistics of setting up a practice for foot health care
Understand the steps in assessing a business opportunity
Be able to plan a foot health care business
Unit Seven: Your Practical Training (Y/506/9523, H/506/9525 M/506/9530, A/506/9532, M/506/9527, A/506/9529, K/506/9526 T/506/9529, D/506/9524, T/506/9528)
On completion of this unit you will:
Be able to prepare for foot care treatments by carrying out all of the necessary risk assessments
Be able to make recommendations for treatment
Be able to carry out treatments safely
Be able to record information relevant to foot health care
Be able to reflect on own Practice
Requirements
There is no previous experience or qualification needed to enrol on this course; it is openly available to all students providing they are at least 18 years of age.
You will also be required to complete 5 days of practical Foot Health Practitioner training to complete this course.
The approximate amount of time required to complete the course is 116 hrs.
Assessment
This foot health care practitioner course is carried out via distance learning which means that you will work from home in your own time. You will be responsible for your own study time, but you are free to fit it around your other commitments such as work or family life.
The course is composed of 6 lessons of theory training which will be completed as part of your home study. As part of our foot health practitioner course, you will also have 5 days of practical training which will be completed at our fully equipped Foot Health Training Centre in Birmingham.
The amount of study hours you will need to dedicate to your studies depends on how much time you can dedicate to your studies as well as how well you grasp the learning materials. Furthermore, at the end of every lesson, you will be given a question paper to complete and return to your tutor. You should allow at least 1 - 2 hours of study to complete each question paper.
Qualifications
Innovate Awarding

On successful completion of our Innovate Awarding Level 3 Diploma for the Foot Health Care Practitioner (RQF) course you will receive a qualification listed on the RQF at level 3 (Qualification Reference Number: (601/5502/4). This course has also been assigned 37 credits.
Innovate Awarding is an Ofqual regulated awarding organisation with an innovative and dynamic approach. They develop off-the-shelf, customised and fully bespoke qualifications across a growing number of sectors – all on the Regulated Qualifications Framework (RQF).
Learners who achieve this qualification could progress into a range of roles within the Health & Social Care Sector, in an established Practice or by running their own Foot Health Care Practice. The course includes a unit on 'Setting up and Running a Professional Practice' so if you are considering starting your own business you will even have the chance to plan how to do so. Learners can also progress by studying for some additional specialist foot care qualifications, or CPD courses or by taking Business and Management qualifications to help them develop as Practice Managers and/or Business Owners.
Foot Healthcare Practitioners could choose to work on an employed basis in an established practice or if setting up a private practice, there is earning potential of up to ÂŁ39,000.00 per year
*Source: Payscale.com, Sept. 2012.

Get your NUS Extra / Totum card
All professional development students are eligible for the NUS Extra / Totum card, which gives you access to over 200 UK student discounts with brands like Co-op, Amazon and ASOS. Apply and find out more at
http://cards.nusextra.co.uk/

Sign up to our Newsletter