What Qualifications Do You Need to Become a Veterinary Support Assistant?
Having a passion and love for animals and their welfare can guide you towards an exciting and fulfilling career. There are many routes you can explore, but if you want to be part of the frontline of care, then pursue a role in a veterinary practice. Working as a Veterinary Support Assistant will place you within a modern veterinary team, and one of the best things about this role is that you don't need a degree to achieve it.
You will provide assistance and support to veterinary surgeons and veterinary nurses on a daily basis as they treat animals and nurse them back to health through a course of treatment. By working as a Vet Support Assistant, you will get to work closely with various animals as well as learn from your fellow professionals.
If you are keen to take on this hands-on role where no two days are the same, then continue reading to learn how to become a Vet Care Assistant. We explain the roles and responsibilities involved in the role, and the online course you can study to help you reach your career goal.
What do Vet Assistants Do?
Have you ever visited veterinary surgeries and noticed how smoothly they run? A major reason for this is down to the work of the Veterinary Assistant. Part of the role is ensuring that operating rooms within the practice are clean and tidy, as well as making sure that each animal is prepped for any medications or vaccinations.
Via an online course, you can learn the roles and responsibilities of a Vet Care Assistant, but you should be aware that these responsibilities can change over the course of a day. With this in mind, it is important to be adaptable and ready to think on your feet.
Essentially, Vet Assistant jobs encompass a range of activities within a practice, with their main aim being to support surgeons in the operating room and supporting every animal pre and post treatments. The importance of these duties will be covered in the course.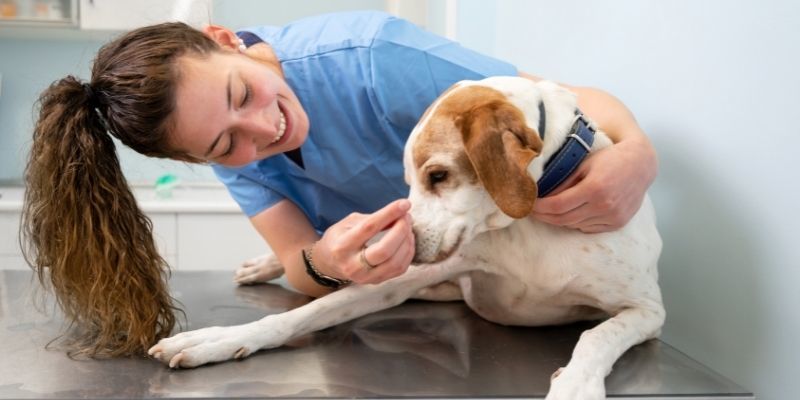 What Other Duties are Involved in Veterinary Assistant Jobs?
As well as the primary responsibilities already mentioned, you may also be responsible for carrying out the following once you complete your course:
Administering medication and vaccines to animals
Assisting with X-rays
Sterilising surgical instruments and equipment across the practice
Keeping records of the treatment provided to each animal
Your Vet Care Assistant role may also include having to do the following:
Applying bandages
Giving food, water, and fresh bedding to every animal under their care
Booking appointments and taking phone calls
Advising pet owners on the best animal care
Many professionals in this position are also required to:
Monitor animals before surgery, during the procedure and post-op
Keep animals calm when they are being treated
Support veterinary surgeons during procedures
Respond to emergencies
As a Veterinary Support Assistant, you will also be responsible for keeping animal kennels clean and sanitised, as well as preparing the area for surgery, using appropriate equipment.
What Skills Do You Need to be a Vet Assistant?
While you study an accredited course, you will learn about the day-to-day skills you need to work as a successful Veterinary Support Assistant. Your competence, though, is not solely dependent on the practical and theoretical skills you learn in the course. There are plenty of soft skills that you need to possess, and these are the skills you won't get taught in a course. They consist of:
Patience
Good time management skills
Strong communication skills
Empathy
Passion for animal welfare
Resilience
How Do You Become a Vet Assistant?
Most professions require qualifications, and when it comes to the role of a Veterinary Support Assistant, it is easy to assume that you need to undertake course after course to work in a dedicated practice. When multiple qualifications are required, it can take plenty of time to achieve them.
However, to apply for Veterinary Assistant jobs, you only need one significant qualification from a single course – an accredited Level 2 diploma – which you can study over the course of a year. This means that in around 12 months you will be qualified to work as a Veterinary Care Assistant.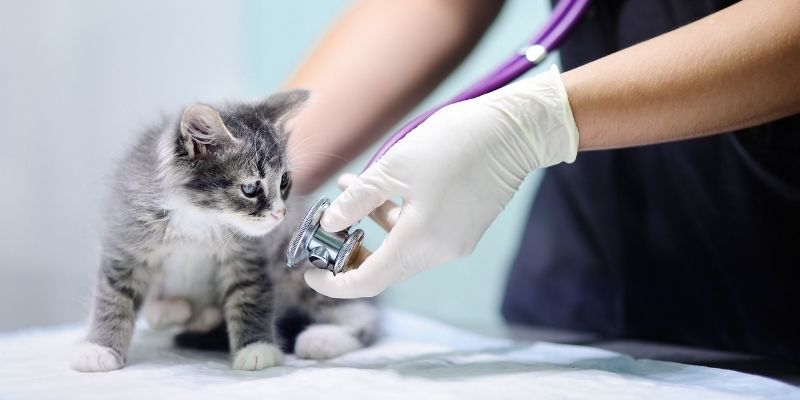 Can You Be a Vet Assistant Without a Degree?
In short, yes. It is easy to fall into the misconception that most jobs require you to be degree educated. In many careers, a degree course is either necessary or favourable, but you can work as a Veterinary Assistant without a degree.
What Qualifications are Needed to be a Veterinary Care Assistant?
While a degree is not essential to become a Veterinary Assistant, you do need to undergo an adequate training course. An accredited Level 2 diploma is a likely entry requirement for most practices, while relevant work experience is also favourable for employers, although not a prerequisite.
How Long Does it Take to Become a Veterinary Assistant?
The time it takes to become a Vet Support Assistant differs depending on the course that you study. If you opt for a course that is delivered online, you could achieve your Level 2 diploma in as little as 6 months. Generally, though, it takes about one year of course study for individuals to complete their regulated course.
How Should I Prepare for Training?
Knowledge is power and having a foundational understanding of the role of Vet Assistant will put you in a strong position ahead of further study. If you are starting from scratch and want to revive your life with a new career, then we have an online course that is perfect for you to study.
Which Online Course is Beneficial?
The Veterinary Support Assistant course will provide you with a wealth of knowledge, ranging from the terminology used in veterinary practices to the cause of various animal diseases. There are 16 units that you will study during this online course, and they can be broken down into four sections.
The opening modules of your course include:
Preparing for Employment
Veterinary Medical Terminology
Basic Small Animal Anatomy and Physiology (Part One)
Basic Small Animal Anatomy and Physiology (Part Two)
The next section of your course will consist of the following modules:
Handling Animals
Animal Diet and Nutrition
Animal Disease (Part One)
Animal Disease (Part Two)
You will then go on to study the following in your course:
Small Animal Emergency Nursing (Part One)
Small Animal Emergency Nursing (Part Two)
Infection Control
Diagnostic Tests used by Vets
The final section of your course will cover:
Care of Ill Animals
Operation Care
Euthanasia
Safety and Welfare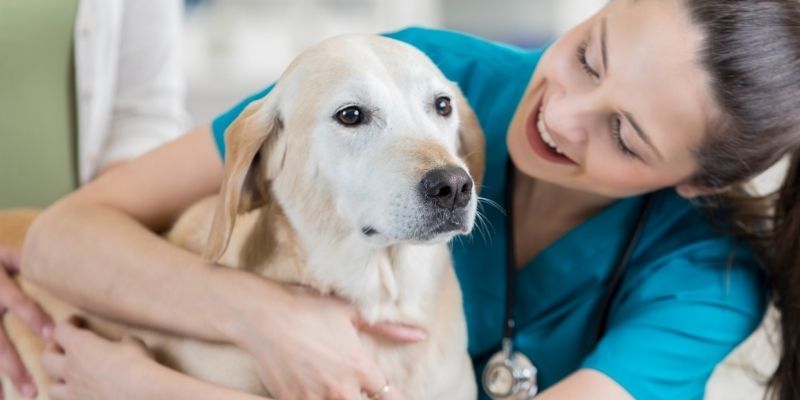 How is the Course Assessed?
Unlike many traditional forms of study, you can complete this course without having to do an exam! Instead, you will complete a series of online assignments included in your course, all of which can be done online from the comfort of your own home.
Do Vet Assistants Make Good Money?
The average salary for a Vet Support Assistant in the UK is £17,735 per year. If you want to work your way up through a practice, you have higher earning potential, but you will need to gain additional qualifications should you choose to progress on to a Technician or nursing role within veterinary practices.
How Can I Become a Veterinary Nursing Assistant?
If you want to move up the ladder in your career, then working as a Veterinary Nursing Assistant is a natural next step. You can achieve a Veterinary Nursing Assistant Level 2 Diploma (RQF) via our course at learndirect.
A Veterinary Nursing Assistant is responsible for providing routine healthcare and emergency care to all kinds of animals, including cats, dogs, guinea pigs, and rabbits. Your role is to provide assistance to veterinary surgeons and other professionals within a practice like fully qualified veterinary nurses. On a day-to-day basis, you will be responsible for monitoring the wellbeing of animals and oversee the maintenance of the practice.
Vet nursing assistants are also responsible for providing advice to pet owners and showing them how to administer medication.
What Does the Course Cover?
Our regulated course will delve into a range of topics, including the principles of animal health and behaviour, as well as the importance of hygiene within the practice and the various administrative duties you are required to complete.
The course also delves into the more difficult aspects of working as a Veterinary Nursing Assistant, such as euthanasia and bereavement. You will also explore the principles of first aid and how to care for wildlife in a veterinary practice during your course.
What are the Course Requirements?
There are no set requirements for you to enrol on this course, but having prior experience is beneficial, albeit not essential. During your course studies, you should arrange a placement or already be working in a practice.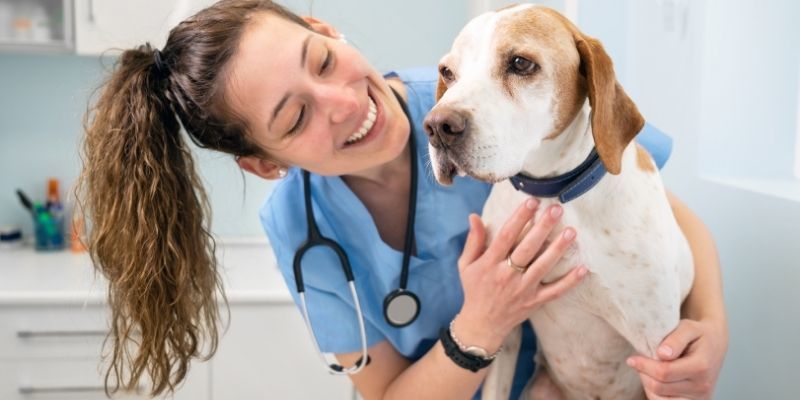 How is the Course Assessed?
To achieve your Level 2 diploma, you will be required to provide a digital portfolio of evidence, showcasing your knowledge of the role and proving that you have understood the modules laid out in your course.
Is the Qualification Recognised?
Yes! Once you have completed the course successfully, you will be awarded a Level 2 Diploma in Veterinary Nursing Assistants, which is regulated by the Office of Qualifications and Examinations Regulation (Ofqual).
Kickstart Your Learning Journey Today!
If your ambition is to work within a Veterinary practice, then get your career off the ground by becoming a Vet Support Assistant. From there, you can move up the ladder should you wish. To find out more information about the courses you can take to get you prepared for the role, speak to one of our Course Executives on 01202 006 464 or contact us online