What is Animal Hydrotherapy?
Animals, like humans, can suffer from any number of ailments as they go through life. They may have an accident that leaves them with an injury that prevents them from moving around as normal. Or they could develop a degenerative condition that requires gentle exercise to remain mobile, and this is where animal hydrotherapy comes into the mix.
Animals are also just as susceptible as we are to gaining a few extra pounds, which can also have a negative impact on their health and well-being. These and an array of other issues can leave animals needing a solution to get back to better health, and if regular exercise isn't conducive to their needs, they will require an alternative.
Animal hydrotherapy has been one such solution that helps animals overcome a range of health complications and conditions. It's a gentle approach to increasing movement and flexibility, and it can be a fun experience for animals who enjoy a swim!
It's quickly becoming one of the go-to treatments for a range of animal needs, with animal hydrotherapy centres popping up all over the country. If you'd like to know more about this treatment, the small animal hydrotherapy courses you can take, and the career potential it holds, continue reading!
What is Hydrotherapy for Animals?
If you're not sure what animal hydrotherapy is, don't worry, you aren't the only one. As a relatively new treatment, many people aren't aware of exactly what is involved in animal hydrotherapy jobs, besides the treatment being in water.
The treatment is typically for small animals like your typical household pets, so it is commonly referred to as small animal hydrotherapy. It's a water-based animal rehabilitation technique, so it tends to take place in swimming pools or large water tanks. For this reason, small animal hydrotherapy is usually conducted in animal hydrotherapy centres that have been designed to cater for these facilities.
During the sessions, animals like dogs and cats, but possibly others like horses too, will use a host of animal hydrotherapy equipment. As it stands, three methods of animal hydrotherapy are adopted, and they utilise:
A Swimming Pool – So animal clients can swim, this non-weight bearing exercise helps them to improve joint flexion, musculature, regain use of joints that are arthritic or dysplastic, and generally improve cardiovascular fitness
A Spa – The more relaxing animal hydrotherapy technique for animals is the non-exercise-based treatments they perform in the spa. They will tend to stand or lay down in warm water and perform various stretching and range-of-motion exercises. This is typically used for physiotherapy in animals but can also help as a pre-exercise warm-up or post-therapeutic cool-down
An Underwater Treadmill – By combining speed and the underlying principles of water, animals can perform running or walking exercises with less impact. This is great for helping animals recover from injury, but also an excellent way for animals with joint conditions to practice running and walking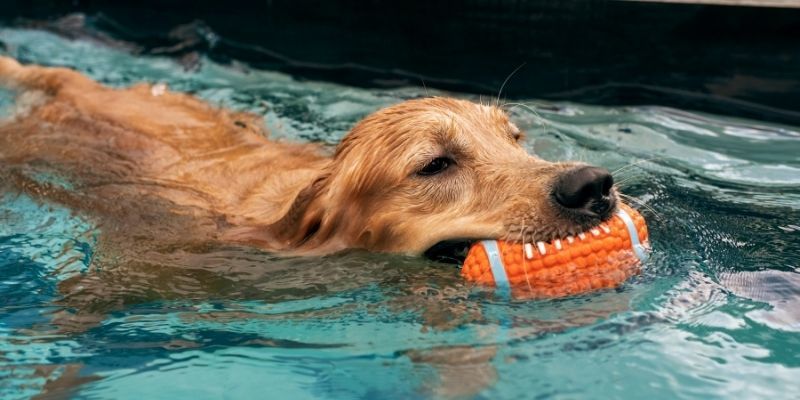 What Animal Conditions Can Hydrotherapy Help Cure?
Animals can be referred on by vetsto have hydrotherapy treatment for a whole host of reasons. In many cases, there are conditions the vet cannot solve or alleviate with surgery or medication. So, the need for ongoing low-impact exercise has led to a rapid rise in popularity for this water-based therapy.
Animals recommended for animal hydrotherapy might have neurological or orthopaedic issues from birth. Surgery is a big reason many need to practice moving again gently, as are degenerative locomotive disorders and conditions like intervertebral disc disease.
Like humans, any condition that causes us to become immobile or be in pain will affect their emotional state and quality of life. By using small animal hydrotherapy services, their pain can be reduced, and they can begin to move and function more comfortably.
How Much Does an Animal Hydrotherapist Earn?
If you're reading this from a prospective career standpoint, you're no doubt curious about the role of an Animal Hydrotherapist. As a relatively new role, there isn't a wealth of information published about it, especially in terms of specifics like earning potential from small animal hydrotherapy jobs.
In many cases, you can work as an Animal Hydrotherapist for specific species of animal. A Canine Animal Hydrotherapist salary, UK learners, has been detailed as starting around £14,000-18,000 a year for entry-level or trainee Animal Hydrotherapists, increasing with experience.
This does vary, however, on how you choose to operate and how much you charge for your sessions, which can be anywhere from 30 minutes up to 2 hours in length. As a guide, initial consultations in animal hydrotherapy jobs can be charged from £20 up to £70, and follow-up consultations can go from £20 to £60.
You could potentially expect to earn more as an Equine Animal Hydrotherapist, or an Animal Hydrotherapist who can provide services to a range of small animals.
Can I Do Animal Hydrotherapy at Home?
Yes, you can! Animal Hydrotherapy doesn't always have to be performed in an animal hydrotherapy centre. In most cases, it is because the premise is large enough to house a pool and the related animal hydrotherapy equipment.
If you have a pool at home, you could easily operate your animal hydrotherapy business from there. Many people search for services local to them, typing 'Animal hydrotherapy near me' and similar into the search engines. If you're based in the neighbourhood, that could help you get a number of new clients.
If you're seeking animal hydrotherapy training to help your own pet, you can also put your new learned skills to use in large bodies of water like lakes, or even in a children's pool if your pet is small. Just be sure to fit all animals with a life jacket or buoyancy vest to keep them safe.
It's not advisable to try to perform small animal hydrotherapy if you haven't received the required training. This is because not every animal is suited to this type of therapy and it could lead to injury for both the animal and you.
If you're wondering if you can learn animal hydrotherapy techniques from home, you can do that too! There are a number of animal hydrotherapy qualifications that can be gained online, but we will discuss that in more detail later.
How to Become an Animal Hydrotherapist
If you're wondering how to get small animal hydrotherapy jobs, there are a number of things you need for this profession.
Personal qualities – A love for animals
Interests – Animal anatomy and the science behind treatments
Physical abilities – Be strong, able-bodied, be physically capable of handling and restraining animals, and be able to swim
Qualifications – Dependant on the employer
As it stands, there are no set entry requirements for Animal Hydrotherapist job vacancies. Each employer sets their own and many hire candidates with related hydrotherapy or animal handling experience and provide them with on-the-job training.
This is a benefit for anyone looking to get into the role without a degree, as animal hydrotherapy university courses aren't required. If you manage to get a job without directly related animal hydrotherapy qualifications, you will have to complete courses on essential areas like canine/feline first aid, pool water management, hydrotherapy theory, canine anatomy and physiology once hired.
However, as the field of small animal hydrotherapy is now professionally recognised, the standards of education are increasing.
If you want the best chance at securing a job as an Animal Hydrotherapist, it's advisable to complete hydrotherapy for animals courses, that are approved by industry associations. For instance, aspiring registered Canine Hydrotherapists in the UK should study small animal hydrotherapy courses that lead to membership of the Canine Hydrotherapy Association (CHA), the National Association of Registered Canine Hydrotherapists (NARCH), or the Institute of Canine Hydrotherapists (ICH).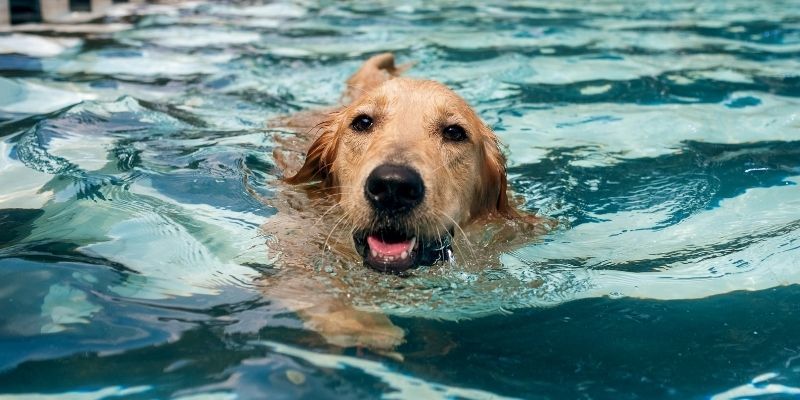 learndirect provide small animal hydrotherapy courses that lead to these such memberships, these include:
Small Animal Hydrotherapy Level 3 Certificate (RQF)
This Level 3 Certificate in hydrotherapy for small animals covers essential topics like the anatomy and physiology of small animals, gait analysis and biomechanics, professional practice management and more!
Small Animal Hydrotherapy Level 3 Diploma (RQF)
This Level 3 Diploma in Small Animal Hydrotherapy covers the same topics as the above certificate but dives deeper with more advanced modules. These include:
An Introduction to Small Animal Massage
Practical Advanced Aquatic Treadmill Techniques
Practical Aquatic Treadmill Therapy
Tissue Healing Process
By studying the above Level 3 hydrotherapy for small animals courses, you will gain the industry essential skills that will help you improve animal conditions through water-based activities. All of this will help you secure advertised animal hydrotherapy jobs.
Should you be an established Animal Hydrotherapist, or be completing animal hydrotherapy apprenticeships, you can take courses that train you to use specific animal hydrotherapy equipment.
learndirect provide:
Aquatic Treadmill Therapy for Small Animals (RQF) L3 Award
An introductory course that walks you through the process of utilising aquatic treadmill therapy on animals with identified needs. During your studies, you will learn all about the safe operation of aquatic treadmills and how to identify an animal's suitability for this form of treatment. Only learners who have completed the Level 3 Certificate in Hydrotherapy for Small Animals can study this course.
Advanced Aquatic Treadmill Therapy for Small Animals (RQF) Level 3 Award
A more advanced course for those wishing to provide the next level of support for their animal clients. Throughout the course, you will cover how to conduct gait analysis, review patient performance and identify abnormal posture. You will also learn how to use advanced aquatic treadmill techniques. Only learners who are already qualified to work with small animals, or those who have completed the lower-level aquatic treadmill therapy award can study this course.
Combining Animal Hydrotherapy with Physiotherapy
Hydrotherapy courses for animals can also be combined with the study of veterinary physiotherapy. If you're asking yourself 'what is veterinary physiotherapy?', keep reading! There are many benefits to studying this form of animal treatment in conjunction with animal hydrotherapy.
Where small animal hydrotherapy focuses on completing low-impact, non or relatively low-weight-bearing exercises in water, animal physiotherapy adopts the use of massage and weight-bearing exercises.
This multi-model approach can help treat a range of orthopaedic and neurological conditions, strengthen muscles and help animals recover following surgery. If you have the skills to adopt both techniques, you can see animals back into good health and care for them at multiple stages of their treatment.
With learndirect, you can study:
When all three parts of these hydrotherapy-veterinary physiotherapy courses are completed, you will have gained an advanced degree level qualification. However, learners must have already acquired the Level 3 Diploma in Small Animal Hydrotherapy to enrol.
If you don't already have the Level 3 diploma in small animal hydrotherapy, you can opt for this option instead:
These hydrotherapy-veterinary physiotherapy courses come with the Level 3 diploma in small animal hydrotherapy integrated into them. So, you get enrolled right away and start working towards becoming a qualified Small Animal Hydrotherapist and Veterinary Physiotherapist, where you can work with animal patients in and out of the water.
You can view all of these combined hydrotherapy-veterinary physiotherapy courses, and the rest of our animal hydrotherapy course range on our website.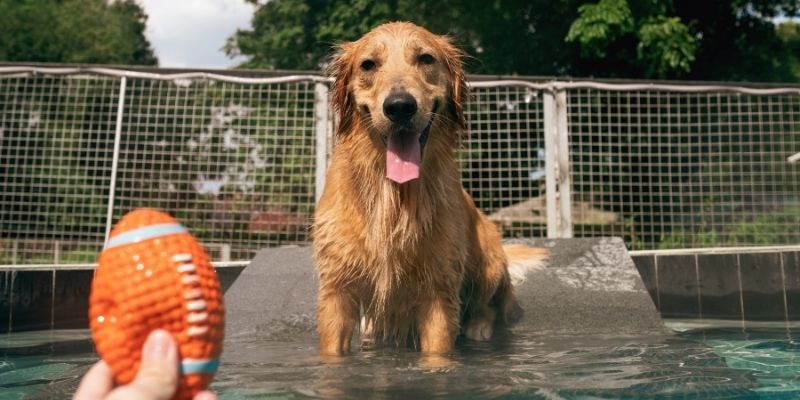 Get Started Today!
If you're ready to take a step towards a career as an Animal Hydrotherapist, or a Small Animal Hydrotherapist and Veterinary Physiotherapist, learndirect has the courses to help you reach your goal.
From our Level 3 hydrotherapy for small animals certificate and diploma to our advanced degree-level combined qualifications, you can quickly be on the way to a rewarding animal-focused career.
Find out more today by talking with our Course Executives. They can run you through what our different course entails, plus how you can get started.
Call them now on 01202 006 464 or contact us online.
You can also keep track of all animal awareness days and events with our FREE calendar! Download it here.