How to Become a Veterinary Nurse
As a nation of animal lovers, it's no surprise that many people want a career that involves working with them in some way. There are a host of animal-related jobs that can help you fulfil this ambition, but one that continues to reign as a popular choice is the role of a Veterinary Nurse.
Animals can require medical attention for all manner of reasons. Whether it's birthing offspring, young animals receiving vaccinations or older animals requiring medication and treatment to ease certain ailments, a Veterinary Nurse is heavily involved in helping each of them thrive.
Undoubtedly, this has its challenges. Working with animals that are unwell or in pain isn't easy, but the sense of reward that is gained through helping them is why so many vet nurses adore their job. If you think you have what it takes for this career, there are various ways you can get qualified for Veterinary Nurse jobs.
So, if you've ever wondered how to get into veterinary nursing, keep reading. We run you through what it takes, plus what you can expect by embarking on this career below.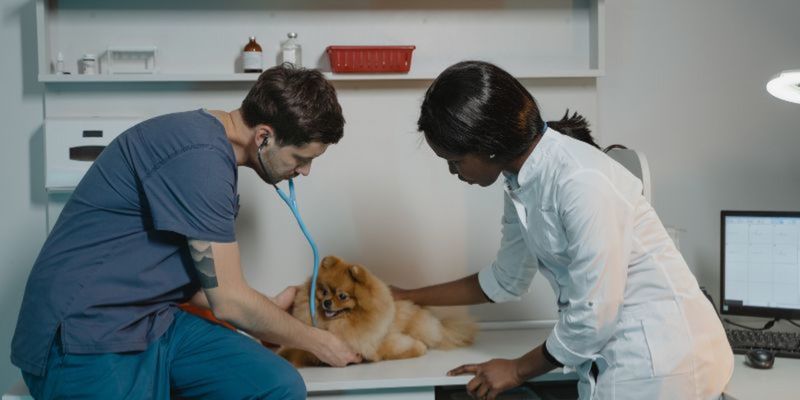 What is a Veterinary Nurse?
Many people love the idea of becoming a Veterinary Nurse, as they know the role positions you to work closely with all manner of adorable animals. This can also vary depending on the type of veterinary clinic you work in and where you're based. If you're located in a rural area, the chances are you are more likely to work with livestock, and if you're working as a Veterinary Nurse in a zoo, your patients will be much more exotic.
Though besides working with animal patients, many people aren't fully aware of the Veterinary Nurse role. So, if you're asking yourself 'What does a Veterinary Nurse do?', you're not alone!
The Veterinary Nurse job description typically entails:
Helping to restrain animals during treatment and handling them throughout their visit
Monitoring the condition of all animal in-patients and performing health checks
Caring for all inpatients needs in terms of feeding, grooming and exercise
Taking blood and urine samples, as well as performing diagnostic tests
Taking X-Rays of animal patients
Administering medication and giving injections/blood transfusions
As the dedicated support of the Veterinarian, you will also be required to:
Get animal patients ready for surgery
Take care of minor procedures like dental hygiene
Help the vet with anything they need during surgery
Monitor anaesthesia
Deal with pet owners, relay information regarding their animal's treatment and educate them about animal health requirements
Support junior staff in the veterinary practice
The responsibilities of a Veterinary Nurse can also vary depending on the type of practice they work within. For instance, if you work in a referral practice you are more likely to work with complex cases, whereas a Veterinary Nurse who works in an emergency clinic will deal with potentially more distressing situations.
In any case, each Veterinary Nurse will have to get used to dealing with animals who either pass away or need to be laid to rest. Cases of animal neglect are also common, so you need to be able to remain professional and effective, even in the face of heart-breaking cases.
What Qualifications Do You Need to Be A Veterinary Nurse?
As a role dedicated to medical treatment and care provision, veterinary nurses need to obtain a certain level of qualification before they can practice. The route to this point can vary, as you can study a Level 3 Diploma in Veterinary Nursing, which can also be completed within a vocational Veterinary Nurse apprenticeship, or you can study a Veterinary Nurse degree.
However, all options require you to complete a Veterinary Nurse course that is approved by the Royal College of Veterinary Surgeons (RCVS). This approved course must also encompass a period of practical Veterinary Nurse training in an approved training practice or practices.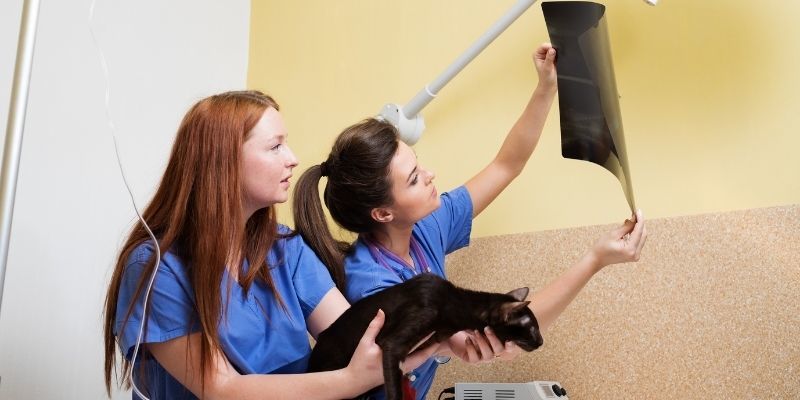 What GCSEs Do You Need to Be A Veterinary Nurse?
In order to enrol on an approved Veterinary Nurse course, you will need at least five GCSEs at grade C/4 or above in Maths, English Language and Science. Your Science GCSE can be either a Double or Triple Award, but if you only have the option of studying separate Science GCSE qualifications, you will need to complete at least two, with Biology and Chemistry being the preferred choices.
If you don't have English or Maths GCSEs, there are alternative Level 2 Functional Skills courses that can help you achieve these grades quickly.
What A-Levels Are Needed for Veterinary Nursing?
If you choose to study a bachelors Veterinary Nursing degree, you will need to meet the entry requirements for your chosen university. Besides GCSEs, you will also need multiple A-levels. In most cases, having combined Chemistry and Biology, in addition to either Maths or Physics (or both) would make you more desirable for a place on a Veterinary Nursing Degree.
You also have the option of completing a foundation degree in Veterinary Nursing if you don't have the required A-Levels.
Essential Veterinary Nurse Qualifications
Once you have the required qualifications to study a Veterinary Nurse course, you have options in how you can achieve your Veterinary Nurse qualification. So, if you're wondering where to study veterinary nursing, keep reading!
Study a Veterinary Nurse Degree
You can opt for either a Foundation Degree or a BA (Hons) in Veterinary Nursing. These courses tend to be preferred by learners who want to gain a detailed understanding of veterinary nursing, prior to putting their knowledge to the test in a work environment.
You will spend the first part of your course learning about the theory behind veterinary practices. Then you will complete the required level of work experience through approved training practices towards the end of the course.
To get onto a degree, you'll need to have evidence of practical work experience in a veterinary setting. It's also worth noting that entry requirements vary between universities, so it's always best to check what you need to achieve beforehand.
You can browse a list of RCVS-accredited degrees in veterinary nursing on their website.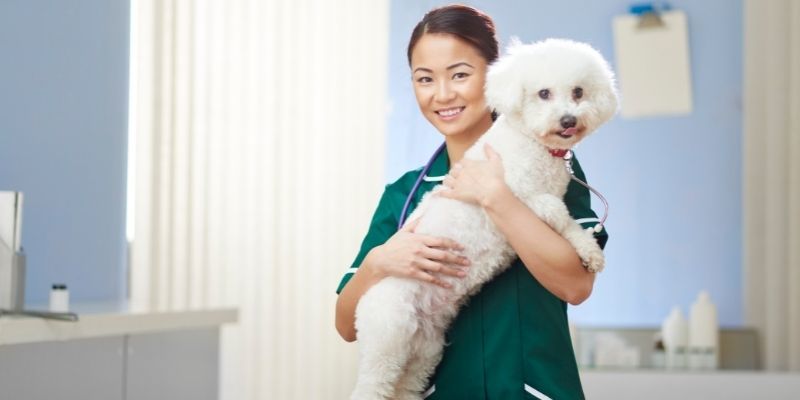 Complete a Level 3 Diploma in Veterinary Nursing
There are two options when it comes to completing a Level 3 Diploma in Veterinary Nursing. You can either study it full-time or take it as an advanced Veterinary Nurse apprenticeship while working within a veterinary practice. If you're lucky, your employer at the veterinary practice may even offer to cover the course fees!
If you choose to study full-time, you will have to get your practical experience through separate employment or voluntary work placements. Learners who prefer to learn by doing tend to go for the vocational training scenario, as it enables you to blend both classroom and workplace education.
To take a Level 3 Diploma in Veterinary Nursing, you will also need to prove you have relevant work experience. Have a look at the RCVS-accredited colleges here, or you can apply directly for student/apprentice Veterinary Nurse employment at an approved training practice.
Do I Need Work Experience?
Yes. Both the Level 3 Diploma in Veterinary Nursing and veterinary nursing degrees require you to have first gained relevant work experience. This can be acquired in veterinary practices or other animal-related environments like catteries, kennels or rehoming centres. However, it must be said that having work experience more directly related to the role of a Veterinary Nurse would be more of an advantage.
How Long Does It Take to Become A Veterinary Nurse?
The fastest route into the vet nursing profession is by completing a Level 3 Diploma in Veterinary Nursing. This is because the courses can take as little as one year to complete.
Veterinary Nurse degrees are the longer route as they take between 3-4 years to complete but taking the time to gain a degree can unlock a number of related career paths. Should you decide to progress from your role as a Veterinary Nurse, you would be able to take postgraduate courses in specialist areas like physiotherapy.
Veterinary Nurse CPD Requirements
Your learning journey doesn't stop once you get qualified as a Veterinary Nurse. Once you are registered with RCVS as a Registered Veterinary Nurse (RVN), you will need to complete Continuing Professional Development (CPD) to maintain that registration.
Qualified veterinary nurses need to complete 45 hours of CPD within a three-year period. The activities that contribute towards your CPD can include anything from completing training courses to attending seminars and lectures, undertaking workplace mentoring, completing research or critical reading of relevant journals.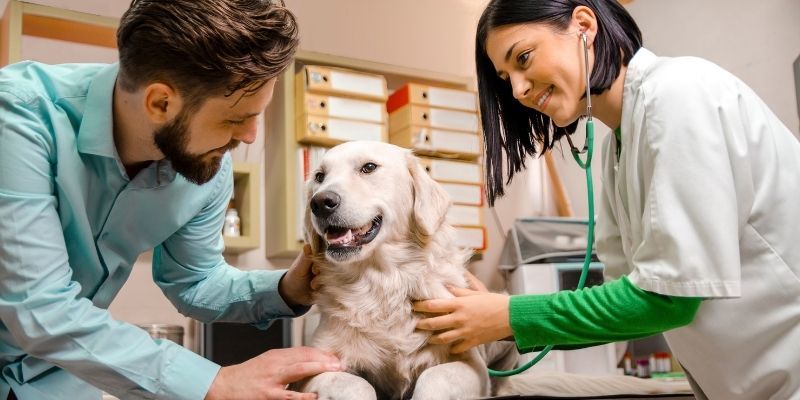 How Much Does A Veterinary Nurse Make Per Year?
An important piece of knowledge when considering any career path is how much you can earn from it. The Veterinary Nurse salary can vary depending on your level of experience and seniority in the practice.
The Veterinary Nurse Salary UK tends to range from:
Entry-Level Veterinary Nurse – $17,000+
With up to five years' experience – Up to £22,550
Senior-Level veterinary nurses – Up to £38,600
Start in Other Veterinary Roles
If you're considering becoming a Veterinary Nurse but want to get a feel for the role and working environment before you commit, you can start off in more junior positions in the veterinary practice.
Veterinary support assistants are a valuable member of the modern veterinary team. In this role, you will support both veterinary surgeons and veterinary nurses, as well as perform a vast array of duties to keep the practice running smoothly.
As it's more of a support role that doesn't involve performing medical duties, you aren't required to do as much training for it. For this reason, there are fewer barriers to entry, so you can get started as a Veterinary Support Assistant quite quickly. You will still get to work hands-on with animals and gain a wealth of knowledge and experience surrounding the veterinary nursing role in the meantime.
Then when you are ready, you can take the step up from Veterinary Support Assistant to Veterinary Nurse by completing the required training. All you need is to complete a Level 2 regulated qualification like this Veterinary Nurse Assistant Level 2 Diploma (RQF) offered by learndirect.
Can A Veterinary Nurse Become A Vet?
Yes, you can! Any Veterinary Nurse who discovers their true calling is working as a Vet as opposed to a Veterinary Nurse can progress their career. However, as the role of a Veterinarian is very different, so too is the training for it.
There's no doubt you will have a better starting point with the knowledge you have already gained by training as a Veterinary Nurse initially. Though, to make the career switch and become a Vet you will need to study a veterinary degree approved by the Royal College of Veterinary Surgeons (RCVS), which takes around 5 years to complete.
Start Learning About Veterinary Practice Online!
If you would one day like to become a Vet Nurse, then learning about veterinary practice now would be highly advantageous.
There are a host of online courses that can help you build your knowledge in this area, so you are better positioned with a desirable education when the time comes to enrol on Veterinary Nurse courses.
This Veterinary Nursing Assistant Level 2 Diploma allows you to get a feel for the role of a Veterinary Nurse. It also enables you to gain employment as a Veterinary Support Assistant in a vet practice where you can start gaining the essential workplace experience required for higher level studies.
This way, you can make sure being a Vet Nurse is something you definitely want to pursue while learning all about animal health, hygiene and the terminology used in veterinary clinics. With this knowledge and more, you will have a much clearer picture of what it means to become a Registered Veterinary Nurse.
Find out more about what the course involves by speaking with our Course Executives today! They can run you through the benefits of online learning, as well as what you can expect as a student with learndirect.
Call them now on 01202 006 464, contact us online or click below to find out more about our online veterinary related courses.
You can also keep track of all animal awareness days and events with our FREE calendar! Download it here.