Get into Gardening Online
As the UK's leading online course provider, we have thousands of learners who come to us seeking qualifications that will help them advance or change their careers. Though, what you might not know is that we also have many learners who enrol on our online training courses to explore their interests and pick up new hobbies.
Dedicating your free time to something you enjoy or are passionate about is an excellent way to lift your spirits, relax and escape from everyday life. One such hobby that people find particularly enjoyable is gardening, which is renowned for its physical, mental, emotional, and creative benefits.
If you're considering gardening as a new hobby, but haven't the faintest idea where to start, we've got the solution! Our online learning courses that are dedicated to gardening will help you develop your green thumb, giving you gardening ideas you can try out at home and even the professional skills required for a host of gardening jobs.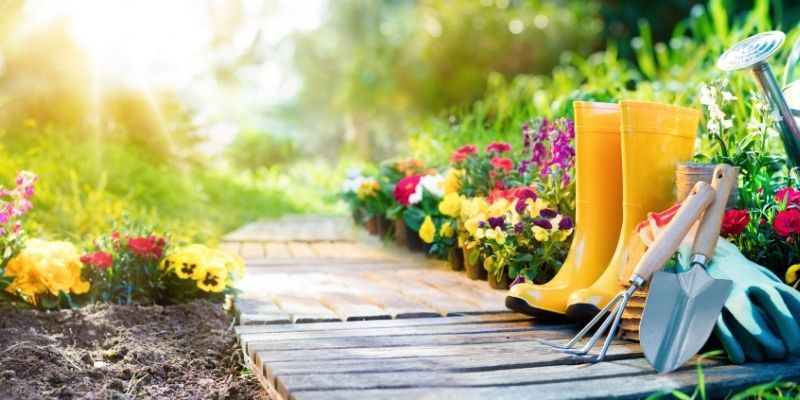 The Benefits of Gardening
We all know getting outdoors is good for us, but we tend to think this means having to take up hiking or running to reap any benefits. These types of exercise aren't for everyone, and that's ok. If you're looking for another way to enjoy the benefits of the outdoors, gardening is something you should consider.
Taking up gardening can:
Help with weight loss – All gardening requires movement, but some gardening activities are more rigorous than others and can help you keep fit and keep weight off. One hour of gardening is estimated to burn up to 330 calories, and activities like mowing the lawn or raking leaves can provide a perfect alternative for you if you hate going to the gym
Relieve stress – Like other types of exercise, gardening is a great stress reliever as it releases endorphins that help you to relax. The sensory experience that comes from connecting to the outdoors can help you forget your worries too. Instead, you can be mesmerised by the beautiful season changes and marvel as the smells, colours and textures of plants and flowers transform throughout the year
Improve your health – Gardening has been proven to provide a host of health benefits. From reducing the risk of dementia, stroke or a heart attack to decreasing Osteoporosis and providing the vitamin D that boosts your immune system, getting in your garden is clearly worthwhile!
Provide a sense of responsibility – By taking charge of caring for the living things in your garden, you become accountable for their existence. Giving yourself this task can provide you with a sense of purpose and great reward as you help your garden flourish, it's also a great way to teach children values and the importance of completing their duties
Enable you to feed yourself – Gardens don't have to solely consist of pretty flowers and plants. You could incorporate a fruit and vegetable garden which allows you to generate a source of food
Help you deal with your emotions – Gardening is an excellent way of boosting your mental wellbeing and letting go of negative emotions. Studies have shown that gardening is proven to help people overcome their anger and reduce feelings of depression. Gardening is also an excellent way of helping individuals manage existing mental health issues and enduring disorders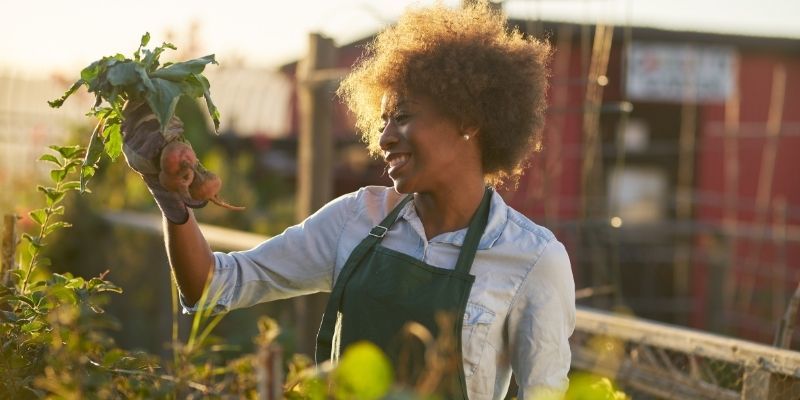 What Are the Basics of Gardening?
If you're wondering 'What do you mean by gardening?', gardening is essentially the design and care of a plot of land that is used partially or fully to grow plants like flowers and trees, but also edible ones like herbs and vegetables.
If you're a novice gardener, there's no need to panic. Gardening can seem overwhelming when you look at how far into it you can go, but it's also the perfect pastime for people with lots or just a little amount of time.
You could start off with a small herb garden and work your way up to something bigger. You could even test the waters with indoor plants and build your confidence from there. In any case, there are many gardening tips that can help you grasp the basics and get started.
Ultimately, gardening is a combination of sunlight, soil and water, and it can be a simple or complicated process depending on how far you choose to take it. The main thing is finding the plants you love first, so your gardening hobby is dedicated to something you are passionate about.
What Are Different Types of Gardening?
Depending on your interests and what you want to achieve, your gardening hobby could take many forms. This can also vary depending on your environment and living situation, but the great thing is there is a type of garden to suit everyone!
You could have a:
Butterfly garden – Using certain plants to attract butterflies
Container garden – Perfect for those with unconventional garden spaces and those just starting out
Edible garden – Growing herbs, fruits and vegetables that you can enjoy eating
Flower garden – Dedicating your garden to flowers or a specific type of flowers like a rose or tulip garden
Hydroponic garden – Soil-less gardens where plants are fed by mineral nutrient salts
Indoor garden – Having an inside space dedicated to plants that thrive indoors
In-ground garden – The more traditional gardens you see at the front or back of homes
Organic garden – Gardening naturally by using only natural fertilisers and pesticides, also composting and recycling garden waste
Raised garden – An outside garden that utilises raised boxes for plant growing, often for more effective drainage
Tropical garden – Gardens dedicated to growing tropical plants in different climates
These are just a few of the many different types of gardening you can pursue, there really is something to suit every interest.
Is Gardening Hard to Learn?
Many people wondering how to garden are nervous about how much of a challenge it will be. There are many people who have gotten into gardening of their own accord and taught themselves how to design a beautiful garden space.
You can go through the motions and learn as you go quite easily enough, however, gardening can become more difficult if you take on a bigger project. In these cases, a lot can be involved, from soil amendments to pruning techniques, irrigation systems and more. You also need to know the best gardening tools for different jobs, so it's often best to study gardening techniques ahead of pursuing advanced gardening work.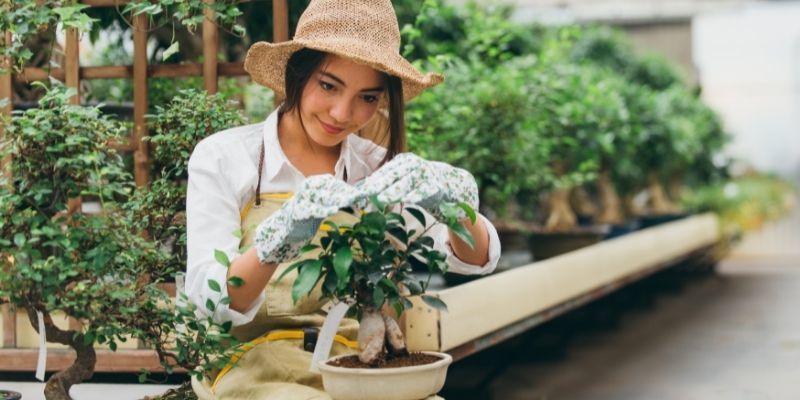 Online Gardening Courses
If you want to learn the best tools for gardening and everything you need to master your green space, there are plenty of gardening for beginners courses you can study online. This way, you can get the knowledge you need for your garden to thrive, as and when you have the time to dedicate to learning.
Online gardening courses are beneficial for anyone with an interest in understanding plant care and garden design. Whether you are looking for gardening tips like how to get rid of rats in gardens, or you want to start a job as a Landscape Gardener, learndirect has learning distance courses to suit!
Garden Design
Learn how to design a garden with this online course. During your studies, you explore the fundamental elements of style, basic gardening techniques and professional tricks that will help you bring peoples garden visions to life.
You'll come away with a plethora of garden ideas and the creative inspiration to tackle any logistical problems associated with what you have to work with. This can help you design gardens around key features like pathways, swimming pools, water features and more. Plus, you'll know industry tricks like what colour fence paint makes gardens look bigger, and other hacks that teach you how to transform a garden on a budget.
You can view our garden design courses online on our website.
Garden Maintenance
Gain a detailed understanding of everything that is required to plan, manage and maintain all manner of gardens in this online garden maintenance course. With modules covering natural pest control, you will have a much better idea of how to keep cats out of gardens, ants and other common garden invaders like slugs and snails.
You will also cover complex gardening essential topics like commonly used chemicals, weed control, turf care and more.
Hydroponics
Learn how you can cultivate plants without soil by placing the roots in liquid nutrient solutions. This online hydroponics course teaches you the fundamentals of what to feed your plants and how best to do it, hydroponically.
Through an array of modules, you will cover everything from growing to nutrition and greenhouse management.
Horticulture
If you want to get into gardening as a career, studying horticulture is a great place to start. This plant science looks at both the makeup and aesthetics of plants, to produce and commercialise both edible and ornamental plants.
By studying horticulture, you can help others gain nutrition and visual enjoyment from different plants, by understanding what is required to make them thrive. This online horticulture course helps you move into this line of work by teaching you valuable knowledge in regard to plant classification, soil science, basic botany and more!
Interior Plant Care
If you want indoor gardening tips, this online course in Interior Plant Care is a great place to start. By studying modules on plant identification, propagation, containers and more, you will be able to successfully bring greenery into your indoor spaces.
Landscaping
You can learn how to landscape a garden effectively, by adopting various garden design techniques and strategies. Gardening & landscaping knowledge is highly desirable, as many home, property or land owners don't have the confidence or knowledge to take on such a big project alone.
With this landscape gardening course, you will develop a solid understanding of the principles and procedures underlying the design and development of garden areas. The modules cover everything from the history of gardening styles to earthworks, gardening tools and machinery, draughting and contracting and more.
Moon Gardening
You can learn how to plant your garden in accordance with different moon phases, to produce larger and tastier harvests. The gravitational pull of the moon is known to create the ocean tides, but it also affects the moisture in our soil, so planting by the moon helps you to take advantage of the best times for growth.
During this online moon gardening course, you will learn exactly what to do at different points of the year, the history of the moon and all about zodiacal signs and their quality.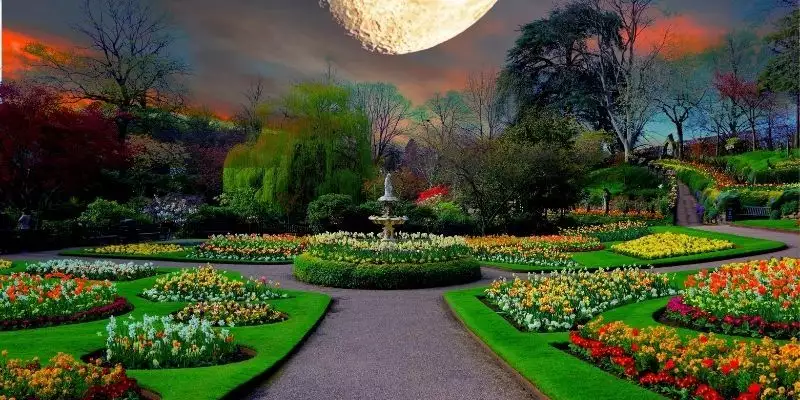 Mushroom Growing
A common feature in many vegetable gardens is mushrooms, which have increased in their popularity over recent years. This is partly because certain fungi are delicious to eat, but also because fungi can be beneficial for the environment.
You can learn all about the cultivation of mushrooms in this online mushroom growing course, which walks you through everything from identifying edible fungi to spawn production and the harvest, storage and use of mushrooms.
Get Started Today
No matter if you are looking to pick up a gardening hobby or you're looking to take your passion for gardening into a career, learndirect's online gardening courses for beginners and skilled gardeners can help you get on the way.
By studying these gardening training courses online, you can upskill and qualify from the comfort of your own home. You can also benefit from flexible payment methods, to spread the cost of your gardening education.
Find out more now by talking to our Course Executives on 01202 006 464 or by contacting us online.