Cognitive Behavioural Therapy
Cognitive Behavioural Therapy
Cognitive Behavioural Therapy, also known as CBT, is a form of talking therapy which helps you identify and understand your patterns of thought and to help you realise how you can alter these patterns in order to change how you feel. This is done by focusing on how you think about the things happening in your life and how those thoughts affect your behaviour.
This CBT course is designed to train students who are new to the field as well as existing professional therapists or coaches who wish to add Cognitive Behavioural Therapy (CBT) methods to part of their practice.
Our cognitive behavioural therapy training course is designed to enable the graduate to meet the National Occupational Standards for Counselling, relevant to counselling work within the context of CBT by including comprehensive core counselling modules.
How does the course work?
Time is precious and our CBT online course is built with that in mind. Students can fit their learning around other commitments such as work or family life. You will be responsible for your study schedule and the motivation to successfully achieve this qualification.
It is also recommended that you spend 1-2 hours of your study time to complete the question paper which will need to be completed and sent to your tutor after the end of each lesson.
Modules
What is CBT
Levels of change
Counselling
Counselling 2: Basic Methods and Basic Counselling Skills
Developmental Psychology
Psychotherapy (psychodynamic methods and history)
Humanism
Cognitive Behavioural Change (CBT) Part 1
Cognitive Behavioural Therapy Part 2
Cognitive Behavioural Therapy Part 3
Cognitive Behavioural Therapy – Practical methods
Coaching – Philosophy
Coaching – Planning
Coaching – Mind Sets
Referral and Assessing Seriousness
CBT for Depression and Anxiety 1: Working with Minor Emotional issues
CBT for Depression and Anxiety 2: Working with more serious Emotional issues
CBT for Depression and Anxiety 3: Managing depression, NEAD, Early warning systems, Bi Polar, Personality disorders. Management and cooperation with professionals
CBT for relationships
Complementary CBT Techniques 1
Complementary CBT Techniques 2
CBT forms and method for other issues
Anger and Stress Management Training
Professional Practice
Requirements
This course does not require any previous experience or qualification to enrol on this course, it is available to all learns who wish to enrol.
The approximate time required to complete this course is 360 hours.
Endorsement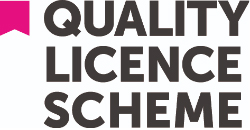 At the end of this course successful learners will be given the option to receive a Certificate of Achievement from the Quality Licence Scheme and a Learner Unit Summary (which lists the components the learner has completed as part of the course).
Level 5 Cognitive Behavioural Therapy Certificate of Achievement
The course has been endorsed under the Quality Licence Scheme. This means that learndirect has undergone an external quality check to ensure that the organisation and the courses it offers, meet defined quality criteria. The completion of this course alone does not lead to a regulated qualification* but may be used as evidence of knowledge and skills gained. The Learner Unit Summary may be used as evidence towards Recognition of Prior Learning if you wish to progress your studies in this subject. To this end the learning outcomes of the course have been benchmarked at Level 5 against level descriptors published by Ofqual, to indicate the depth of study and level of demand/complexity involved in successful completion by the learner.
The course itself has been designed learndirect to meet specific learners' and/or employers' requirements which cannot be satisfied through current regulated qualifications. The Quality Licence Scheme endorsement involves robust and rigorous quality audits by external auditors to ensure quality is continually met. A review of courses is carried out as part of the endorsement process.
The Quality Licence Scheme is part of the Skills and Education Group, a charitable organisation that unites education and skills-orientated organisations that share similar values and objectives. With more than 100 years of collective experience, the Skills and Education Group's strategic partnerships create opportunities to inform, influence and represent the wider education and skills sector.
The Skills and Education Group also includes two nationally recognised awarding organisations; Skills and Education Group Awards and Skills and Education Group Access. Through our awarding organisations we have developed a reputation for providing high-quality qualifications and assessments for the education and skills sector. We are committed to helping employers, organisations and learners cultivate the relevant skills for learning, skills for employment, and skills for life.
Our knowledge and experience of working within the awarding sector enables us to work with training providers, through the Quality Licence Scheme, to help them develop high-quality courses and/or training programmes for the non-regulated market.
*Regulated qualification refers to those qualifications that are regulated by Ofqual / CCEA / Qualification Wales
To view a sample of the Certificate of Achievement, please click here.
After you complete this course, you will be able to work as a counsellor. You could choose to spend your time with individual clients on a one to one basis or choose to work with couples, families or groups. You could even choose to counsel clients face-to-face over the phone or internet.
You may choose to build your career in Cognitive Behavioural Therapy by continuing your training and education to become a psychotherapist, working either for a health agency or as a teacher or mentor, you could even go on to open your own private practice. Psychotherapists can earn up to ÂŁ100,000+*/year.
*Source: Payscale.com, Oct 2012
Sign up to our Newsletter