Returning to education is commonplace for many people who've had a break in employment, particularly if you are a parent who is going back to work after a baby.
There are plenty of options for working mums looking to balance family life with education. Returning to work can often raise some issues and you might find you no longer want to work in the same way you used to, with the same company, or even in the same industry! This is a great time to evaluate what you want to do and then put a little time into ensuring you achieve that.
Whether you're looking to retrain completely, upskill or just update your knowledge for better career prospects, here's how you can get back into education to achieve your goals.
Find Your Why
Life as a busy mum can be pretty tough - without the added demands that adult education brings - so you'll need to consider why you want to go back to learning and the opportunities it will afford you. Don't worry though, there are plenty of jobs for mums out there!
Studies show that 64% of new mums are interested in retraining and find enrolling on a course during their maternity leave useful. It gives you the breathing space to pursue the learning opportunities you may have been too busy to think about when you were working full-time, particularly when studying an online course.
Completing just 1 hour of online learning a few times a week can have you well on the way to upskilling or reskilling for a career when you are ready to work after maternity leave.
Becoming a parent will make you look at your life choices and career differently. Don't be surprised if you start asking yourself questions like:
Am I working in the role and industry that makes me happy?
Do I earn enough to support my family?
Could I upskill to earn a promotion?
Do I want to branch out and be my own boss?
It's not uncommon for mums to want a new career (or better prospects) rather than going back to their old job. Reports show that 60% of mums change jobs after maternity leave because their priorities have changed drastically. After all, it's not just your own future you'll need to think about, but your little one's future too.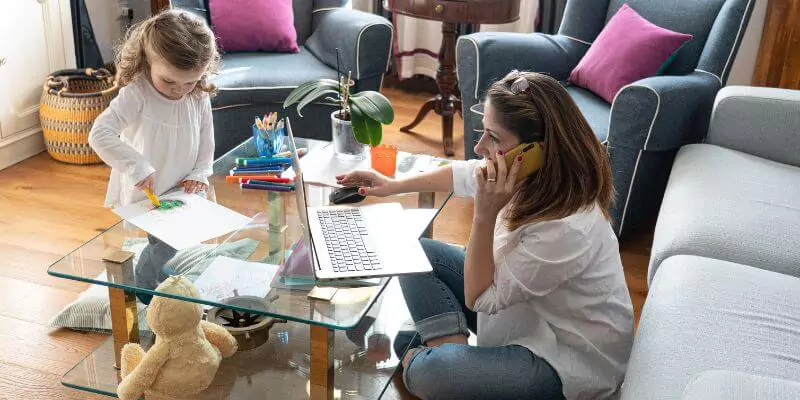 Choosing the Right Course
Once you've got a clear idea about the area you want to train in and the skills you'll need to land a new job, you can start looking for courses to see what's on offer. It's worth taking everything into consideration before you start, such as:
When are the course days and times?
Is there an online learning option?
How much is the course? Can you spread the cost if you need to?
Is career support included after you've graduated?
How long will it take to travel there?
Who will look after the kids while you learn?
How long will the course take to complete?
What qualification/certification will you earn at the end of the course?
Having these things in mind will help you choose the course and learning provider that's right for you.
It's also worth considering an online course. There are many benefits and having the flexibility to study at a time and pace that suits you can really help to fit your learning around your family commitments. It's no wonder they are so popular.
Your Next Steps
There are many career routes you could pursue and sometimes your perfect job isn't always obvious. Start by writing down your hobbies and interests and see if you can carve out a career in one of them.
For example, if you love working out, why not consider starting a career as a personal trainer? You'll get to help your clients look and feel fantastic and the hours are super flexible - even more so if you go self-employed! Many people prefer working out before or after their working day, meaning you can make a living around the usual 9-5 (and did we mention the great earning potential?).
If technology is more your thing, you could train to become a freelance software developer or web developer. With such excellent earning potential and general career perks, more women are studying to work in this field and now make up 17% of all employees working in the technology industry.
If you adore being at home with the kids, helping them with their homework and guiding their learning, why not consider a career in the classroom or child care? Many parents find retraining to become a teaching assistant the perfect complement to the skills they've learned as a parent. You'll be able to work in a fun environment and help the students with their studies. You could even work towards running your own child day care service.
Are you number-savvy? Or perhaps you prefer a more traditional office environment for the next step in your career? A career as an accountant or bookkeeper has excellent opportunities for growth and fantastic earning potential. Not to mention there can be a lot of flexibility in working hours for these roles, so they really can be the perfect jobs for mums.
This is Your Second Chance To Start Your Dream Career
Whether you are looking for a career in health and fitness, IT, education or finance, learndirect is here to help you get back into work and into the career that suits your lifestyle!
Take this opportunity to not only find a job that fits around your life as a mum but also one that feeds your passions. We have so many courses that can lead to all manner of rewarding and inspiring careers.
Browse our range of qualifications on our website or contact our career advisors for assistance with choosing your perfect career path. Call them on 01202 006 464 or reach out to them online.