Anyone working towards a job in nursing no doubt has a thousand questions about their upcoming career. 'What type of Nurse should I be and Where can I work as a Nurse?' are just a few examples, but one of the most pressing decisions is choosing whether to become an NHS Nurse or a Private Nurse.
The age-old debate as to whether working as a Nurse for the National Health Service (NHS) or in the private sector is better is still ongoing. Both sides have their perks, and it really boils down to what you are looking for in your career. To help you decide, we've listed the key differences between public and private sector nursing below.
Progression 
If you're looking at nursing as a lifelong career, you will most likely want to move up the ranks as you gain experience and perhaps further qualifications. After all, this is a great way to earn more money as a Nurse, but it also keeps you stimulated in your role and can help you work in the area of nursing closest to your heart.  
Nurse Career Progression – NHS 
The NHS is renowned for investing in its employees. As an NHS Nurse, you can benefit from paid study days and a vast array of training courses to help you add to your skillset. With the well-documented shortage of NHS Nurses, the National Health Service also knows that upskilling and career progression are essential for the retention of staff.  
This is a large reason for the implementation of the NHS banding system, which provides a clear pathway for progression for NHS Nurses and other NHS professionals. So, as an NHS Nurse, you can see exactly what you can achieve in your career if you work towards it in the specified ways. Often this is through years served in the role and the completion of professional development. 
Nurse Career Progression – Private Nurse 
Career progression in private nursing jobs largely depends on who you work for. In comparison to the NHS, private sector nursing care operates in a much smaller capacity.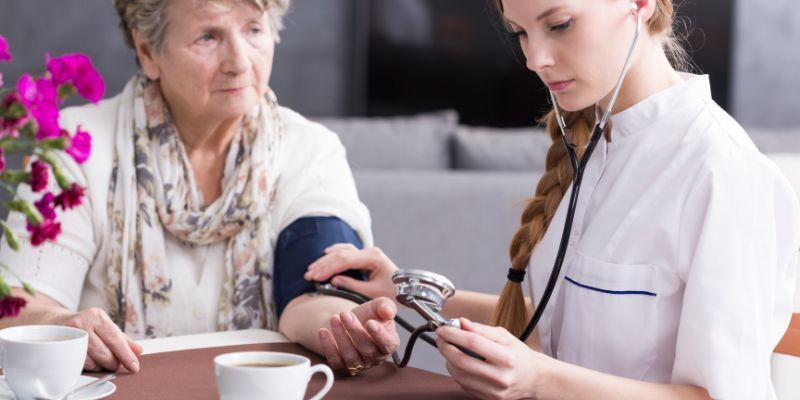 That isn't to say that there aren't larger private healthcare businesses with ample avenues of nursing to work in, or that smaller businesses aren't willing to invest in their employees, but it will be different in the case of each employer.  
You might find that you fly through the ranks in private sector nursing jobs as there is less competition for roles. In any case, it's always advised you make your career ambitions clear in your Nurse job interview in either sector, so you can gauge the likelihood of achieving your career goals. 
Pay 
This is a hot topic for debate between NHS and private sector nursing; 'Do Nurses get paid more in private hospitals and clinics?'.  
It's been long believed that Private Nurse jobs are the way to go if you want the highest salary. While that can be the case in some instances, earning more as a Private Nurse isn't always easy or straightforward.  
Nurse Pay Rates - NHS 
As a publicly funded organisation, the NHS Nurse pay rates are fixed for each type of Nurse job description. This is because the NHS introduced the Agenda for Change (AfC) system, which made sure wages were fair among Nurses and other NHS healthcare professionals.  
So, if you choose a Nurse job in the public sector, the NHS Nurse salary will be incredibly transparent as you will fall into one of their wage bands depending on your experience and qualifications.  
At the time of writing, NHS nursing jobs are positioned between Band 5 and Band 9, which can earn you anything between £25,655 and £108,075 a year. For a more detailed breakdown of how much NHS Nurses get paid, read our blog How Much Does a Nurse Earn? 
Nurse Pay Rates – Private Sector 
When you take a job in the private sector, there is a lot more mystery surrounding the earning potential for Private Nurses. Granted, you can have a look on job sites and see what is being offered, but chances are jobs are advertised with a negotiable salary as opposed to a firm figure.  
This means you really need to prove your knowledge and experience in interviews for private nursing jobs, UK learners. For this reason, you will find many seasoned Nurses with years of experience and numerous qualifications making the switch to the private sector. This is because they can more easily prove their worth and command a higher rate of pay which, unlike the NHS, is uncapped.  
Another thing worth noting in terms of the Private Nurse salary, UK learners, is that you won't benefit from incremental wage increases, and your employer doesn't have to go along with government-initiated pay rises. However, if your boss is fair and recognises your hard work and dedication, you could benefit from pay rises more regularly and of higher value than your NHS Nurse counterparts.  

Employment Benefits  
When considering employment, money obviously is a big determining factor. However, it's often the benefits a company or organisation offers employees that sway people's decisions about who to work for.  
This couldn't be truer for Nurses, and with 88.6% of the 342,104 Nurses and Health Visitors in the NHS being women, job perks that enable mothers to juggle childcare with their careers are essential. The question is, are NHS benefits for Nurses better than those in the private sector? 
Employment Benefits – NHS Nurses 
Most if not all jobs these days are advertised with perks for employment, and like fair pay structures, the NHS prides itself on offering competitive and flexible benefits.  
In particular, they are renowned for their impressive pension scheme. If NHS Nurses and other NHS employees contribute 10% of their salary, they currently contribute another 14.38% - which is set to increase – to their pensions.  
Some of the other NHS Nurse benefits include: 
Flexible working opportunities 
27 paid days holiday, plus bank holidays off, increasing with years of service 
Get extra pay for working unsociable hours – working bank holidays, nights and weekends can get you between 30% and 60% more than standard rates 
Occupational health and counselling support are provided free of charge 
Sick pay in full for six months, then half pay for six months  
Maternity and paternity leave that sits far above the statutory minimum 
Fully supported and funded training courses and professional development opportunities 
Employment Benefits – Private Nurse 
Naturally, the employee benefits in private nursing care are again dependent on employers. In terms of your pension, most private sector employers will use a third party. Though, each company will choose its own, so the contributions will vary.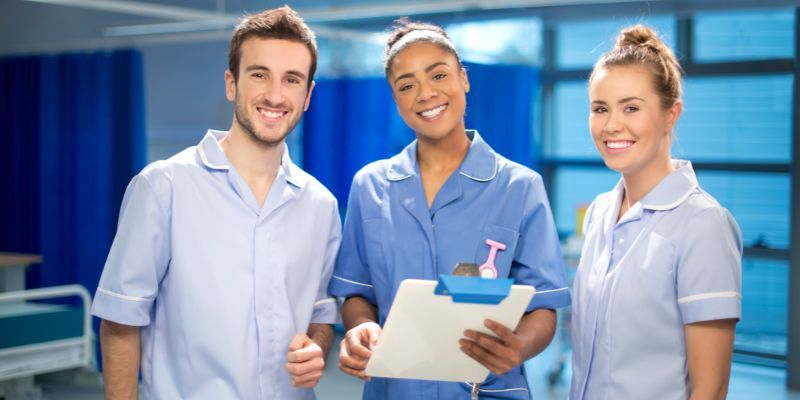 As an example of other employee benefits, at the time of writing, Bupa – a large private employer of Nurses – offered the below perks for one of their Private Registered Nurse jobs: 
Welcome Bonus (£1,000) - paid after completion of four weeks of service 
Comprehensive induction 
On-going training and development 
28 days paid holiday 
Access to the Bupa Nurse fellowship  
NEST workplace pension, life assurance and bereavement support 
A hot meal in each 12-hour shift 
Paid breaks 
Health insurance through Cash plan – provided after 18 months of service 
Health and wellbeing tools like: 

Be Me App 
Healthy Minds 
Gym pass 
Discounted health assessments 

Shopping Discounts 
Access to your income before payday, if and when required 
So, it's really up to you to determine which nursing employee benefits package best suits your situation. Luckily, unlike Nurse salaries, these are often detailed clearly on Nurse job advertisements for you to review ahead of applying.  
Workload 
In addition to wages, employee benefits and career progression, one of the main things you need to consider when choosing to become either an NHS Nurse or a Private Nurse, is whether you will enjoy the job itself.  
While it can be hard to know exactly what each nursing job will be like in either the public or private sector until you work in them yourself, there are plenty of Nurses working in these sectors already.  
As a result, online communities such as nurses.co.uk provide a wealth of valuable facts, insights and opinions about nursing jobs in the NHS and the private sector. This can help you establish things like the typical Nurse-to-patient ratio and other elements that help you see what you will be in for. 
Workload – NHS Nurses 
When considering the workload of NHS Nurses, despite public sector hospitals having staffing models to manage care in a safe and effective manner, it's well known that NHS Nurses are typically rushed off their feet.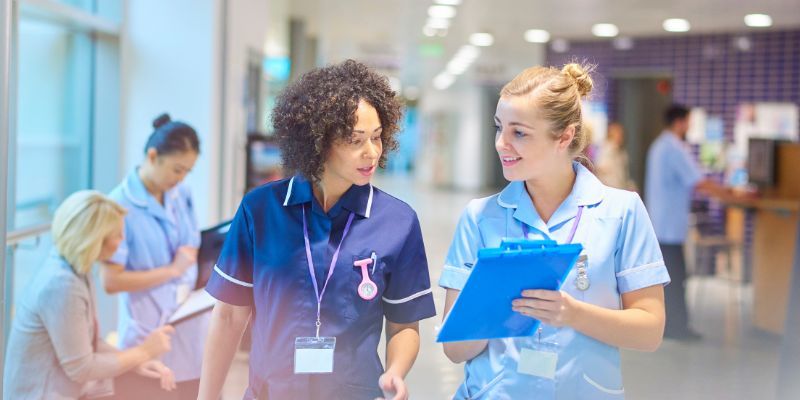 While this is great for any aspiring Nurse who likes to keep active, engaged, and get stuck into a variety of tasks, any unprecedented pressures can cause nursing departments a lot of stress and put you at risk of burnout. So, it's something to keep in mind.  
Some points to note about NHS Nurse jobs are: 
NHS Nurses typically see patients with more urgent/emergency needs, so work can be unplanned, chaotic and emotionally challenging 
You're more likely to work with Junior Doctors, so you can often be required to educate them in certain situations 
Caseloads are typically higher for NHS Nurses 
You will be required to perform more duties, so you will often learn faster 
Workload – Private Nurses 
If you're looking for a calmer career, you're more likely suited to private nursing roles. This is because you will be dealing with planned or elective treatments and procedures, and you typically have more time to spend supporting each patient.  
Other things to note about the workload of Private Nurses are: 
This type of nursing is great for those looking to have the time to develop their diagnostic skills 
Your role will typically be less diverse and therefore, you probably won't build skills, knowledge and hands-on experience as quickly  
Patients often have their own private rooms which provide fewer distractions when delivering patient care and building a Nurse-to-patient relationship 
When on wards, male patients will be in separate wards from females 
Theatre Nurses will typically have a higher caseload as patients are typically healthy and surgeries are less complex, therefore the turnover of patients will be higher 
With fewer managers in the private sector, you may have more management responsibilities like ordering equipment etc. 
Become a Nurse 
If you're reading this ahead of beginning the necessary courses to become a Nurse, learndirect – the UK's leading online course provider – can help you get qualified.  
Our online nursing courses, UK learners, can help you study the necessary Nursing and Midwifery Council (NMC) approved nursing degree without having to complete A Levels. This is because the nursing course is vocation focused and set at Level 3, so it provides you with the equivalent of three separate A Level qualifications.  
What's more, there's no need to search the internet for 'Nursing courses near me', as our nursing diploma, UK residents, is online! Simply enrol to start your learning journey from home, you also won't need to complete any exams as the course is completely assignment based.  
Find out more now by calling our Course Advisors on 01202 006 464, contacting us online or clicking below to view the nursing course in more detail!