What Courses Do I Need to Become a Registered Nurse?
Nursing is a career path that rewards people in many ways. Not only does it fulfil a need to care for others and give back, working as a nurse means you can align your job with areas of healthcare you're interested in.
It's for these reasons, among others, that people transition into nursing at any stage of life. So, if you're considering going directly into a nursing career, or you're looking at making this career switch later on in life, you can.
There are various academic steps you will need to take before you can qualify, though rest assured, this is doable no matter what qualifications you currently hold.
What Courses Do I Need to Become a Nurse?
To become a registered nurse, you have to complete a nursing degree approved by the Nursing and Midwifery Council. This is to make sure all nursing professionals meet regulated standards, as well as their requirements of good health and character before they can gain their nursing registration.
You can study a nursing degree in a number of ways, these include:
Full University Degree – Complete an undergraduate degree at university,
Nursing Apprenticeship – Complete an apprenticeship where you gain on the job training, alongside studying for your full university degree
Post Graduate Diploma – Complete a shortened degree in nursing if you have already gained a degree in a subject related to nursing
If you're wondering 'what are the requirements for nursing courses?', you'll be pleased to know there are more entry routes now that make studying a nursing degree accessible to a wider range of people.
Ways you can meet your nursing degree entry requirements:
GCSEs – For most nursing university degrees, you will need at least 5 GCSEs at grades 4 (C) or above - including Maths, English and often Biology
Functional Skills – If you don't have GCSE Maths or English, many universities now accept Functional Skills equivalents in their place
A Levels – The more traditional Level 3 qualification you will see on all university entry requirements lists. In most instances, universities ask for at least two A-levels in subjects related to nursing
Access to HE Diplomas – For anyone who doesn't have A Levels, or ones that relate to nursing, an Access to Higher Education Diploma (Nursing) can give you the equivalent of three individual A Levels. They meet the requirements for most approved nursing degrees, but it's up to you to check this before enrolling
Foundation Degree – Similar to the Access to HE Diploma, a foundation degree in nursing is a shortened course that allows you to meet the entry requirements of a full university degree. However, they cost much more than an Access to HE Diploma
With more varied ways of meeting university entry requirements, it's much easier for you to work towards a nursing degree in a way that suits you.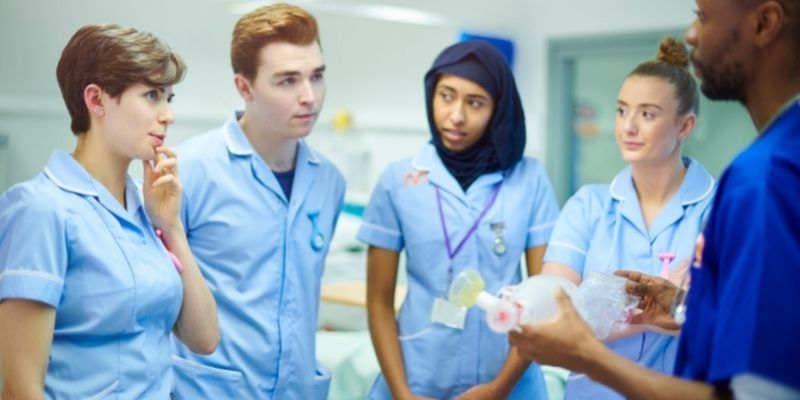 How Long is a Nursing Course?
This depends on the type of nursing course you're taking and the capacity in which you choose to study.
Courses studied within a physical college or university will generally take longer as they are carried out in line with a set timetable of classes. Online courses are more flexible since their materials can be accessed at any time. So, you can often complete your nursing course much faster than otherwise possible.
The timings you can expect with different nursing courses are:
Full University Degree – Generally these last between three or four years when studied full time. You can often have an additional year added to the course so you can come out with a master's in nursing in addition to your university degree qualification
Nursing Apprenticeship – For the most part, nursing degree apprenticeships take four years to complete
Post Graduate Nursing Diploma – Due to your knowledge gained through a similar degree subject, postgraduate nursing diplomas only take two years to complete
Duration of courses to meet nursing degree entry requirements:
GCSEs – GCSEs are typically studied full-time over two years. However, anyone looking to retake or gain GCSEs as an adult has the option to take them online. This makes it possible to gain your GCSE in just 6 months
Functional Skills – These alternatives to GCSEs can be studied over a short number of weeks, helping you meet your entry requirements much faster
A Levels – In traditional education, you can study three or more A Levels over two years. Though individual A Levels can be studied over the course of one year, or less if you study your A Levels online
Access to HE Diplomas – This online Level 3 qualification can be studied over two years, though the flexibility of studying online means it takes learndirect's students between 9-12 months on average to complete their Access to HE Diploma
Foundation Degree – Most foundation courses last two years, though there are some foundation nursing degrees that are completed in one year
Enrolled Nursing Course Cost
Like the timeframes of nursing courses, nursing course costs depend on the course you are studying.
Nursing short courses are cheaper as they are typically focused on equipping you with a particular skill or covering a specific topic over a number of weeks or months.
Nursing courses that help you get qualified cost more as the outcome is much greater. These will vary between institutions, but you can expect to pay £9,250 per annum when studying your nursing degree.
The cost to meet your degree entry requirements will also depend on the course provider. You can view the cost of learndirect's online Access to HE Diploma (Nursing) on the course page.
How to Survive Your Nursing or Midwifery Course
With the breadth of knowledge nurses need to have about medical conditions, treatments and procedures, it's no wonder there is a lot of studying involved. This can be quite daunting for students embarking on their journey into nursing, leaving many asking the question 'what happens if you fail a nursing course?'.
It's understandable that you might be concerned when you see the workload, but you really don't have to be. Simply planning ahead can make that seemingly overwhelming coursework much more manageable.
Study tips for your nursing course:
Plan Set Study Sessions – Organisation is the key to success. By sitting down with a calendar and looking at your current responsibilities, you can assess when you are free to study. Then, you can break down your workload and split the coursework over these allotted times. Perhaps giving yourself more time to focus on modules that are a more of a challenge.
Staying Motivated – When studying a longer course especially, it can be hard to stay motivated for the duration. Taking the time to reflect on your progress can help you see how far you've come and that the hard work you are putting in is paying off
Set Short Term Goals – Setting short term goals is another great way of breaking down your nursing course workload and preventing you from feeling overwhelmed. Your goals could be anything from reading a certain amount of your nursing books to finishing an essay. The more of these you tick off, the more accomplished you will feel
Remove Yourself from Distractions – When you settle down for your study sessions, try your best to make sure this is in an environment free from distractions. Ideally, put your phone away or in another room, turn off the TV and keep the space clutter-free
Remember to Have Breaks – Having regular breaks can be good for you as it can help you feel rejuvenated and improve concentration long term
By taking the time to plan in advance, becoming a registered nurse will seem much more achievable.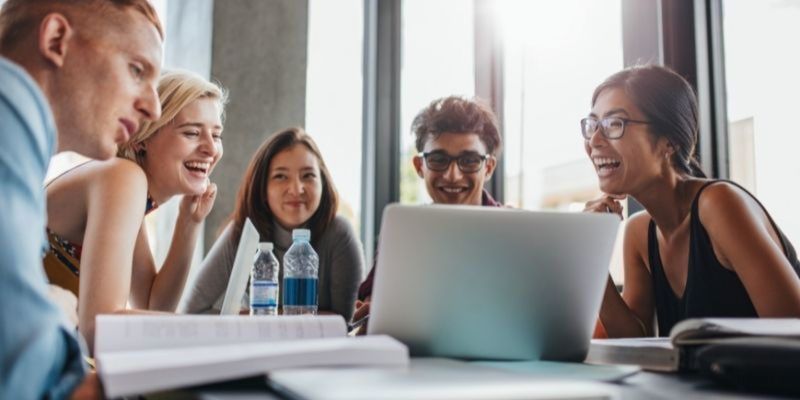 How Many Types of Nursing Courses Are There?
Depending on the avenue of nursing you'd like to pursue, there are nursing courses to suit every learner.
When it comes to completing your nursing degree course, you will typically have the option of studying one of the four main sectors:
Adult Nursing
Child Nursing (Paediatrics)
Learning Disability Nursing
Mental Health Nursing
Then, once you achieve your degree and gain your nursing registration, you can complete further studies or workplace learning to move into other more specific areas.
Nurses are required in almost every aspect of healthcare provision. So, no matter what your interests are, you can progress into a role that aligns with them.
What Courses After Nursing?
Once you become a registered nurse, your learning doesn't stop there. To maintain your registration with the Nursing and Midwifery Council, you need to complete a certain amount of Continuing Professional Development (CPD).
Healthcare procedures and processes evolve all the time. This is why CPD is essential for registered nurses to ensure they can continually perform their job effectively. There are numerous ways you can complete your CPD training, with one of them being through convenient online courses.
If you find an area of nursing that you would like to progress into, there are courses that can equip you with the necessary skills.
For instance, a nurse who is specifically trained to work with the elderly can help their department better cater to their needs. Alternatively, a nurse trained in end-of-life care can help make a patient's final hours as comfortable as possible. More commonly, registered nurses are taking courses in mental health awareness to better support individuals experiencing mental health issues and disorders.
You could also progress into a managerial nursing role by taking courses in management and leadership. Or, go back to university to study postgraduate nursing courses that can also help you become a specialist nurse and advanced practitioner.
If you have your heart set on becoming a registered nurse, learndirect can help you reach your goal in less time. Our online Access to Higher Education Diploma (Nursing) can be completed quickly, around your current commitments. Then our CPD and short courses can help you maintain your registration and progress your career.
Find out more by talking to our Course Executives today. They can help you understand what to expect from your course, give study advice and help you set up a flexible payment plan.
Call them today on 01202 006 464 or contact them online here.