Becoming a Nurse is a guaranteed way to enter a job that is stimulating, challenging, sociable, and equally rewarding. For these reasons and more, people enter the nursing profession at all stages of life, whether on a direct path from school education or later in life as a career change.  
If you're considering this profession, like many other aspiring nurses, you likely have a lot of questions. This could be about the route to becoming qualified, the courses you can take or what life will be like as a Nurse once you gain registration.  
To help, we have listed some of the most common questions about becoming a Nurse and tell you how you can get started without A Levels. 
"Is it possible to become a Nurse without A Levels?" 
Short answer, yes 
If you missed out on traditional A Levels, it does not mean you should miss out on your dream of becoming a Nurse. There are many routes into nursing, suitable to the qualifications and experience that you do have. 
So, if you think nursing is right for you, but you are not too sure about entry requirements for a nurse course, UK learners should take a look below to discover a few of the most asked questions about starting a nursing career without traditional qualifications: 
"Can I become a Nurse without a degree?" 
No 
While nursing is a practical, hands-on profession, it also requires special technical competencies and clinical analysis skills that will potentially save people's lives. As such, you cannot become a Nurse without a degree in nursing. Whichever nurse course degree you choose, you will spend half of it on supervised placements in local hospitals or other community health places. 
"What qualifications do I need for nursing?" 
Nursing has 4 specialisms: adult nursing, child nursing, mental health nursing and learning disability nursing. Depending on which speciality you choose, you will need to have the desired related qualifications. Each nursing specialism requires a dedicated degree, and the entry requirements of nurse courses vary according to each university.   
Simply put, you will need to decide the speciality, the university of your choice and check the entry requirements of your nurse course, UK, before enrolling. 
However, as a rule of thumb, the typical requirements for nurse courses are: 
A minimum of 5 GCSEs at grade C/4 or above to include English, Maths, and a Science (Biology would be beneficial) 
2 A Levels or equivalent Level 3 Diploma in Nursing UK 
You will also need to register with the Nursing and Midwifery Council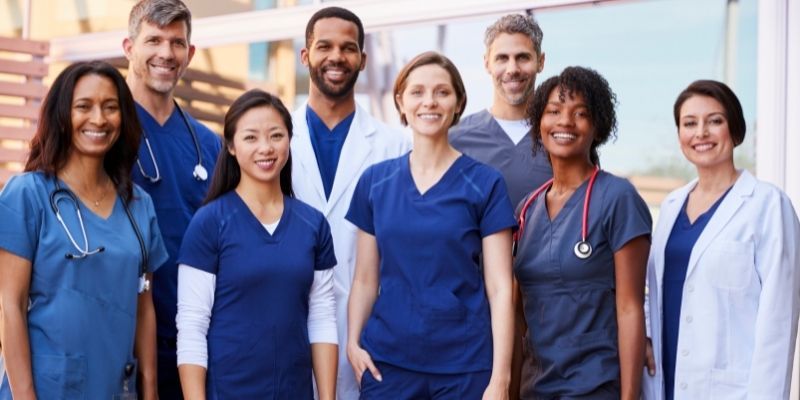 "Do I need A Levels to be a Nurse?" 
No 
A Levels are not mandatory for a nurse course, UK learners, but to gain a university degree you will need a recognised Level 3 Diploma in Nursing UK alternative. 
There is no requirement for A Levels to pursue a nurse course or a career in nursing. If you have GCSEs at grade C or above and decide to go to university, you can simply take the Access to HE Diploma route, which will allow you to go to university. 
"Can I get into university without A Levels?" 
Yes 
A Levels are the traditional way to qualify for nurse courses at university, but it is certainly not the only way. Most universities accept the Access to Higher Education Diploma in Nursing UK.  
The Access to HE Diploma (Nursing) includes:   
3 modules on study skills  
16 modules on notions of biology, anatomy, psychology, health and social care  
"Why should you study an Access to HE Diploma in Nursing UK with learndirect?" 
Many education providers offer the Access to HE Diploma in Nursing, UK learners. While this nurse course can be studied at certain local colleges, there are a few advantages to studying nursing courses online with learndirect: 
Everything is online. You can study your nurse course from the comfort of your own home. That means you can fit a family life, work commitments or anything else that would need a flexible study schedule  
You do not need to wait until September when most colleges are open for admissions 
You won't have to travel to the local college, or any other provider that offers the nurse course 
You have access to the full nurse course material, so you can choose how early or late you finish your studies and go to university 
If you study the Access to HE Diploma in Nursing UK with learndirect, you can also gain the necessary Level 2 qualifications you need to meet your university nurse course entry requirements. This is because learndirect offer both GCSEs and equivalent Functional Skills courses to help you get qualified in English and Maths quickly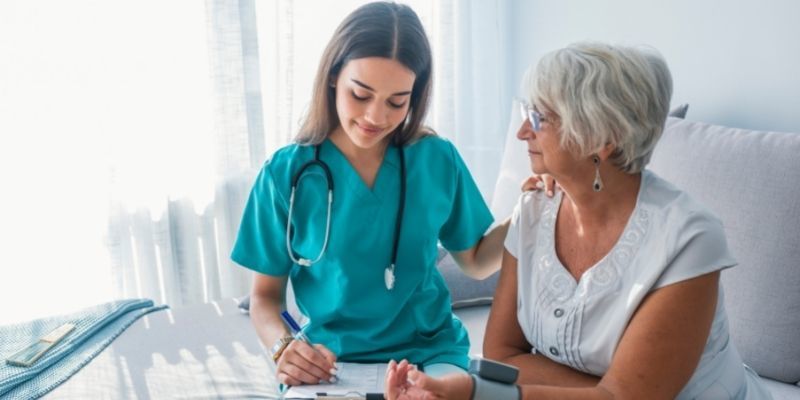 "How do I train to be a Nurse?" 
Nursing training will usually require: 
Basic literacy and numeracy skills 
A nursing degree or a degree apprenticeship 
A DBS check 
Registration through the Nursing and Midwifery Council 
The routes typically are: 
Nursing degree apprenticeships 
A Levels followed by a nursing degree 
An Access to HE Diploma in Nursing UK followed by a nursing degree 
An undergraduate degree in a science-based subject followed by a postgraduate degree in nursing 
"How long does it take to become a Nurse in UK?"  
If you are starting with just GCSE qualifications, you will need: 
Access to HE Diploma in Nursing UK: minimum 6 months - maximum 2 years 
Full-time nursing degrees last 3 to 4 years 
Part-time nursing degrees can be spread across 5 or 6 years 
If you already hold a graduate degree in a science field, it can count towards relevant learning. This means you qualify for accelerated programmes and complete a nursing degree in two years. If and how much of your accreditation can go towards the nursing degree of your choice, will be down to the higher education institution you choose. 
"Can I afford to become a Nurse?" 
Previously funded by the NHS, nursing degree tuition fees are now fully funded by students. The extent of the cost varies according to the level of education anyone brings to the table, or their professional circumstances. For example, apprenticeships will be partially or fully funded by employers. Earn while you learn schemes through the healthcare sector can also be funded by employers. 
If you start with GCSEs only, you will need an Access to HE Diploma in Nursing UK, as well as an undergraduate degree in nursing. 
Our online nursing courses UK are suited to a lot of people with different financial circumstances. You can start learning with a small deposit and continue paying for your education through monthly instalments.   
"What does a Nurse earn?" 
As of 2021, a newly qualified Registered Nurse (RN) in the UK was earning on Band 5 of the NHS pay scale, with a starting salary of £25,655. The average salary of a Nurse is estimated to be around £33,384, and with experience and potentially further study, this can reach over £108,075 in the highest NHS bands. 
Find out more about starting a rewarding career as a Nurse by speaking with our Course Executives today! They can explain our online nursing courses UK in more detail and help you get enrolled.  
Talk to them now via phone on 01202 006 464, online via our website or click below to view the Access Diploma in Nursing UK course in more detail.