In the UK, around 300,000 babies are born via Midwife-led deliveries each year. Midwives, in addition to delivering the nation's babies, carry out several duties vital to the welfare of both mother and baby. So, for anyone thinking about becoming a Midwife, there are plenty of roles and responsibilities involved in the profession. 
Within a community setting, midwives help the new family navigate the first few weeks of the baby's life, making sure the baby is healthy and mum is recovering well. They also serve as a 24-hour helpline for anyone looking to call the Midwife, answering any and all questions the new parents may have. 
Midwives are invaluable to the hundreds of thousands of families they help every single year. Of course, the role isn't without challenges and sacrifices, but every day is an opportunity to literally change lives when you become a Midwife. 
If you are asking yourself, 'how do I become a Midwife?', firstly, you need to be aware that you will need a degree in midwifery approved by the Nursing and Midwifery Council. However, if you don't have the minimum qualifications, such as A Levels, needed to get in, becoming a Midwife may feel like an impossible dream. The good news is you have options, which we have outlined below.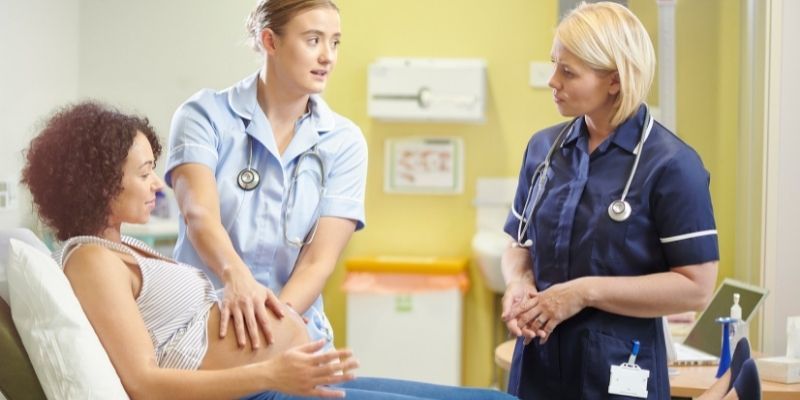 A Day in the Life of a Midwife
While the core role of a Midwife is to deliver babies, a Midwife's job has a lot more to it than that. Within a hospital setting a Midwife isn't just responsible for the birth but the aftercare too. Depending on the size of the ward will determine how many mothers and babies you will have to care for when becoming a Midwife, UK learners. 
In addition to monitoring the health and recovery of the mother and how well the baby is feeding, you also need to monitor the first dirty nappies. Then there's blood tests, neonatal reviews and administering medication, and there are expectant mothers waiting in the wings, so the pace in midwifery jobs can be demanding. 
Obviously, if the mother has opted for a home birth then you will need to be able to do much of the midwifery role in someone's home which – although a change of scenery – brings its own challenges. Especially if complications arise. 
Community Midwives, on the other hand, provide care in GP practices, children's centres or in the mother's home. Once you have become a Midwife, you will support the mother leading up to the birth and afterwards up until the health visitor takes over. You will be monitoring the mother's progress and making any referrals that are needed in order to keep both mother and baby safe and well. 
As a Midwife, you will also need to identify if the expectant parents need any parenting education. By training to become a Midwife you have the option of pivoting your role into neonatal care. In this role, you will be responsible for looking after premature babies.  
Although many are born without complications, others can develop specific problems, such as respiratory issues. These need ongoing care and attention. As a neonatal nurse, you will also be tasked with supporting the family through what is an incredibly anxious time. 
What Qualifications Do I Need to Become a Midwife? 
When asking the question, 'how do I become a Midwife?', one of the first things you need to consider is the academic qualifications required for midwifery. Before you commit to anything, you need to make sure you meet the requirements to enrol on a midwifery degree. 
Below is the boiler plate list of minimum requirements to make it onto a midwifery degree course. While some universities may waive the Maths GCSE, these are the overwhelming minority. Instead, they will insist on something like a minimum of 2 years' experience in a healthcare setting instead. You may need the following to study a midwifery degree and become a Midwife: 
Demonstrate evidence of literacy and numeracy 
Complete a health questionnaire and identify any special needs related to a disability 
Declare any past criminal convictions 
Allow the university to check whether you have a police record. You will not automatically be barred if you have a criminal conviction or caution. The university will consider the circumstances and will treat any information in the strictest of confidence 
Required qualifications for midwifery in England, Northern Ireland and Wales include: 

Five GCSEs including English, Maths, and a Science (usually Biology or Human Biology) 
Two A Levels or equivalent 

In Scotland, one of the following is required: 

3-5 SQA Highers plus 2 standard grades/National 5s – this should include English and Maths 
Completion of a relevant HNC/HND including English plus Maths at Standard Grade/National 5 level 
Completion of an appropriate Scottish Wider Access Programme (SWAP). Access to Nursing and SWAP programmes have been specifically developed for adults who have no or few qualifications and have been out of education for some time 
Assuming all you're missing is the A Levels for midwifery courses then you are in good shape to progress towards your ambition of becoming a Midwife. Otherwise, you may need to take some extra courses to get yourself to where you need to be.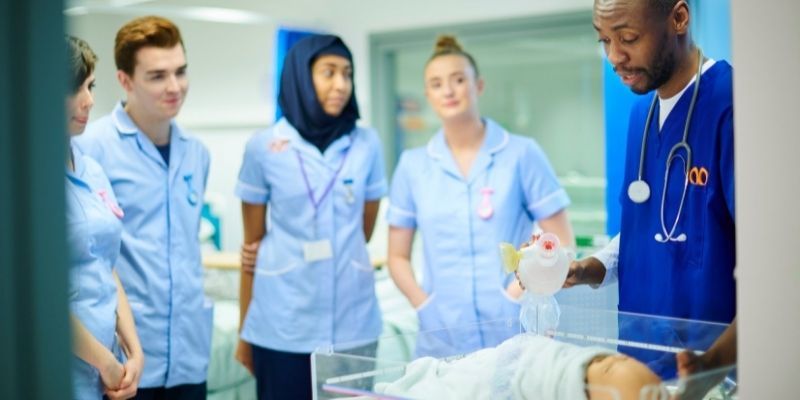 Becoming a Midwife with A-Levels 
One option is to simply take the A Levels you currently lack. Many online education providers now offer A Levels, giving you a viable alternative to attending your local college. learndirect is the UK's largest online learning provider and has helped more than 4 million students gain a range of qualifications, including A Levels. 
You will not have to deal with the restrictions that classroom learning brings as you can study your chosen A Level from the comfort of your own home. We deliver a wide range of A-Levels, ones that will help you in your pursuit of becoming a Midwife. 
The course material is tailored to a more mature audience, so you feel like the course is at your level, not a 16-year old's. You will need at least 2 A Levels, one of which must be a Science subject in order to qualify for a midwifery degree. Although in the interest of giving you the best start, Biology is the obvious choice. Chemistry and a social science such as Psychology or Sociology are good complementary qualifications too.  
Distance learning will allow you to study the courses at a pace that works for you, although many students find they can complete an A Level inside of a year. Depending on the number you take you should be qualified inside of 2 years, time and circumstances permitting. 
Becoming a Midwife with an Access to HE Diploma 
The Access to Higher Education Diploma is a qualification that prepares students specifically for study at an undergraduate level. 
The content of the Access to HE Diploma focuses specifically on the degree you want to study, in this case midwifery. As such, the Access to midwifery course provides you with the foundation you need to build your knowledge and skills that will guide you towards becoming a Midwife. 
You will cover an array of topics in your Access to midwifery course, including the following: 
Cell biology 
History of the National Health Service (NHS) 
Human reproduction 
Roles and responsibilities of a Midwife 
Human nutrition 
Psychology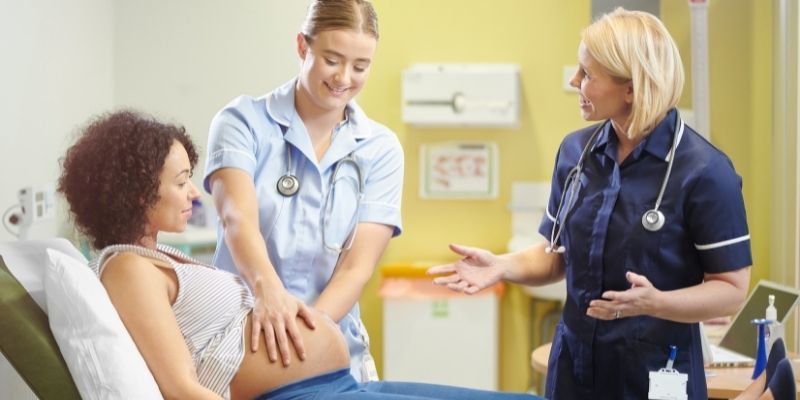 Other areas of study in your Access to midwifery course include human disease and prevention, the brain, and the nervous system. You will also explore social factors in healthcare, inequalities in health and illness, poverty and health and equality and diversity within healthcare in your Midwife course. 
All of these Access course topics will give you a well-rounded foundation for future study, which is crucial when training to become a Midwife. The midwifery Access course also covers the vital subject of the role of the Midwife in intrapartum care and postnatal care. 
By the time you have completed the Access to midwifery course, you will be ready to take the next step on your journey to becoming a Midwife. It's worth noting that while most universities accept Access to HE Diplomas, a tiny minority don't. If you choose to go down the Access to HE Diploma route, check with your preferred university before you enrol. 
To successfully complete your Access to midwifery course and take your next steps towards becoming a Midwife, UK learners will need to complete a series of assignments, earning a total of 60 credits. Each Access course assignment is marked by an experienced tutor, and what's more, you won't have to sit any exams, and your entire course is 100% online! 
Take Your Next Step Towards Becoming a Midwife! 
learndirect is one of the UK's leading online learning providers. Get in touch with our Course Executives by calling 01202 006 464 or sign up today online to enrol on the Access course that's right for you. There are flexible payment terms available to help you spread the cost.  
As well as helping you become a Midwife without A Levels, we can also get you prepared for the Midwife interview process once you have achieved your degree. Check out our blog detailing common interview questions that aspiring midwives tend to face. 
Click below to sign up to our Access to Higher Education Diploma (Midwifery), to give you the foundation you need to go on to achieve at university.