online only!

extra 5% off
35% OFF
Save £704.00 - Don't miss out!
Level 3 Personal Trainer Online Specialist (RQF)
Get in touch with us and we'll call you back
Get in touch with us and we'll call you back
OUR PASS RATE
Fitness
(National Average 75.1%)

94.7
%
SALE

Savings End Midnight Thursday 30th November

SALE

Savings End Midnight Thursday 30th November
Level 3 Personal Trainer Online Specialist (RQF)
Become a Personal Trainer Online Specialist
Once a fully physical profession, recent years has seen Personal Training become more and more digital, with many clients requesting online/web-based sessions due to the increased flexibility it offers.
This increase in demand has resulted in many fitness coaches taking their businesses online, the reality however is that online delivery is very different to face to face and few really have the skills to succeed.
Our Level 3 Personal Trainer Online Specialist has been developed to provide you with the core skills you need to qualify as a Level 3 PT, whilst ensuring you develop the essential business skills needed to start a small online business and develop your brand through the use of social media.
Course Overview
Included in this package are 3 essential units needed for launching a successful online Personal Training business and unlocking the potential to scale your business to clients everywhere. The industry desired a Level 3 Diploma in Gym Instructing and Personal Training alongside a Social Media & Branding course and a Small Business Finance course.
Guiding you through this course will be a team of industry-leading PTs who have already mastered the art of running an online Personal Training business and are ready to share their advice, experience, and expertise with you. Their knowledge will be invaluable throughout this course and the skills you learn will ensure you join an industry capable of changing lives from anywhere.
On the tabs above, you'll find more information about the units and the fundamental topics you'll be covering, along with some team bios so you can see who will be helping you and what career paths are available once you qualify. We will be glad to answer any questions you may have that aren't answered in these tabs.
All of our courses are developed and delivered by experienced Personal Trainers, and health and fitness experts who are currently leading the way in their respective industries. The course is completed fully online using a combination of written materials, interactive learning elements, and video tutorials designed to convey relevant information in an engaging and enjoyable way. See the video below for a taste of the content you'll learn.
| + Free Upgrade | Self-Paced Online Learning With Tutor Support | Self-Paced Online Learning With Tutor Support PLUS On-Demand & Live Classes |
| --- | --- | --- |
| Access your course materials immediately | | |
| Tutor support via our market-leading platform | | |
| Study around existing commitments | | |
| Progress as quickly as you'd like | | |
| Tailored individual learning plan to help you succeed | | |
| Engaging content; from videos to interactive quizzes | | |
| Industry-leading 5 days marking turnaround | | |
| Live class scheduled between 10 am to 8 pm daily (including weekends) | | |
| Access to our video library of previous lectures available on-demand | | |
| Interact with your tutors directly during your class | | |
| Network with like-minded students via our chat functionality | | |
| Take live classes multiple times or access recordings as you like | | |
Modules
L2/3 Gym Instructing and Personal Training
Unit 1: Anatomy and Physiology for Exercise
Unit 2: Applied Anatomy and Physiology
Unit 3: Nutrition for Physical Activity
Unit 4: Client Consultations and Lifestyle Management
Unit 5: Planning and Delivering Gym Programmes
Unit 6: Planning and Delivering Personal Training Programmes
Unit 7: Maximising the Customer Experience in the Exercise Environment
Unit 8: Business Acumen for Personal Trainers
Social Media & Branding
Unit 1: Introduction + Building a Brand
Unit 2: Social Media Channels
Unit 3: Email Marketing
Unit 4: Social Media Tactics + Strategies
Unit 5: Building your own success
Small Business Finance
Unit 1: Introduction to Self-Employment
Unit 2: Business Structure
Unit 3: Tax
Unit 4: Basics of Financial Information
Unit 5: Financial Reporting
Unit 6: Planning and Forecasting
Unit 7: Data for Success
Unit 8: Raising Finance
Unit 9: Important Extras
Entry Requirements
This course is perfect for learners of all levels. There is no prior experience or qualifications required!
With both the Level 2 Gym Instructing certificate and the L3 Personal Training Diploma included in this course, it means you will learn absolutely everything you need to be considered client ready.
A minimum course payment of 15% must be paid before we are able to register you on the course and book your unit 1 exam. Until this threshold is met, you will be unable to sit your unit 1 exam, although you are welcome to continue working your way through the course content.

Assessment
We assess each unit using various methods depending on the course content. This can range from multiple choice exams and video uploaded evidence of your work and progress, to written-based questions, programme cards and worksheets.
Innovate Awarding assess the first 2 Units of the L3 Personal Training Course externally and they charge a resit fee of £29.99 if you do not pass on the first attempt. To help you feel fully prepared to go into these exams, we provide three mock tests per unit!
LEAP Academy independently assess all other units throughout the course and provide unlimited free resits! Don't worry, we will support you through each assessment to ensure you are confident and prepared.
The video submissions required as part of the assessment process will require you to have access to gym equipment such as cardio machines, weight machines and free weights.
No formal assessments are required for completion of the Small Business Finance and Social Media courses as they are developed as a supportive resource. To ensure you are reaching certain knowledge markers we do provide quizzes at varying stages of the course and offer feedback if needed.
Qualifications
Innovate Awarding

You will receive the Level 3 Diploma for the Gym Instructor and Personal Training Practitioner (RQF) upon successful completion of this training course, which is accredited by Innovate Awarding.
Innovate Awarding is known for its forward-thinking and dynamic approach to work as a regulated awarding organisation by Ofqual. They operate in a growing number of industries and are gaining a reputation for expertly developed qualifications, all of which are on the Regulated Qualifications Framework (RQF).
To be hired as a Personal Trainer in a gym or to obtain insurance if you work for yourself in the UK, you must possess an accredited Level 3 Personal Training qualification. This certification is approved by CIMSPA and accredited by Innovate Awarding. This means that after passing the course, your name will be included on the CIMSPA register.
CIMSPA is widely respected throughout the health and fitness industry. It is advised that any Personal Training course you purchase is CIMSPA-endorsed otherwise gym-based employment may be difficult to find.
Please note, a level 2 certificate is not provided with this qualification, only the level 3 diploma.
Innovate Awarding is an Ofqual regulated awarding organisation with an innovative and dynamic approach. They develop off-the-shelf, customised and fully bespoke qualifications across a growing number of sectors – all on the Regulated Qualifications Framework (RQF).
Anyone who wants to build their own online PT business and pursue a career in Personal Training will benefit from this course. You will learn how to interact with clients in a gym environment as well as an online setting while also facilitating their education and providing support.
To help clients in a larger capacity, you can apply the knowledge you learned in this course to upskill further with one of our other related courses. The Level 4 Advanced Sports Nutrition qualification will provide you with the knowledge to create bespoke nutrition plans for customers and also increase the amount you charge for your services.
OUR PASS RATE
Fitness

94.7
%
(National Average 75.1%)
526
guided
learning hours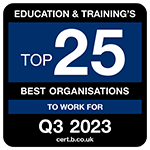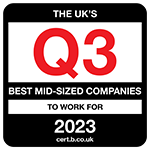 Sign up to our Newsletter