25% OFF
Save £91.00 - Don't miss out!
Home Security Planning
Get in touch with us and we'll call you back
Get in touch with us and we'll call you back
OUR PASS RATE
Professional Skills
(National Average 82.6%)

90.9
%
SALE

Savings End Midnight Tuesday 12th December

SALE

Savings End Midnight Tuesday 12th December
Home Security Planning
About the Level 3 Home Security Planning Certificate
Planning the security of a house is something that you whether you are an individual looking for a DIY project, working in security, or looking to setup your own business. The home security planning course has been specifically designed to provide you with the knowledge and understanding of domestic security systems and strategic planning to allow you to get the best security for your home.
This online security training course is divided into 4 accessible modules that will take you through an overview of home security, indoor security, outdoor security, personal security, vehicles security and perimeter protection and crime prevention.
Who should study this course?
This home study course makes an excellent addition to any security training, or for any homeowners looking for a security system incorporated to their new house. If you already have an interest in physical security, or work in security this is a great course to expand on your abilities.
However, if you have never worked or studied the field before this course is accessible and comprehensive enough to take you from complete novice and equip you with the key skills in security and prevention techniques.
What happens after the course?
Whether you are a complete beginner, or an experienced professional you can benefit from skills in project management, strategic planning, tactical crime prevention. Security and fire are often related, and you can continue to develop your skills with courses in fire prevention and fire fighting equipment, or other security training courses.
If you enjoy the strategy and project-oriented work, you could consider work in risk consultancy, security and compliance management, fire safety, intruder and perimeter defence, or even operational security (OPSEC) roles, as a consultant. Some other jobs you could find after the home security planning course:
Fire and security contractor
Security installation engineer
Security officer
For more information about this course, give us a call on this number: 01202 006 464
Modules
The home - security of the home
Indoors - indoor security
Outdoors - outdoor and personal security
Vehicles - vehicles and crime Prevention
For a more detailed syllabus on this course, click here
Entry Requirements
There is no experience or previous qualifications required for enrolment on this course. It is available to all students, of all academic backgrounds.
All course fees, inclusive of all payment plans including our Premium Credit Limited option, must be settled before certification can be ordered.
*You will have access to the course for 24 months.

Assessment
Assessment Method
After each lesson there will be a question paper, which needs to be completed and submitted to your personal tutor for marking. This method of continual assessment ensures that your personal tutor can consistently monitor your progress and provide you with assistance throughout the duration of the course.
What's Included
All study materials
Study Guide
Full Tutor and Admin support
The course fee includes the awarding body registration and certification fee (valued at up to £30.00).
Endorsement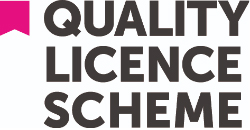 At the end of this course successful learners will be given the option to receive a Certificate of Achievement from the Quality Licence Scheme and a Learner Unit Summary (which lists the components the learner has completed as part of the course).
Level 3 Home Security Planning Certificate of Achievement
The course has been endorsed under the Quality Licence Scheme. This means that learndirect has undergone an external quality check to ensure that the organisation and the courses it offers, meet defined quality criteria. The completion of this course alone does not lead to a regulated qualification* but may be used as evidence of knowledge and skills gained. The Learner Unit Summary may be used as evidence towards Recognition of Prior Learning if you wish to progress your studies in this subject. To this end the learning outcomes of the course have been benchmarked at Level 3 against level descriptors published by Ofqual, to indicate the depth of study and level of demand/complexity involved in successful completion by the learner.
The course itself has been designed learndirect to meet specific learners' and/or employers' requirements which cannot be satisfied through current regulated qualifications. The Quality Licence Scheme endorsement involves robust and rigorous quality audits by external auditors to ensure quality is continually met. A review of courses is carried out as part of the endorsement process.
The Quality Licence Scheme is part of the Skills and Education Group, a charitable organisation that unites education and skills-orientated organisations that share similar values and objectives. With more than 100 years of collective experience, the Skills and Education Group's strategic partnerships create opportunities to inform, influence and represent the wider education and skills sector.
The Skills and Education Group also includes two nationally recognised awarding organisations; Skills and Education Group Awards and Skills and Education Group Access. Through our awarding organisations we have developed a reputation for providing high-quality qualifications and assessments for the education and skills sector. We are committed to helping employers, organisations and learners cultivate the relevant skills for learning, skills for employment, and skills for life.
Our knowledge and experience of working within the awarding sector enables us to work with training providers, through the Quality Licence Scheme, to help them develop high-quality courses and/or training programmes for the non-regulated market.
*Regulated qualification refers to those qualifications that are regulated by Ofqual / CCEA / Qualification Wales
To view a sample of the Certificate of Achievement, please click here.
OUR PASS RATE
Professional Skills

90.9
%
(National Average 82.6%)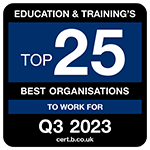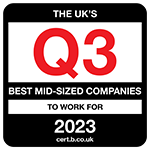 Sign up to our Newsletter