25% OFF
Save £113.00 - Don't miss out!
Floristry
Get in touch with us and we'll call you back
Get in touch with us and we'll call you back
OUR PASS RATE
Professional Skills
(National Average 82.6%)

90.9
%
SALE

Savings End Midnight Tuesday 12th December

SALE

Savings End Midnight Tuesday 12th December
Floristry
About the Level 3 Floristry Certificate
The art of floristry is more skilled than you may imagine. As a profession, it involves much more than going out and picking flowers. A trained florist is expected to know everything from design and styling to general flower and plant care. By studying this Level 3 distance learning course, you will develop the skills you need to flourish as a florist.
Whether you want to join an existing organisation or start your own flower business, the course could be your ticket to success. Students will study 10 engaging modules over the course of their qualification. These educational units will explain everything from plant cutting and characteristics to marketing, promotion and customer relations.
Who should study this course?
This home study course is aimed at students who have an interest in pursuing a career in floristry. Whether you want to work in a store or start your own business, this course will help you achieve that. The qualification is also suitable for individuals wanting to take up a new hobby.
At learndirect, we do not ask for our students to have any prior qualifications or experience. Our only requirement is that our students are willing to engage in home learning, and that they have a way of accessing our online course materials.
What happens after the course?
On successful completion of this distance learning course, you will have the skills and knowledge required to start a career in the floristry profession. If you enjoyed working with flowers and want to expand your expertise, you may consider studying another related course.
Alternatively, you will now be in a good position to apply for your first floristry role. If you prefer to work independently, this course will help you to start up business on you own. Before you know it, you could be working on your own time, selling bespoke bouquets. Related careers include:
Florist
Florist's assistant
Wedding florist
For more information about this course, give us a call on this number: 01202 006 464
Modules
The course consists of 10 Modules:
Module 1 – Introduction and care
Introduction to Floral Design and Flowers
Identifying most popular plants and flowers used in displays
General flower and plant care
Maintaining the condition of plants and planted designs
Module 2 – Identification and cutting
Botanical concepts and practices for floristry
Explore a variety of flowers and learn their characteristics and how to handle them
The best time to pick flowers and how to cut flowers
How long cut flowers will last and how to prolong their life
Module 3 - Design Style and Techniques
Various architectural flowers and stems
Which flowers complement different types of vases and containers, like glass, pottery, metal, etc
Larger flowers or stems used to form structure in a design or decoration
Module 4 - Elements and Principles of Design
Design concepts in floristry- Ikebana, western line, Hogarth, formal linear, crescent, Mille Fleur, Biedermeier and parallel design styles
Colour theory as it applies to floral design
Module 5 - Displays
The creative design process
The basic rules of flower arranging
The principles of creating floral decorations
Module 6 – Designs
Flowers and stems suitable for tied designs
What equipment and materials are required for designs
How to assemble tied and wired floristry designs
Module 7 – Wedding functions
Considerations when designing bouquets and floral accessories
How to design and create personal adornment flowers
How to create floral arrangements for both the wedding and the reception
Module 8 – Other occasions
What considerations are necessary when designing a display or a hospital
Appropriate displays for funerals
Constructing the display
Decorating a function suite / room using floral displays
Module 9 - Flowers for Festive Events
Floral arrangements for Christmas, Valentine's Day, New Year's Eve, Mother's Day and other holidays and special occasions
Artificial arrangements and arrangements that combine both artificial and fresh materials
Floral relay services
Module 10 - Business practices
Managing marketing and promotion in the floristry industry
Building good relationships with customers
Entry Requirements
There is no experience or previous qualifications required for enrolment on this course. It is available to all students, of all academic backgrounds.
All course fees, inclusive of all payment plans including our Premium Credit Limited option, must be settled before certification can be ordered.
*You will have access to the course for 24 months.
Endorsement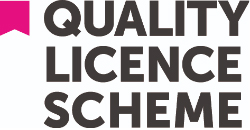 At the end of this course successful learners will be given the option to receive a Certificate of Achievement from the Quality Licence Scheme and a Learner Unit Summary (which lists the components the learner has completed as part of the course).
Level 3 Floristry Certificate of Achievement
The course has been endorsed under the Quality Licence Scheme. This means that learndirect has undergone an external quality check to ensure that the organisation and the courses it offers, meet defined quality criteria. The completion of this course alone does not lead to a regulated qualification* but may be used as evidence of knowledge and skills gained. The Learner Unit Summary may be used as evidence towards Recognition of Prior Learning if you wish to progress your studies in this subject. To this end the learning outcomes of the course have been benchmarked at Level 3 against level descriptors published by Ofqual, to indicate the depth of study and level of demand/complexity involved in successful completion by the learner.
The course itself has been designed learndirect to meet specific learners' and/or employers' requirements which cannot be satisfied through current regulated qualifications. The Quality Licence Scheme endorsement involves robust and rigorous quality audits by external auditors to ensure quality is continually met. A review of courses is carried out as part of the endorsement process.
The Quality Licence Scheme is part of the Skills and Education Group, a charitable organisation that unites education and skills-orientated organisations that share similar values and objectives. With more than 100 years of collective experience, the Skills and Education Group's strategic partnerships create opportunities to inform, influence and represent the wider education and skills sector.
The Skills and Education Group also includes two nationally recognised awarding organisations; Skills and Education Group Awards and Skills and Education Group Access. Through our awarding organisations we have developed a reputation for providing high-quality qualifications and assessments for the education and skills sector. We are committed to helping employers, organisations and learners cultivate the relevant skills for learning, skills for employment, and skills for life.
Our knowledge and experience of working within the awarding sector enables us to work with training providers, through the Quality Licence Scheme, to help them develop high-quality courses and/or training programmes for the non-regulated market.
*Regulated qualification refers to those qualifications that are regulated by Ofqual / CCEA / Qualification Wales
To view a sample of the Certificate of Achievement, please click here.
OUR PASS RATE
Professional Skills

90.9
%
(National Average 82.6%)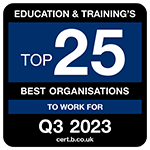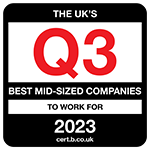 Sign up to our Newsletter