CMI Diploma in Strategic Management and Leadership Practice Level 7 (RQF)
Get in touch with us and we'll call you back
Get in touch with us and we'll call you back
CMI Diploma in Strategic Management and Leadership Practice Level 7 (RQF)
This Course at a Glance
Your one-stop shop to get prepared for CEO or business director roles
Advance your coaching, entrepreneurial and strategic abilities
Achieve our highest Level 7 CMI qualification
Equivalent to a Master's Degree
For anyone aged 19 and over
100% online course
No exams
About Your Diploma
This Level 7 Diploma in Strategic Management and Leadership Practice is the perfect course for you if you want to rise to the top of your game as a CEO, director or senior manager in a business. Not only will it develop your professional management and leadership practice, but it will also equip you with a host of top-level specialist skills.
Think Bigger. Achieve More.
For any business to be a success in today's competitive and evolving market, it needs a strategic vision and a way of achieving it that can adapt as the need arises. If you're going to become the person that drives this vision and makes it a reality, you need a host of critical skills. Being agile, creative, knowledgeable, and resilient, to name just a few.
This Level 7 Diploma is equivalent to a Master's Degree at university and is designed to build you up to this position by teaching you about strategic leadership in an organisational context. It also covers common challenges, theoretical perspectives, and methods, as well as the behaviours and skills you need to improve your professional practice.
What sets this diploma apart from the other Level 7 CMI courses we offer is that it also provides you with a comprehensive skillset in specialist areas that are bound to make you stand out from other leaders of this level.
Become The Best
Besides learning to think strategically to achieve business goals, you will also be taught the value of:
An entrepreneurial mindset - identify opportunities, inventions, and solutions that will set you apart from competitors
Performance optimisation - explore the influence and impact of leadership theories, culture, wellbeing, development and design, policy and strategy
Coaching - support, motivate and empower individuals and teams in a conversational and insightful way
Getting Started
learndirect is the leading UK online course provider, helping students of all lifestyles to achieve success through online education. This CMI Level 7 Diploma in Strategic Management and Leadership Practice is a nationally recognised qualification that will help you reach the top of the ladder as a leadership and management professional.
Learn Best Practice
The Chartered Management Institute (CMI) provides the highest standard of education in the management and leadership domain. This is because it's the benchmark professional body for the management and leadership sector, and the only sector-related organisation that can award Chartered status to leadership and management professionals.
Your Education On Your Terms
Say goodbye to worrying about fitting your education around your lifestyle. With no classes or timetables, our online courses allow you to move through the materials at your pace and get qualified when you're ready.
Plus, if you aren't already a CMI member, you will gain access to a free Affiliate membership with the CMI for the duration of your studies!
Modules
Unit CMI 701: Strategic Leadership
Guided Learning Hours – 36
Total Unit Time – 110
Credits – 11
Upon completion of this unit, you will:
Understand the role and context for strategic leadership
Understand the behaviours and skills for strategic leadership
Unit CMI 702: Leading and Developing People to Optimise Performance
Guided Learning Hours – 34
Total Unit Time – 100
Credits – 10
Upon completion of this unit, you will:
Understand the principles for leading and developing people
Understand leadership and development strategy
Unit CMI 711: Entrepreneurial Practice
Guided Learning Hours – 32
Total Unit Time – 90
Credits – 9
Upon completion of this unit, you will:
Understand entrepreneurship in strategic contexts
Understand the principles of entrepreneurial practice
Unit CMI 612: Coaching Skills for Leaders
Guided Learning Hours – 15
Total Unit Time – 70
Credits – 7
Upon completion of this unit, you will:
Understand the benefits, types and application of coaching used by leaders
Know the skills, techniques and approaches required by leaders to coach
Entry Requirements
Experience in a senior manager role is required. As this is a higher level qualification, learners will be expected to have an excellent command of written English, including knowledge, understanding and application of referencing. In addition, learners will need to demonstrate, through the work presented, that they have completed their own research and reading into the subjects being studied.
Minimum age restriction
You must be aged 19 or older to enrol on this course.
Average completion timeframe
The average time it takes to complete the course is 18 months.
Assessement requirements
Your assessments will consist of: Q&A, Case Studies, Essay, Reflections
Placement or Practical required
Learners do need to be in an appropriate work setting to allow them to satisfy the criteria of the qualification.
If placement or practical required, when?
Learners need to be in an appropriate work setting for the duration of the course.
Is Membership Required?
Membership is required and purchased by us.
Observation by us required
Learners will be observed by a work-based mentor during the course.
Certification Timeframe
You should receive your certificate in 12 weeks, but that can be extended if an EQA sample is required.
Course Fees
All course fees, inclusive of all payment plans including our Premium Credit Limited option, must be settled before certification can be ordered.
*You will have access to the course for 24 months.

Assessment
There are no exams involved in this course. Instead, you will evidence your understanding by passing a range of assessments.
Please note that you will need to sign and date a Statement of Authenticity to confirm the assessments you submit have been completed by yourself and not a third party.
Qualifications
CMI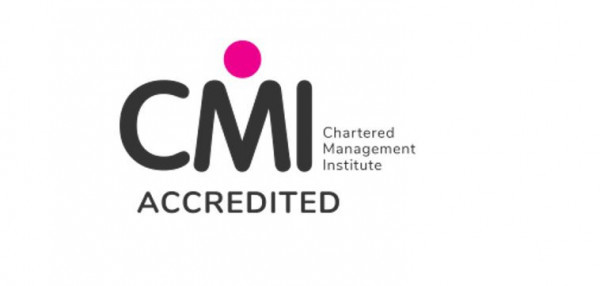 Upon successful completion of this online course, you will have achieved a nationally recognised Level 7 Diploma in Strategic Management and Leadership Practice (qualification number: 603/4837/9).
The Chartered Management Institute is a professional institution for management based in the United Kingdom.

This Level 7 Diploma in Strategic Management and Leadership Practice will get you ready to take on some of the highest roles in leadership and management so that you can drive businesses towards success and help their workforce flourish in the process.
With this qualification, you can become a:
Director
Regional Manager
Senior Manager
Specialist Manager (with expertise in areas like finance, HR, IT, marketing, quality, risk, sales etc.)
Further Qualifications and Prospects
Following this Level 7 CMI Diploma, you could study a host of complementary courses. These will help you further understand the needs of your workforce and ensure your business runs smoothly.
You could learn more about:
And so much more! View all the courses that are available for business professionals on our website.
117
guided
learning hours
Sign up to our Newsletter