online only!

extra 5% off
25% OFF
Save £481.80 - Don't miss out!
Level 4 Diploma in Canine Welfare, Training and Behaviour (RQF)
Get in touch with us and we'll call you back
Get in touch with us and we'll call you back
OUR PASS RATE
Animal Care & Veterinary Science
(National Average 74.9%)

86.8
%
SALE

Savings End Midnight Tuesday 12th December

SALE

Savings End Midnight Tuesday 12th December
Level 4 Diploma in Canine Welfare, Training and Behaviour (RQF)
Key Points
Learn about the key principles of canine welfare
Develop skills to spot problem behaviour and signs of stress
Know how to remedy behavioural issues
Start a new career in canine care or behavioural consulting
Study online to fit around your existing commitments
Gain a nationally recognised qualification within a year
About your Course
This course will provide you with the in-depth knowledge you need to correctly and safely care for canines in a variety of settings.
You will learn how to maintain the welfare of canines, identify problem behaviour and how to address it. Part of this will include learning canine body language and how to spot signs of stress and anxiety, which can lead to aggression and other unwanted behaviours.
The course also covers canine anatomy, physiology nutrition and more. All designed to give you a fully comprehensive understanding of canine care.
This course is perfectly suited for anyone wanting to work with canines in a kennel or care setting. It will provide you with core knowledge, including the impact of long-term kennelling and the importance of play.
This course will also equip you to start a career in dog training or behavioural consulting. Both offer a rich and varied career allowing you to work with dogs of all breeds and their families to help resolve problem behaviour or to strengthen the bond between animal and human.
Upon completion of this level 4 diploma, you will be in a position to seek employment or take your studies further either through a level 5 diploma or studying an animal behaviour degree at university.
Getting Started
learndirect is the leading UK distance learning provider. This level 4 canine training and behaviour management diploma is recognised and regulated by the Office of Qualifications and Examinations Regulation (Ofqual). So you can be confident that the material is relevant and meets Animal Activities Licensing (AAL) Higher Standard requirements.
You will gain essential skills to pursue careers in kennel management, canine day care, dog training of canine behavioural consulting.
You can learn around your existing job or family commitments, as this course is provided completely online.
You will be assigned a dedicated tutor who can advise and guide you through the course, as well as provide constructive feedback on assignments. This ensures you are on the right track with your education and better prepared to safeguard animal welfare.
There are flexible payment methods available and you can start learning from the moment you enrol.
Modules
This level 4 diploma consists of nine units:
Unit 1: Canine Anatomy and Behaviour
Upon completion of this unit you will:
Understand the canine skeletal system
Understand the canine muscle system
Be able to assess canine locomotion
Understand how to manage a number of medical conditions affecting canine anatomy
Be able to assess changes in a canine's behaviour that may indicate pain or discomfort
Understand the influence of canine anatomy on behaviour problems
Unit 2: Canine Behaviour Problems
Upon completion of this unit you will:
Understand common canine behaviour problems and their outcomes
Know how to improve problem behaviours
Understand the consequences of long term kennelling
Understand the methods of managing rescued canines
Understand the role of alternative therapies in behaviour management
Know about humane training equipment used in canine training
Unit 3: Canine Guardians
Upon completion of this unit you will:
Understand the role of canine guardians
Understand the influence of compatibility in canine ownership
Understand the impact of lifestyle on canine behaviour
Unit 4: Canine Learning Theory
Upon completion of this unit you will:
Understand the principles underpinning canine behaviour
Understand classical and operant conditioning
Understand the various rates of reinforcement in canine behaviour training
Understand the roles of conditioning in canine behaviour modification
Understand the various methods of canine training
Understand how canines learn
Unit 5: Canine Nutrition
Upon completion of this unit you will:
Understand the sources of major nutrients in the canine diet
Understand the functions of major nutrients for canines
Understand the anatomy and physiology of the canine digestive system
Understand the nutritional value and impact of canine nutrition
Unit 6: Canine Physiology
Upon completion of this unit you will:
Understand the canine circulatory system
Understand the canine respiratory system
Understand the canine nervous system
Be able to assess motor activity
Understand the canine urinary system
Understand the canine lymphatic system
Understand the canine skin system
Understand the canine reproductive system
Unit 7: Canine Play and Exercise
Upon completion of this unit you will:
Understand the impact of too much and too little play on canines
Understand the impact of too much and too little exercise on canines
Understand the role exercise can play in changing problem behaviour
Understand the importance of mental stimulation and enrichment in preventing and changing problem behaviour
Unit 8: Influences on Canine Behaviour
Upon completion of this unit you will:
Understand the role of external and internal influences on canine behaviour
Understand the influence of medical conditions on canine behaviour
Understand the role of canine stress on behaviour
Unit 9: Managing a Dog Training Class
Upon completion of this unit you will:
Understand the business requirements for managing dog training classes
Understand the necessary skills for delivering dog training classes
Be able to plan a dog training class programme
Entry Requirements
This course is open to learners who may not yet have qualifications in canine care, but instead have sufficient experience within the sector. Please note, studying canine qualifications prior to this level before enrolling can greatly help your learning and understanding of the course materials. The minimum age for access to this qualification is 18 years of age.
Minimum Age restriction
18
Average completion timeframe
You have 24 months to complete your course.
Certification Timeframe
Learners can expect their certification within 6 months of completing the course, following the (EQA) External Quality Assurance of assessment.
Course Fees
All course fees, inclusive of all payment plans including our Premium Credit Limited option, must be settled before certification can be ordered.
*You will have access to the course for 24 months.

Assessment
You will be required to create a portfolio of evidence and a practical demonstration/assignment.
Qualifications
AIM Qualifications Assessment Group

Upon completion of this course, you will gain a Level 4 Diploma in Canine Welfare, Training and Behaviour. Qualification Number: 603/4823/9
AIM Qualifications and Assessment Group is a leading Awarding (AO) and End-Point Assessment Organisation (EPAO) offering award-winning qualifications and nominated end-point assessment services.
AIM has over thirty years of experience in developing high-quality qualifications that meet the needs of employers and learners. They approve the colleges, training providers, and other education centres that deliver their qualifications and work closely with them to ensure high-quality delivery.
AIM is also regulated by the public regulator governing qualifications in England – Ofqual.
This qualification has been designed to provide learners with in-depth knowledge and understanding of canine welfare, behaviour and training. Learners will gain knowledge of canine force and fear-free training and behaviour, to enable them to understand how to modify and connect with canines on a psychological level. Learners will develop knowledge on canine anatomy and physiology and their influence on behaviour.
They will develop an understanding of the impact of too much or too little play and exercise on canines. They will be able to manage a dog training class and canine behaviour problems. They will develop a deeper understanding of canine nutrition and learning theory. Learners will also develop the knowledge to understand the role of guardians and the influence of compatibility on canine guardianship and the impact of lifestyle on canine behaviour and training.
Learners will be able to progress into employment within the animal care sector. They will also be able to progress onto Level 5 Canine Behaviour Management qualifications or other relevant, higher study.
OUR PASS RATE
Animal Care & Veterinary Science

86.8
%
(National Average 74.9%)
361
guided
learning hours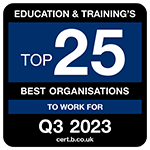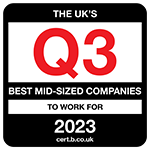 Sign up to our Newsletter