In celebration of World Hospice and Palliative Care Day – a day dedicated to highlighting hospice and palliative care around the world – we want to shine a light on our partnered charity, Julia's House.
As a children's hospice, Julia's House is dedicated to providing care for children with life-shortening and life-threatening conditions, as well as offering a crucial support network for the whole family.
By being there for both children and their loved ones, the team at Julia's House can help ensure families spend quality time together. They can also give parents and carers a much-needed break and put them in touch with others in similar situations, so they don't feel isolated and alone.
Not only does the team at Julia's House provide highly specialist support, but they also give it to those who need it, completely free of charge.
Their support includes:
Neonatal care
Daytime and occasional overnight care in the hospice
Tailored care in the home and out in the community
Support for individuals transitioning into adult care
End-of-life care
Contributions to funeral costs
At every point possible, the team focus on having fun. From sleepovers to play therapy, every step of the child's journey is designed to be an opportunity to laugh and make friends.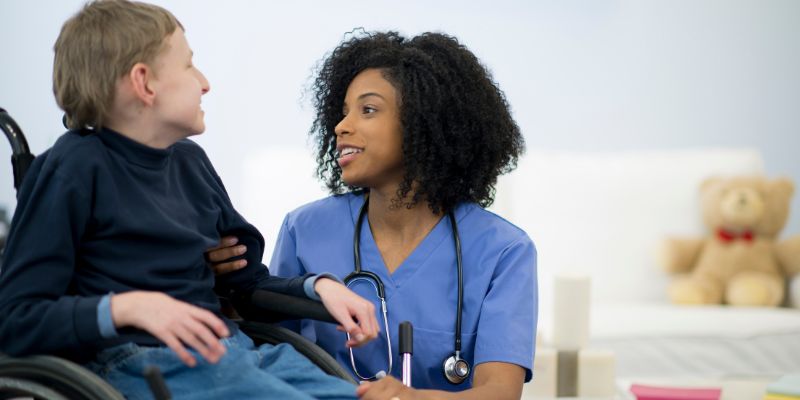 How You Can Help
Being based in Dorset, where our head office is located, the team at learndirect is now perfectly positioned to get involved with the many exciting and wonderful fundraising events Julia's House runs throughout the year.  
From walking the Jurassic Coast to skydiving and trekking to Everest base camp, the team has embraced the opportunity to help raise funds for children with severe medical needs. You too can help make a difference by taking part in any of their extensive range of fundraising events.
Get Involved In Care
If you want to get more involved in providing care for children and individuals with life-limiting and life-threatening conditions, you can learn more about giving them the exact support they need. Whether you're looking to get into care as a career, or to help others in your free time, there are online courses that will give you the skillset and understanding required.
As an online course provider, learndirect offers courses in:
Plus, so many more. Whatever aspect of care you want to get into, we can help. Why not call our advisors today to discuss the range of courses we have that can help you learn to help others more effectively? Call them on 01202 006 464 or speak with them online.