Are you passionate about health and fitness and interested in helping others achieve their wellness goals? If so, consider a career in nutrition!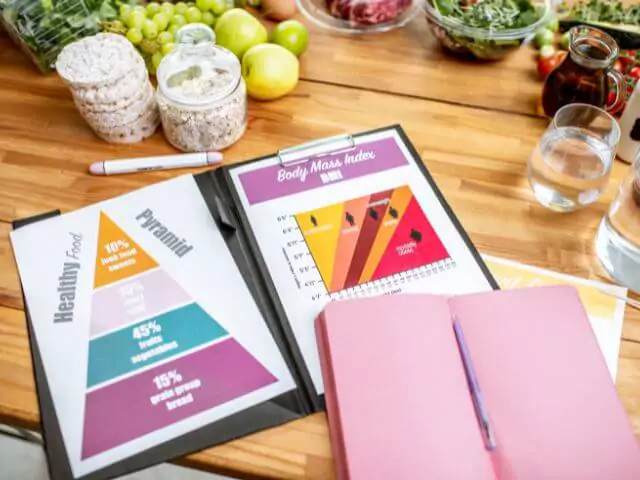 As a Nutritionist or Nutrition Coach, you would work with clients to develop personalised nutrition plans that help them achieve their health and fitness goals. But what exactly is a nutritionist, and how do you become one?
Below we look at what it takes to become a nutritionist and support people on their journey to better health. Whether you're already working in the fitness industry or just starting, read on to discover the exciting world of nutrition!
What is a Nutritionist?
A Nutritionist or Nutrition Coach works with clients to develop personalised nutrition plans that help them achieve their health and fitness goals. These goals can range from losing weight and building muscle to improving overall health and well-being.
The main role of a Nutritionist is to provide guidance and support to clients, helping them to make informed decisions about what they eat and how they live their lives. They work with clients to assess their current dietary habits, lifestyle factors, and fitness goals and then develop customised nutrition plans that are tailored to their individual needs.
The services provided by a Nutritionist or Nutrition Coach include a wide range of things, such as:
Nutritional assessment: Nutritionists usually begin by assessing a client's dietary habits, lifestyle factors, and overall health status. This information is then used to develop a personalised nutrition plan considering the client's needs and goals.
Goal setting: A Nutrition Coach will work with clients to establish specific, measurable goals tailored to their needs and preferences. These goals may be related to weight loss, muscle gain, or other health and fitness outcomes.
Meal planning: Nutritionists will help clients plan out their meals and snacks, considering things such as calorie intake, macronutrient ratios, and the timing of meals. This can help clients stay on track with their nutrition plans and make healthy food choices throughout the day.
Nutritional education: A Nutrition Coach provides clients with information about healthy eating habits and lifestyle choices, helping them make more informed decisions about what they eat. This may include information about the benefits of certain foods, how to read nutrition labels, and how to make healthy food choices when eating out.
Accountability and support: Nutritionists provide continued support and encouragement to clients, helping them stay on track and progress towards their goals. This may include regular check-ins, progress tracking, and tweaks to their nutrition plan as needed.
Nutritionists in the fitness industry play a pivotal role in helping clients achieve their health and fitness goals through proper nutrition and exercise. By working with a Nutrition Coach, clients can gain the knowledge and skills they need to make healthy food choices and achieve long-term success.
How do I become a Nutritionist in the Fitness Industry?
The great news is that you don't need any previous qualifications or experience to get started. Courses such as learndirect's Level 3 Diet and Nutrition course are designed for learners of all levels. All you need is a strong interest in nutrition and a willingness to learn. That said, there are certainly benefits to gaining additional qualifications before pursuing a career in nutrition, and any previous experience you have will help you become qualified.
One route you could take is to become a level 3 qualified Personal Trainer. This will give you a solid foundation in personal training and help you better understand how nutrition and exercise work together to support optimal health and fitness, with the two often going hand in hand. With this knowledge, you'll be better equipped to support your clients in
reaching their fitness goals.
Once you've gained your level 3 qualification, the next step is to obtain a Level 4 Advanced Sports Nutrition Certificate, or you could enrol on Level 3 Personal Trainer Nutrition Specialist (RQF) and complete them both together. This will provide you with the in-depth knowledge and skills you need to design customised nutrition plans for your clients, considering their individual needs, preferences, and goals.
How much do Nutritionists and Nutrition Coaches earn in the UK?
As a nutrition coach, you'll have the opportunity to work with clients one-on-one or in groups, offering personalised meal plans, nutrition education, and lifestyle recommendations to help them achieve their health and wellness goals.
One of the biggest advantages of becoming a nutrition coach is your earning potential. According to the National Careers Service, the average salary for a nutritionist in the UK is between £25,000 and £40,000 per year, with the potential to earn more with experience and qualifications. However, by combining your nutrition coaching with a personal training qualification, you can significantly increase your earning ability and offer a more comprehensive service to your clients.
By adding a personal training qualification to your skill set, you'll be able to offer a more holistic approach to your client's health and wellness. You'll have the knowledge and expertise to design personalised workout plans that complement their nutrition goals and help them achieve their desired results. This comprehensive service can set you apart from other nutrition coaches and give you a competitive edge in the industry.
What's more, the combination of nutrition coaching and personal training can lead to more opportunities for additional income streams. For example, you could offer group fitness classes or online coaching sessions to clients who may not be able to meet with you in person. You could even go one step further by developing and selling your own products, such as e-books or meal plans, to further supplement your income.
What's the next step?
If you're passionate about nutrition and want to make a real difference in people's lives, then a career in this field could be perfect for you. And with learndirect, you'll have all the support and guidance you need to make your dream a reality.
Our experienced course advisors are on hand to answer any questions you may have. Our team of expert wellness professionals are at the forefront of the industry, ready to help you develop the skills you need to succeed.
So why wait? Call us today on 01202 006464 or click below and take the first step towards a rewarding career in nutrition.