Working as a dental nurse is a busy but rewarding role. Each day you will wear many hats including a capable and prompt assistant to the dentist. And a source of comfort to an anxious patient.
You will need to make sure patient records are up to date, prepare instruments and field questions over the phone.
As such, dental nurse jobs take diligence, attention to detail and an overriding desire to provide excellent care to those in need.
Dental nurse jobs also require a qualification recognised by the General Dental Council (GDC) and (ideally) certified by the National Examining Board for Dental Nurses (NEBDN).
If you want to become a dental nurse, you will need to gain a recognised qualification.
There is the option of becoming a trainee dental nurse which doesn't require any qualifications. However, it will impact severely both in terms of what you're allowed to do in your role and also your earning potential.
Read on to learn more about how to get qualified for dental nurse jobs and what your future role entails.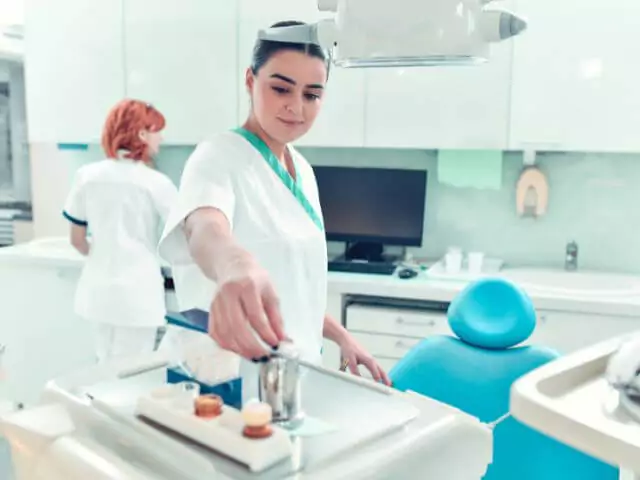 Getting the Qualifications
While you can train to become a fully qualified dental nurse through a dental nurse apprenticeship as a trainee dental nurse, it can take two years. Or more depending on the hours you're available to work.
However, there are a number of distance learning courses available that will get you qualified for dental nurse jobs. Before you enrol check that the course is – at the very least – recognised by the GDC. Otherwise, you will find yourself with a qualification that doesn't get you the job you want.
Dental nurse course requirements vary from course to course but a minimum of 2 GCSEs (C grade or above) in English Language and Maths or a Science subject is usually the standard.
If you don't have these then it is advisable to get those qualifications. GCSEs take between 9 months to a year to complete. The alternative is to study Functional Skills in both Maths and English.
This will give you equivalent qualifications and can be completed within 8 weeks.
Assuming you can meet the minimum requirements then you can embark on your dental nursing course.
The NEBDN National Diploma in Dental Nursing is a General Dental Council (GDC) recognised dental nursing qualification which covers all outcomes described within the GDC Preparing to Practice document.
It prepares you in the foundations of dental nursing, so you have the knowledge, skills and professional attributes to practice safely and effectively, as it addresses topics like current issues in the dental hygiene field and more.
In order to qualify for this dental nurse course, you will need to complete two assessments. The first is a workplace assessment, with a complete record of experience. You will be embedded within a dentistry team and get vital hands-on experience.
The second part is a written and practical assessment that allows you to demonstrate your dental nursing knowledge and decision-making abilities.
Pass both of these assignments and you will be a fully qualified dental nurse.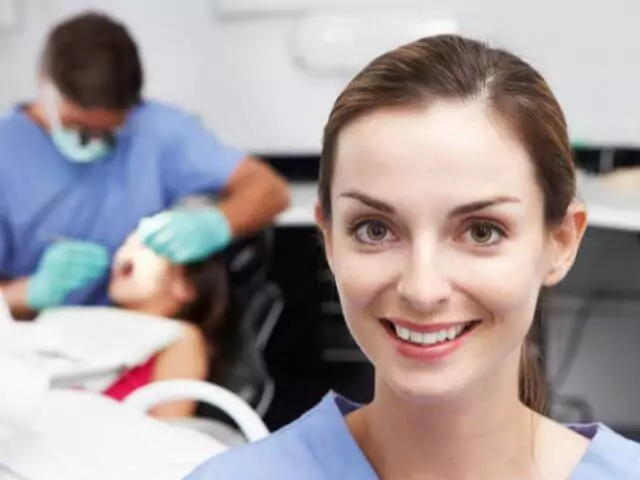 Distance Learning
Becoming a qualified dental nurse via a distance learning provider, as opposed to a dental nurse apprenticeship, allows you to study based on your personal circumstances.
You can study while you work – and juggle your home life. So, you don't have to make any financial sacrifices while you're working towards your new dental nursing career.
You equally can work your way through your dental nursing course materials as quickly as you'd like. Because all your learning materials are available throughout the course, you can go back and reread them at your leisure.
This is especially useful when it comes to revision ahead of your dental nursing assessments.
There are no physical classes to attend and you don't have to wait for the start of term to begin learning. You can just enrol and get going.
This also means you can complete the dental nurse course in less time too. On average distance learners complete a two-year course within 9 months. There's also research to suggest that online learners retain 5 times the information when compared to a traditional setting.
So, you'll be able to qualify as a dental nurse faster and retain significantly more information.
Post Qualification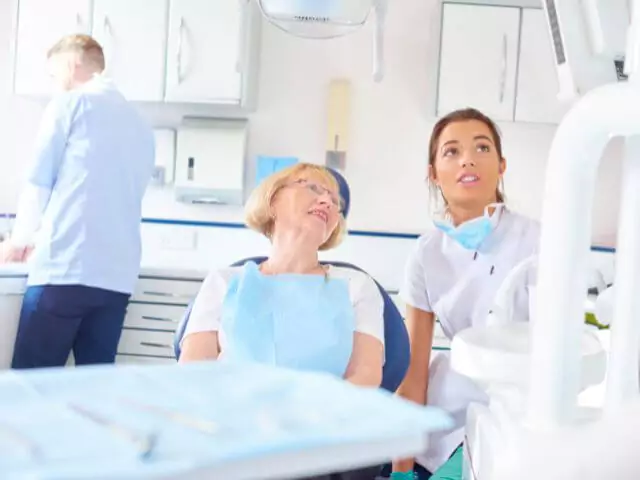 Once you have gained your qualification you will have the option of working in either a dental practice (private or NHS) or in a hospital setting.
In the latter case, your dental nursing role will be surgery orientated, assisting with major extractions and other operations. However, you will require a further certificate in dental sedation in order to assist in dental procedures when an anaesthetic is being used.
Other additional certificates you can gain are dental radiography, oral health education, and orthodontic nursing.
These will help you to move into other areas of dental nursing, help you boost your dental nurse salary, and with further study, could lead to a career as a dental hygienist.
There is also an option to become a community dental nurse. Community dental nurses are required to visit patients who are unable to attend appointments at the surgery.
This is an important role as it primarily supports the vulnerable or those with disabilities whose oral hygiene would suffer without care.
Your dental nursing role in this instance would be to assess their dental hygiene and make recommendations for treatment should any be required.
There are relatively few community dental nurses but they play an important part in maintaining people's oral hygiene.
However, at the start of your dental nurse career, your days will be a little more routine. Although you will be required to assist in a range of different treatments your core responsibilities as a dental nurse will look a little like this:
Preparing and passing instruments to the dentist or hygienist
Suctioning water and saliva from the patient's mouth during treatment
Preparing fillings and other materials
Providing support and reassurance to the patient
Sterilising instruments
Processing and filing X-rays
Tidying and cleaning the dental surgery
Recording and filing information about patients
Advising patients on oral hygiene
Carrying out stock control
While most clinics operate traditional opening hours, you may be required to be on call, especially if you work in a hospital setting.
learndirect is one of the UK's leading distance learning providers. Enrolling on our courses provides you with instant access to your learning material so you can start studying right away. You will also have access to a dedicated tutor who will help you through the process. Check out our blog for useful tips on how to get the most out of your study experience.
If you want to become a dental nurse, but a dental nurse apprenticeship isn't for you, click below to sign up to our NEBDN certified and GDC approved, National Diploma in Dental Nursing. Places are limited so don't delay!