Doctors save hundreds of lives each day and are the cornerstones of healthcare systems across the world. It's no surprise then, that becoming a Doctor is a popular career path for those who want to make a difference to the lives of people in their local communities. Many aspiring doctors, though, dismiss a medical career based on preconceived ideas of what's required to go to medical school.  
One of the most-asked questions is 'can you become a Doctor without A Levels?' but everyone knows that you need 3 A* Science A Levels, right? Not anymore. Gone are the days when a career in medicine was only attainable to those who excelled at college and it's all thanks to the Access to Higher Education Diploma. 
Studying an Access to HE Diploma in Medicine and Healthcare could be your fast-track Doctor training route to medical school, and the beginning of a career as a Doctor with no A Levels. The diploma is a Level 3 qualification and a recognised equivalent to A-Levels, so it is ideal for people who don't have these traditional qualifications. If you want to know more about studying a medical degree, UK learners, and becoming a qualified Doctor with no A Levels, you're in the right place. Check out our FAQs about becoming a Doctor below!
What Do Doctors Do? 
The answer to this largely depends on the Doctor's specialisms. So, when you are wondering how to become a Doctor, you need to consider the type of Doctor you want to be. 
For example, a General Practitioner (GP), or 'Community Doctor', will treat common medical conditions and focus on the overall health and well-being of their patients, whilst a hospital Doctor will have a more defined role, specialising in a certain area of medicine or healthcare.  
In fact, there are more than 60 specialities that you could progress into when becoming a Doctor that works in a hospital setting. These include: 
Anaesthetics 
Cardiology 
Paediatrics 
Radiology 
Pathology 
Emergency medicine 
General surgery 
Obstetrics and Gynaecology 
General medicine 
Trauma and orthopaedics 
Psychiatry 
Hospital doctors are healthcare professionals whose patients have either been admitted to or referred to the hospital by their GP.  
As mentioned above, there are many different types of doctors, from paediatric doctors that treat children to radiology specialists that use X-rays to diagnose injuries and illnesses. Whatever their specialisms, doctors are all united by one aim, to diagnose and treat patients and provide a high standard of healthcare to all.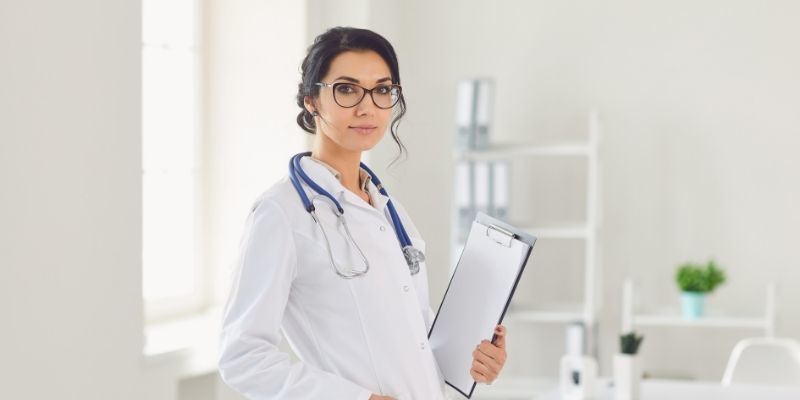 What Qualifications Do I Need to be a Doctor? 
If you're wondering how to become a Doctor, UK residents need to obtain a medical degree that's recognised by the General Medical Council (GMC), along with several years of postgraduate training. To practise as a Doctor, you will also need to pass a Disclosure and Barring Service (DBS) check. 
Generally, to get accepted on a medical degree, UK learners, you will require the following: 
A minimum of 3 Science-based A-Levels at grades AAA 
At least 5 GCSEs at grades A*-A/9-7, including English and Maths 
Please note that entry requirements vary so ensure that you check with each university before submitting your application and continuing your journey to becoming a Doctor. 
For those of you whose GCSEs fall below the required grades, you have an opportunity to retake them with the help of learndirect. So many people give up on their dream of becoming a Doctor when they realise that their grades miss the threshold, but you can study GCSEs again to get the grades you need. 
We provide a vast portfolio of GCSE courses, all of which are delivered online, so you can make your way through the syllabus from the comfort of your own home. Many of our packages include the exam, so you will have everything you need. 
If you haven't got the A-Level grades, or didn't take the right subjects, don't worry; many universities recognise the Access to HE Diploma as an A-Level equivalent and will, therefore, consider Access to HE Diploma graduates, as long as the diploma has been achieved to a satisfactory level and in a related subject. 
As medicine is a highly competitive field, universities often look for more than good grades. They will also take into account: 
Relevant work experience 
Enthusiasm for medicine 
Communication skills 
So, make sure that the skills and experience section of your university application is strong, as well as your qualifications. All of these elements will help in your quest to become a doctor, UK learners. 
Please note that some universities may accept Functional Skills Level 2 qualifications as alternatives to GCSEs, but you must check beforehand. 
How Do I Train to be a Doctor? 
When considering how to become a Doctor, UK learners, the training element is essential. You will need to complete a bachelor's degree in Medicine (MBBS) or Surgery (BMBS). You can apply for a degree programme online through UCAS after you have completed your Access to HE Diploma.
Please be aware that not all universities accept Access to Higher Education Diplomas in place of A Levels, although most do. To avoid disappointment, ensure that you carefully read the entry requirements for each university medical school. 
Once you have graduated from medical school and gained junior Doctor status, you will need to complete several years of further training: 
Foundation training – This is where you will put your knowledge gained at university to practice in the real world as a junior Doctor. You'll complete a series of placements in different speciality areas, such as maternity and A&E, within a hospital or GP surgery 
Core medical training – This is the first stage of speciality training and is essential for doctors that wish to complete higher training in medical subspecialties. At this point, you decide whether you wish to train in primary care as a GP or secondary care as a hospital Doctor or specialist 
Speciality training – This training is exactly what it says on the tin; it's for honing your knowledge and skills in a specific area of medicine and healthcare. Specialities range from emergency medicine to pharmaceutical medicine, anaesthesia to General Practice (GP) 
You may think that once you've completed your training that the hard work is over, but the learning doesn't stop there. Doctors are required to take part in Continuing Professional Development (CPD) throughout their career, in order to keep their knowledge and skill base current in an ever-changing medical landscape.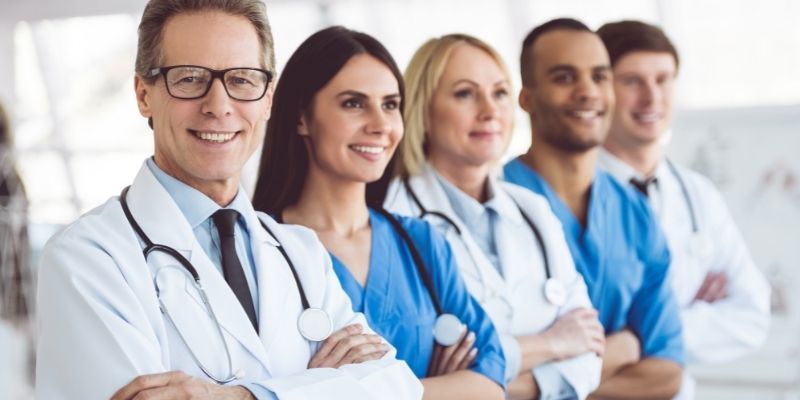 What Does the Access to HE Diploma (Medicine and Healthcare Professions) Involve? 
This Access to Higher Education Diploma comprises of 19 units that are designed to prepare you for a medical higher education programme at university. These modules are a mixture of study skills and academic-based content, so you gain essential subject knowledge whilst developing the skills and confidence you need to thrive in a university environment. 
The academic modules are geared towards your goal of becoming a Doctor as they cover a range of core scientific areas within the following: 
Biology 
Chemistry 
Physics 
Human immunity 
Medical physics 
Human endocrine and the nervous system 
Chemical change and more! 
The Access to Higher Education (Medicine and Healthcare Professions) course is divided into credits. To successfully complete the course and achieve your Access to HE Diploma, you will need to pass a total of 60 credits, 45 of which are graded and based upon academic content, the other 15 ungraded and centred around study skills.  
A total of 600 hours of study is recommended to achieve this, which equates to just under 10 months of learning if you dedicate 2 hours to study each day. 
Unlike traditional methods, you don't need to sit an exam to achieve your diploma, and you have the benefit of studying the course online. Via our industry-leading learning platform, you can gain 24/7 access to all the course materials you need, as well as an Individual Learning Plan, which outlines all your submission deadlines. 
How Long Does it Take to Become a Doctor? 
Becoming a Doctor takes plenty of hard work and dedication, particularly as you will be spending a significant chunk of your life training to achieve your career goal. 'How long does it take to become a Doctor?' is one of the most commonly asked questions by aspiring doctors. 
As mentioned above, an Access to Higher Education Diploma can be completed in as little as 10 months, however, this is just the beginning of your journey. There are several other stages to complete before becoming a Doctor. 
Once you've obtained your Access to HE Diploma, you will need to embark on further study and training to become a Doctor. UK learners should familiarise themselves with the following timeframes: 
Undergraduate medical degree – 4 to 6 years depending on whether you opt for a foundation year or already hold a degree. However, the average duration for an MBBS is 5 years  
Foundation training – 2 years 
Core training – 2 years 
Speciality training – 8 years depending on your chosen speciality. For GPs, the specialist training period (including core training) is currently 3 years, but most other specialisms take 5 to 8 years to hone 
In all, it will take you a minimum of 10 years to become a fully qualified and practising Doctor, not including your Access to HE Diploma study period. Becoming a Doctor is more than a career choice, it will be your life's work and aim. Therefore, deciding to embark on a medical career is not a decision to be taken lightly.  
How Much Does it Cost to Become a Doctor? 
There are many financial factors to consider before embarking on a career as a Doctor. There's the tuition fee and living costs when you're studying at university and the cost of getting to and from work placements during your training.  
On average, the cost to train a doctor over their 5-year degree is £220,000 and this doesn't even include the years of training afterwards. It's estimated that the total cost to train a GP or a consultant is approximately £500,000. 
These figures are daunting, but you don't need to worry. The majority of this cost is covered by NHS bursaries, grants and loans, which you can apply for at different phases of your medical training (if eligible), to reduce the cost of becoming a Doctor. Don't forget too that you will be earning a wage once you graduate which will help to boost your finances.  
If you study an Access to Higher Education Diploma with learndirect, you can split the cost of your diploma by taking advantage of our flexible payment options.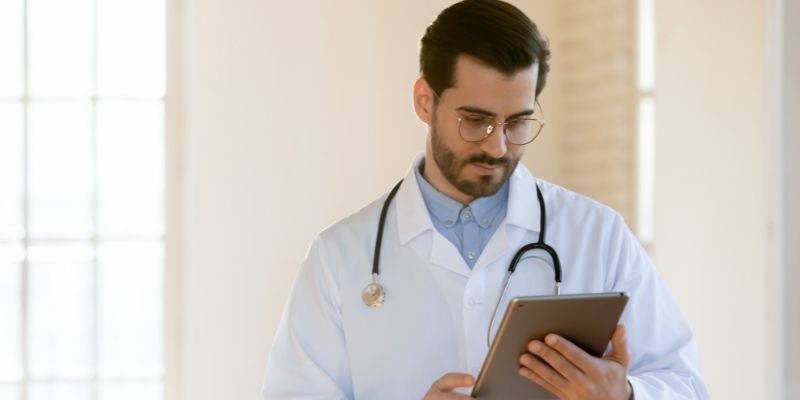 How Much Do Doctors Earn? 
The salary of a Doctor depends on experience, specialisms, workplace and contract type. The basic salary for junior doctors during their first foundation year training starts at between £28,808 and £33,345.  
Doctors undertaking specialist training have the potential to earn between £39,467 and £53,077, while the salary for speciality doctors ranges from £45,124 to £77,519. The basic salary for newly qualified consultants sits at around £84,559 and it can rise to £114,003 depending on the Doctor's length of service. 
Begin Your Journey of Becoming a Doctor 
If you dream of becoming a Doctor, but haven't got the right A Levels to enrol on an approved medical degree, study an Access to Higher Education Diploma with learndirect today and take significant steps towards your career goal. 
You can learn more about our training online courses by speaking to one of our Course Executives on 01202 006 464 or by reaching us online. Alternatively, click below to access our course offering.