Nurses provide a vital role to so many in a variety of professional capacities. They are required to give care, advice, emotional support and more. They feature in multiple healthcare settings, and they are the first point of call for many patients. 
These highly respected professionals are trained to carry out a range of essential tasks, from taking blood to supervising medication and post-surgery recovery. They can help people battle addiction, overcome mental health issues, and improve their standard of living. 
Choosing to become a Nurse is making a commitment to care for others, no matter what, and to live by a defining set of principles. Making a career change at any stage in your life is a big decision as it can often mean retraining, and becoming a Nurse is no exception. 
There are a few different routes you can take into nursing to suit your circumstances and background, with the ultimate academic goal being a nursing degree. Online study can also come into it, as long as you choose an accredited programme. 
If you want to become a Nurse but you're concerned you lack the required qualifications, are there still options for you? Below, we explain how you can become a Nurse, even if you failed Maths! We also outline the qualifications you need and how to become a Nurse Practitioner. UK residents will learn everything they need to know to transform their career! 
Minimum Requirements
To become a Nurse in the United Kingdom you need to have a degree. Entry requirements vary depending on the university or online nursing degree programme, but as a minimum you should have the following: 
Demonstrate evidence of literacy and numeracy 
Complete a health questionnaire and identify any special needs related to a disability 
Declare any past criminal convictions 
Allow the university to check whether you have a police record. You will not automatically be barred if you have a criminal conviction or caution. The university will consider the circumstances and will treat any information in the strictest of confidence 
Required qualifications in England, Northern Ireland and Wales include: 

Five GCSEs including English, Maths and a Science (usually Biology) 
Two A Levels or equivalent 

In Scotland, one of the following is required: 

3-5 SQA Highers plus 2 standard grades/National 5's – this should include English and Maths 
Completion of a relevant HNC/HND including English plus Maths at Standard Grade/National 5 Level 
Completion of an appropriate Scottish Wider Access Programme (SWAP). Access to Nursing and SWAP programmes have been specifically developed for adults who have no or few qualifications and have been out of education for some time 
So, if you don't have a GCSE in Maths that could pose a bit of a problem. However, some universities are willing to forego the GCSE requirement providing: 
There are only a handful though – the most common being University of Manchester, University of Birmingham, King's College London, University of Leeds, and University of Liverpool. 
Regardless, always check with your chosen place of study to find out what their entry requirements are, and whether there are any circumstances under which they would make exceptions.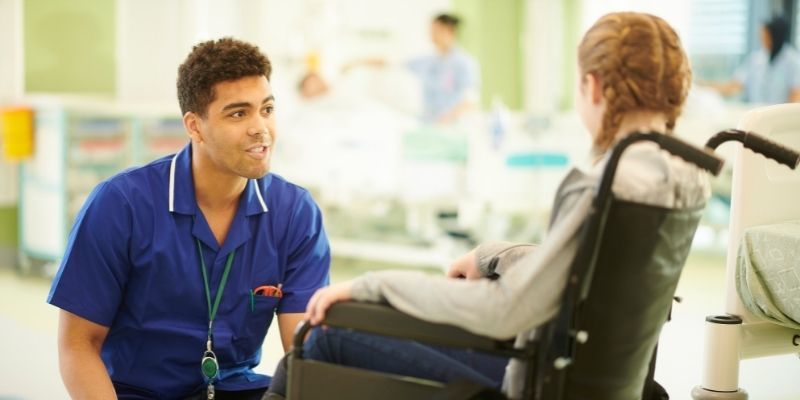 GCSE Maths 
If the university of your choice requires a Maths GCSE, then you have the option of gaining this qualification from the comfort of your own home! learndirect delivers a range of GCSE courses, including Maths, which covers everything you need to know for your exam. 
Thanks to distance learning you are no longer forced to study in a draughty old learning annexe, or a college with students half your age. You can study at your own pace, in an environment that suits you, be that the spare bedroom, the dining room or your favourite coffee shop. 
Studying a GCSE in this way is no different than in a school setting. You will still cover algebra, geometry, probability, and statistics etc. The difference is you will have a dedicated tutor to help you with your understanding, and you don't take the exam until you're ready, rather than when the school says you are. 
If you are wondering how to become a Nurse and eventually how to become a Nurse Practitioner, UK residents need to get the basics first, and that may include a GCSE in Maths. The misconception is that if you are unable to get the qualifications at school level, then your chance is gone. Distance learning has proven that that is not the case! 
Functional Skills Maths Level 2
Alternatively, you may want to consider studying for Level 2 Functional Skills, which are equivalent qualifications to GCSE Maths. In fact, by passing a Functional Skills Level 2 Maths course, you will achieve the equivalent of a GCSE grade C/4. 
This gives you another option when it comes to achieving a Level 2 qualification in Maths. Most universities will accept a Functional Skills Level 2 Maths qualification as part of their entry criteria, but we advise that you check with your chosen establishment beforehand.
Keep in mind that when you study a Functional Skills Maths Level 2 course, you will be focusing on topics that enhance your everyday Maths skills as opposed to the more academic elements of mathematics. While studying your Functional Skills Level 2 course, you will explore the following topics:
Using numbers
Understanding measure, shape, and space
Handling data
Getting the Qualifications You Need 
Regardless of whether you need a Maths GCSE, you will need A-Levels or equivalent to enrol on a nursing degree. Online learners should know that A Levels are widely recognised and accepted, and you can study for them with learndirect.  
If you were unable to obtain them the first time around, you have another chance thanks to our online learning solutions. Upon completion of the course and successful passing of the exam, you will receive a nationally recognised qualification, which can be used to enrol on a university nursing degree. Online learners, though, can go down another route should they choose to. 
Studying two or more A Levels is highly time consuming, so why not opt for an Access to Nursing Diploma instead? Below we have outlined the benefits and reasons to study for this qualification. 
Access to HE Diploma (Nursing) 
The Access to Higher Education Diploma (Nursing) prepares students for study as an undergraduate in nursing at university. The diploma is designed for anyone who wants to study a degree but lacks the relevant qualifications. 
They are recognised by over 140 universities across the UK. So, if you don't have a GCSE in Maths, the Access to HE Diplomas could get you in, providing you've met the other entry requirements/conditions also. 
The advantage of an Access to HE Diploma is the content centres specifically around your desired area of study. That means your learning is highly focused, so you'll have the knowledge to prepare you for university-level study.  
An Access to Nursing diploma will specify areas of nursing that will be beneficial for your future career, especially for those of you wondering how to become a Nurse Practitioner. UK learners will get their foundation of knowledge from this diploma, covering the following topics: 
Cell biology 
Human nutrition 
The digestive system 
Growth and development 
The human musculo-skeletal system 
Approaches to health 
Human disease and prevention 
The nervous system 
You will also study an introduction to psychology, social factors in healthcare, inequalities in health and illness, poverty and health and equality and diversity within healthcare. All of these topics will get you prepared for an online nursing degree and will help you learn how to become a Nurse Practitioner, UK learners. 
Alternative Routes into Nursing 
There are a couple of other ways to go into nursing if you don't have the right qualifications although the route can differ in terms of length and demand. 
Postgraduate Diploma 
If you have already completed a degree in a related subject, then you may be eligible for a postgraduate diploma. The related subject could be a BSc or a BA. The diploma takes 2 years but at the end of the course you will be a qualified, registered Nurse.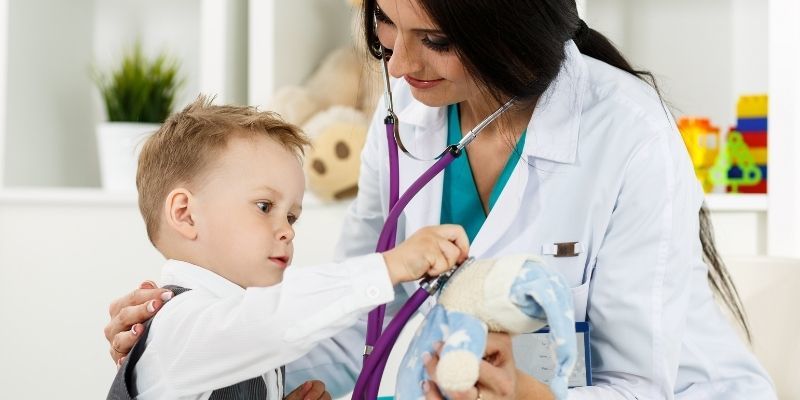 Returning to Practice 
Any nurses wishing to return to practice may do so, but they are required to take a refresher course. Depending on how long it has been since you last practised, it could take between 3 and 12 months. 
Nursing Degree Apprenticeships 
Nursing Degree Apprenticeships offer a flexible route into nursing. The course takes 4 years and requires you to complete a nursing degree while learning on the job. 
You will still need at least a Level 3 qualification as you will be studying at degree level. So, if you lack A Level qualifications (or equivalent), then an Access to Higher Education Diploma is your best bet. The only real challenge is finding someone willing to take you on as an apprentice. 
Becoming a Nurse Practitioner 
Once you have completed your approved nursing degree, online learners can become registered with the Nursing and Midwifery Council (NMC). At this stage, you will be able to apply for roles within the healthcare structure and specialise in your chosen area. If your ambitions are aiming towards the top levels of nursing, then perhaps you should consider becoming a Nurse Practitioner. 
If you are wondering how to become a Nurse Practitioner, UK learners, you first need to understand what is involved in the role. A Nurse Practitioner is the highest level of nursing, and they are trained to handle a variety of tasks, including: 
Providing primary and acute care 
Prescribing and administering medication 
Diagnosing health issues 
Performing check-ups 
Patient referrals to specialists 
Researching various health conditions 
Maintaining patient records 
It is important to know how to become a Nurse Practitioner, UK learners, so that you take the right steps towards the role. A professional in this position is more experienced than other nurses and holds a higher level of education. Once you have gained all necessary qualifications to become a registered Nurse, you can then look into how to become a Nurse Practitioner. UK nurses should consider the following steps: 
Experience – Once qualified, you should gain as much experience as possible, so learn from the experienced nurses around you and don't be afraid to ask questions! 
Enrol on a master's degree – You cannot become a Nurse Practitioner without a Master of Science in Nursing degree. This will likely take one to two years to complete. 
Get licensed – To become a qualified Nurse Practitioner, you will need to have a master's degree, complete a two-year post-registration clinical experience, and pass a national certification exam. 
Once you have achieved all the above steps, you will be qualified to apply for a relevant role. While this answers the question of how to become a Nurse Practitioner, UK learners may want to consider which strand they want to pursue. For example, you could work as one of the following: 
Acute Care Nurse Practitioner 
Family Nurse Practitioner 
Oncology Nurse Practitioner 
Gerontology Nurse Practitioner 
Paediatric Nurse Practitioner 
Neonatal Nurse Practitioner 
Cardiac Nurse Practitioner 
Psychiatric Nurse Practitioner 
Get Started! 
Whichever route you choose to go down, learndirect can support you in your studies. If you failed your Maths GCSE first time around, we offer you another opportunity to get the qualification. If you want to pursue a nursing career without a Maths qualification, then consider the options mentioned above. 
Whether you are interested in our Access to Nursing course or would like to know how to become a Nurse Practitioner, UK learners should get in touch with one of our Course Executives. You can reach us by calling 01202 006 464, contact us online, or click below. Begin your career transformation today!