online only!

extra 5% off
25% OFF
Save £109.20 - Don't miss out!
Middle Years Award in Positive Parenting
Get in touch with us and we'll call you back
Get in touch with us and we'll call you back
OUR PASS RATE
Professional Skills
(National Average 82.6%)

90.9
%
SALE

Savings End Midnight Tuesday 12th December

SALE

Savings End Midnight Tuesday 12th December
Middle Years Award in Positive Parenting
This is a bespoke course that has been designed to promote an understanding of 6-12year olds and their specific needs. It is unique in its endeavours as it captures all the elements of child development, psychology and attachments within the psychosocial development of middle childhood and offers candidates a greater understanding of the complex developments that are present at this stage, and how best to address them.

Middle Years is more than a group of learning and teaching strategies, rather, middle years education provides a framework that connects students needs i.e., resilience, relationships, increasing responsibility, academic vigour and relevance in learning in a strategic way that promotes continued student engagement, achievement, and growth. The term "middle years" describes children at the end of primary school (6yrs) and beginning of secondary school (12yrs). They experience heightened emotions, are progressively seeking greater independence, and develop their individual identities and value systems. Intellectually they have a growing capacity for reflective and abstract thinking and begin to make decisions about adult roles.

The main Aims and Objectives of the course are to show you have an understanding of the Middle Years through an increased self awareness resulting from the training. This will enable you to build on relationships with children and young people through your interpersonal skills enhancing communication and understanding by reflection of your personal development.

This is a fantastic course for anyone wishing to start a career in the health and social care industry around middle childhood, i.e. Foster Carers, Parenting Practitioners, Teaching Assistants, Teachers, Social Workers, Social Work Assistants, School Nurse, Child Care and Youth Workers, in fact anyone wishing to pursue a career working with this age group. It is also an exceptional tool for existing workers who require a greater understanding of middle childhood.

You will gain a greater knowledge and understanding of the role and development that is relevant to middle childhood, and the legislative context that child carers operate within.

Obtain an understanding of the personal and interpersonal skill needed at this level

Explore the transitions in education, independence, self confidence, and personal-responsibility of the middle-years age group.
Modules
Promote the Wellbeing Children/Young People

In this unit candidates will be able to:

A. Understand the concepts of developmental stages in the wellbeing of children
B. To understand the different stages of child development from 6 to 13 years
C. Explain how Parental Support contributes to the development of children and young people
D. Describing the support parents/carers need to make healthy choices for the child or young person

Promote and Understand Attachments

In this unit candidates will be able to:

A. Understand the different adult child attachment styles
B. Understand how attachments affect the development of children and young people

Promote and Understand Communication

A. Promote effective communication with individuals and key people
B. Use appropriate methods to promote effective communication on difficult and sensitive issues
C. Understand methods to support children and young people to communicate effectively

Promote health and Safety within the home

A. Be able to understand health, safety and security in the home and environment
B. Implement systems to manage risk to self, child /young person and others
C. Be able to take action to minimise risks arising from emergencies

Develop Child's Aspirations and Awareness

A. Understand the objectives of Raising Aspirations
B. Promote Children and young people through development and support

Understand and Promote the balance of Middle Years

A. Understand and Promote the Middle Years
B. Understand the effects of growing up in a changing society
C. Understand the impact of the primary to secondary transition

Promote confidence and self esteem

A. Understand children and young people's social and emotional characteristic
B. Understand how to promote confidence, self esteem and awareness
C. Understand the overall needs through social and environmental influences

Understand Children's Emotions and Stress

A. Be able to understand children and young people's emotions and stress; physical, mental and emotional
B. Be able to understand, interpret and evaluate children and young people's emotional development
C. Be able to understand and respond constructively to emotions

Managing Behaviour issues

A. Understand how to manage behaviour issues
B. Encourage children and young people to manage their behaviour
C. Help children and young people to understand behaviour and consequences

Evaluate and Develop your Practice

A. Demonstrate continuing development, and contribute to shared learning as a role model to others
Entry Requirements
There is no experience or previous qualifications required for enrolment on this course. It is available to all students, of all academic backgrounds.
All course fees, inclusive of all payment plans including our Premium Credit Limited option, must be settled before certification can be ordered.
*You will have access to the course for 24 months.
Endorsement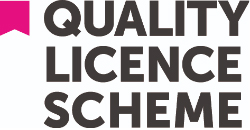 At the end of this course successful learners will be given the option to receive a Certificate of Achievement from the Quality Licence Scheme and a Learner Unit Summary (which lists the components the learner has completed as part of the course).
Level 3 Middle Years Award in Positive Parenting Certificate of Achievement
The course has been endorsed under the Quality Licence Scheme. This means that learndirect has undergone an external quality check to ensure that the organisation and the courses it offers, meet defined quality criteria. The completion of this course alone does not lead to a regulated qualification* but may be used as evidence of knowledge and skills gained. The Learner Unit Summary may be used as evidence towards Recognition of Prior Learning if you wish to progress your studies in this subject. To this end the learning outcomes of the course have been benchmarked at Level 3 against level descriptors published by Ofqual, to indicate the depth of study and level of demand/complexity involved in successful completion by the learner.
The course itself has been designed learndirect to meet specific learners' and/or employers' requirements which cannot be satisfied through current regulated qualifications. The Quality Licence Scheme endorsement involves robust and rigorous quality audits by external auditors to ensure quality is continually met. A review of courses is carried out as part of the endorsement process.
The Quality Licence Scheme is part of the Skills and Education Group, a charitable organisation that unites education and skills-orientated organisations that share similar values and objectives. With more than 100 years of collective experience, the Skills and Education Group's strategic partnerships create opportunities to inform, influence and represent the wider education and skills sector.
The Skills and Education Group also includes two nationally recognised awarding organisations; Skills and Education Group Awards and Skills and Education Group Access. Through our awarding organisations we have developed a reputation for providing high-quality qualifications and assessments for the education and skills sector. We are committed to helping employers, organisations and learners cultivate the relevant skills for learning, skills for employment, and skills for life.
Our knowledge and experience of working within the awarding sector enables us to work with training providers, through the Quality Licence Scheme, to help them develop high-quality courses and/or training programmes for the non-regulated market.
*Regulated qualification refers to those qualifications that are regulated by Ofqual / CCEA / Qualification Wales
To view a sample of the Certificate of Achievement, please click here.
OUR PASS RATE
Professional Skills

90.9
%
(National Average 82.6%)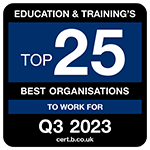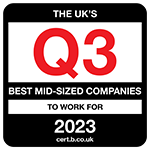 Sign up to our Newsletter