Beauty Salon Management Professional
Beauty Salon Management Professional
About the Beauty Salon Management Professional Diploma
Have you always wanted to own a beauty salon, but don't know how to get started? Our online qualification has been designed with the support of industry experts and salon managers. Develop the essential skills you need to start your own business and run a successful company day-to-day.
The average person in the UK spends over £4500 a year on taking care of their appearance. With the popularity of beauty and spa days increasing, it's a booming sector. A beauty salon management course will set you apart from the competition and give you the tools to start building a customer base.
This distance learning programme explores topics including how to market beauty services, understand financial terms and lead a team. You'll develop the confidence to put together a business plan and grow your company.
Benefit from the advice of an experienced personal tutor throughout your studies. You'll receive guidance on how to apply theory to your own company and detailed feedback on your assignments.
Who should study this course?
Are you interested in starting a beauty salon business, or do you already run a company, but want to increase your profits? Taking a beauty course through home study is the convenient way to train. No experience is needed to begin this syllabus.
What happens after the course?
This qualification is the ideal next step for anyone who has a range of skills in beauty, but wants to boost their earning potential. The Beauty Salon Management Professional Diploma will develop your ability to use resources and form customer relationships.
Once you have finished your beauty course, you can become a beauty salon manager in an existing business, or rent your own premises. You may decide to carry out treatments yourself, or take on a team of staff.
Further study will give you the opportunity to widen the variety of treatments that you offer. You could even go on to work towards a degree in beauty therapy management and apply for high-level roles in the industry.
For more information about this course, give us a call on this number: 01202 006 464
Modules
Unit 1 – Effective Salon Management, business ideas and health & safety
Topics
1.1 Understanding the Salon Management Role and Responsibilities
1.2 Starting your own Salon or working as an employee in a Salon
1.3 Health and Safety procedures and Insurance
Learning Outcomes
Understand the main duties and responsibilities of an effective Salon Manager
Be able to identify the key competences for a Salon Managers role
Identify key steps for starting out a business and check out likely success (sfedi BD1)
Gain information for resources to help setting up as self-employed
Understand the importance of health and safety in beauty salons, potential risks and procedures to comply with legislation (adapt HABIA/ G22 Monitor procedures to safely control work operations)
Unit 2 – Customer Focus and Marketing (stage 1)
Topics
1.1 Understand what marketing is and key principles of marketing
1.2 Market information and customer segmentation
1.3 Marketing strategy and introduction to the marketing mix
Learning Outcomes:
Define marketing and the difference between a marketing led company and a product led company
Understand the basic principles of market segmentation and how it helps your marketing effectiveness
Be able to find out about the market and your competitors
Review different marketing strategy options to help develop Salon marketing plans
List the elements that make up a Salon Marketing mix
Unit 3 – Customer Marketing and Managing the business (Stage 2)
Topics
1.1 Managing the marketing mix in a Service Business and Salon
1.2 Introduction to managing key marketing decisions on: product, branding, people as part of the service product, pricing, location, processes and marketing communication tools
Learning outcomes:
Be able to understand the principles of product related decisions such as branding, retailing and product/treatment choices to fit your target customers
Be aware that people are part of the salon product and understand how to measure customer service in a salon business
Gain knowledge on to setting prices to balance competitive pricing and making a profit margin
Assess the options for location and premises for a salon business
Be aware of the process needs of a salon business: routine duties, records and procedures
Be able to assess a range of marketing communication tools to help promote the salon
Unit 4 – Finance for Salon Management – Planning and Use of Resources
Topics:
1.1 Reason for Business planning and having a business mission
1.2 Business plan format and contents
1.3 Understanding key financial terms
1.4 Awareness of managing Salon resources as part of financial management
Learning outcomes:
Understand how to write a business plan and why it is important to plan
Understand the key financial terms: income, expenditure, fixed costs and variable costs and why it is important to control them
Identify the resources that you control in a Salon and how they affect financial performance (nos GU11)
Unit 5 – Finance for Salon Management: Financial control and cash flow
Topics:
1.1 Day to day financial controls and record keeping for a salon business
1.2 Budgets and VAT
1.3 Simple budget and cash flow management (sfedi MN4) applied to salon business
Learning outcomes:
Understand what is involved in managing day to day finances and cash in a salon
Understand records you need to keep, budgets and VAT
Understand the principle of simple cash flow analysis
Be able a complete a cash flow for a salon given input assumptions such as sales
Understand why it is important to do a cash flow and manage your budgets
Be aware of where to get professional resources to help
Unit 6 – People Management
Topics:
1.1 Recruitment and selection
1.2 Rights and obligations at work
1.3 Paying wages and contacts
1.4 Appraisals and measuring performance
Learning outcomes:
Carry out recruitment and selection of employees using good practice knowledge
Gain update on rights and obligations at work
Understand the basics knowledge on how to pay wages
Understand how to measuring performance and develop salon employees
Access resources and support to help
Unit 7 – People Management
Topics
1.1 Motivation theory and practice in the workplace
1.2 Motivation tools for performance improvement
1.3 Effective team working
Learning outcomes:
Understand the importance and role of motivation in theory and in the work place to achieve good performance
Gain motivation tools to help managers motivate their staff and teams
Understand the principles of how to get teams to work together effectively and why it is especially important for a salon business
Unit 8 – Customer Focus and Marketing & Customer Management - Winning and Keeping Customers
Topics
1.1 Understanding the importance of managing customers for your Salon
1.2 Customer Relationship Management (CRM)
1.3 Relationship selling in the Salon
Learning outcomes:
Understand the evidence that justifies customer management focus
Relate segmentation and customer service topics leant from Marketing units 2 and 3 to help develop plans to help effective customer management
Define CRM , understand the drivers behind CRM, understand and apply selected key CRM principles :
- Customer relationship ladder
- Customer lifetime value
- Customer data
Define relationship selling and the key steps in a relationship selling transaction
Unit 9 – Salon Retail Management and Customer Satisfaction
Topics
1.1 UK Retail and Health and Beauty Market
1.2 Retail Marketing Mix
1.3 Visual Merchandising and Display
1.4 Measuring customer satisfaction
Learning outcomes:
Understand the key trends in the UK retail and beauty retail market
Identify the retail marketing mix and how it applies to a Salon
Gain insights into how visual merchandising works
Understand the basics of customer satisfaction measurement tools
Unit 10 – Putting it all together – Business Plan and final assessment
Topics
1.1 Salon Management and Planning
1.2 Final assessment – planning in practice
1.3 A final word: Tomorrows Managers
Learning outcomes:
Understand why a Salon Manager needs to create or contribute to a Business Plan
Link learning across the course Units in a business plan context
Utilise a template for a 'best practice' salon business plan
Complete the course final assignment
Useful resources and reading list – at the end of each unit
List and links to Industry associations
Free resources to help your salon business
Reading list – industry and introduction to management books
Requirements
There is no experience or previous qualifications required for enrolment on this course. It is available to all students, of all academic backgrounds.
Endorsement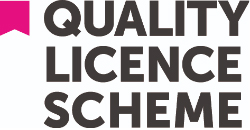 At the end of this course successful learners will be given the option to receive a Certificate of Achievement from the Quality Licence Scheme and a Learner Unit Summary (which lists the components the learner has completed as part of the course).
Level 4 Beauty Salon Management Professional Certificate of Achievement
The course has been endorsed under the Quality Licence Scheme. This means that learndirect has undergone an external quality check to ensure that the organisation and the courses it offers, meet defined quality criteria. The completion of this course alone does not lead to a regulated qualification* but may be used as evidence of knowledge and skills gained. The Learner Unit Summary may be used as evidence towards Recognition of Prior Learning if you wish to progress your studies in this subject. To this end the learning outcomes of the course have been benchmarked at Level 4 against level descriptors published by Ofqual, to indicate the depth of study and level of demand/complexity involved in successful completion by the learner.
The course itself has been designed learndirect to meet specific learners' and/or employers' requirements which cannot be satisfied through current regulated qualifications. The Quality Licence Scheme endorsement involves robust and rigorous quality audits by external auditors to ensure quality is continually met. A review of courses is carried out as part of the endorsement process.
The Quality Licence Scheme is part of the Skills and Education Group, a charitable organisation that unites education and skills-orientated organisations that share similar values and objectives. With more than 100 years of collective experience, the Skills and Education Group's strategic partnerships create opportunities to inform, influence and represent the wider education and skills sector.
The Skills and Education Group also includes two nationally recognised awarding organisations; Skills and Education Group Awards and Skills and Education Group Access. Through our awarding organisations we have developed a reputation for providing high-quality qualifications and assessments for the education and skills sector. We are committed to helping employers, organisations and learners cultivate the relevant skills for learning, skills for employment, and skills for life.
Our knowledge and experience of working within the awarding sector enables us to work with training providers, through the Quality Licence Scheme, to help them develop high-quality courses and/or training programmes for the non-regulated market.
*Regulated qualification refers to those qualifications that are regulated by Ofqual / CCEA / Qualification Wales
To view a sample of the Certificate of Achievement, please click here.
Sign up to our Newsletter