Are you thinking about taking a Functional Skills exam without any prior study? You may think that it will be a piece of cake. After all, Functional Skills are all about common sense, right? Wrong. Whilst Functional Skills are based on real-life capabilities and problem-solving, they're recognised GCSE equivalent qualifications that require you to meet a certain level of maths & English proficiency to pass the exam. 
Functional Skills – especially at Level 2 – need your time and dedicated study if you want to be awarded your qualification. But sometimes learning alone isn't enough to secure your success; getting the right support is crucial too. This is evident in that Functional Skills students who receive specialist tutor support are 31% more likely to pass their exams the first time around than those who learnt alone. 
This is because having an experienced tutor to guide you through your learning journey allows you to track your progress and measure how well you're doing more accurately, as well as take the guesswork out of the Functional Skills exams - tutors dedicate their time to ensuring that you're 100% prepared for whatever the assessment throws your way. 
That's why, at learndirect, we not only offer online Functional Skills courses that equip you with all the right knowledge and skills, but that give you the specialised support you need to succeed too. When you study Functional Skills with us, you can benefit from tutorials with an expert tutor and the chance to put your knowledge into practice with a mock exam.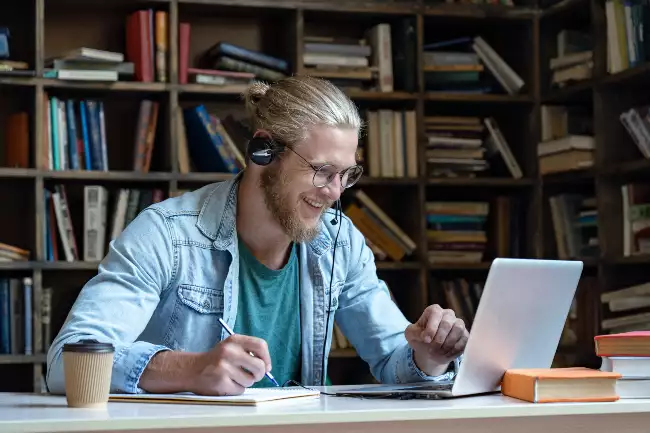 Tutorials last an hour and are an opportunity to spend some time with one of our specialist tutors on a one-to-one basis. Using our virtual classroom technology, you can go through any part of the course that you're struggling on with a Functional Skills expert and receive personalised guidance and support, as well as talk through the best ways of addressing certain questions or problems.
Once you have completed your course material, completing a mock exam is an ideal way of seeing how well you have grasped the material. The assessment will be marked by one of our qualified tutors, who will give you valuable and detailed feedback and assess whether you're ready to sit the real exam or not. If you're not quite exam-ready, they will provide you with details on any areas you need to revise before you take the official exam so that you can pass with flying colours.
Hundreds of Functional Skills students have already benefited from the extra support they have received. Here's a look at what just some of them are saying about their experience: 
The support I have received both [on] the course and technically has been outstanding. - Abigail Lawley via Trustpilot
Very friendly team, polite and competent. All the time ready to help. Thank you. - Yordanka Radeva via Trustpilot
[With learndirect] I have the opportunity of learning and solving mathematical questions in the simplest form, which helps me to comprehend [the material much] faster' - Dorrin Lucky Aigbe via Trustpilot