The beauty industry is extensive, with numerous services falling under this umbrella. One of the most popular is nail services, and if you have a passion for nail art and would like to learn how to become part of this thriving sector, there are steps you can take to become a professional Nail Technician. 
While it is not mandatory to have formal qualifications to secure Nail Technician jobs, you will require training at the very least. Plus, studying a Nail Technician course will put you in a favourable position with potential employers.  
If you have the passion and desire to break into this industry, then continue reading! We explore the role of a Nail Technician, how to become a qualified Nail Technician, UK learners, and how you can start your own nail tech business. 
What is a Nail Technician? 
A Nail Technician is a professional within the beauty industry, who is responsible for grooming and tending to nails, using a variety of methods and techniques. Many people take great pride in looking after their nails, with most requesting services on a regular basis to maintain their quality. 
Nail Technician jobs can be specialised, with some professional Nail Techs training in certain techniques, such as gel or acrylic nails. Some Nail Technicians also focus predominantly on manicures, which are treatments on the hands only, while other Nail Techs are known to train in pedicures, focused solely on the feet. 
There are a range of basic treatments, such as styling and shaping a client's nails, as well as applying gel nails or acrylics. However, many Nail Technician jobs involve more specialist treatments, including unique and eye-catching nail art. You can get a better idea of the responsibilities involved in Nail Technician jobs by scrolling through the list of services below: 
Shaping fingernails and toenails 
Removing polish that has been applied previously 
Painting and colouring nails 
Providing treatment and nail care advice 
If the Nail Technician has undergone the relevant training, they may be required to: 
Design and apply gel or acrylic nails  
Create bespoke designs for clients 
Apply jewels 
Provide hand and foot massages 
There are multiple settings in which a Nail Technician can work, including dedicated nail salons, spas, and hair salons. Some trained nail professionals set themselves up as their own business, operating a mobile nail technician service, which may involve travelling to clients' homes.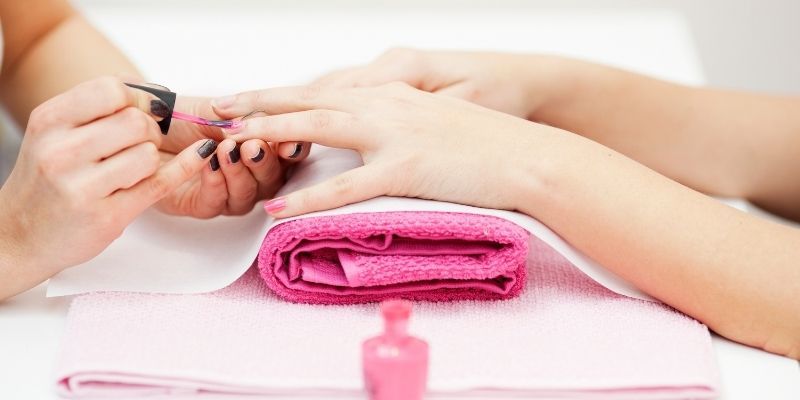 How to Become a Nail Technician, UK Learners 
As mentioned, you will not be required to have a specific qualification to become a Nail Technician, but it will always boost your position in the job market. Employers are more likely to hire you if you have qualifications backing up your skills.  
A level of training is necessary, and you will be required to obtain professional insurance if you want to perform nail services legally. Work experience is also valuable, but if you want to gain a solid understanding of the profession, then enrol on an online Nail Technician course with learndirect. 
As the UK's leading online learning provider, we offer a wide range of beauty courses, including ones that specialise in nails. One of our most popular is the Nail Technician – Professional course. It will get you ready for the industry, and even better, you don't require any previous experience to enrol on this nail technician college course, which covers a wide range of job-specific topics, including: 
Anatomy and Physiology of the Skin 
Anatomy of the Nail 
Manicure 
Pedicure 
The Process of Nail Growth 
Client Consultation and Communication 
You will also explore the following modules in our Nail Technician course: 
Tip Types and Tip Customisation 
The Gel System 
The Fibre System & Maintenance 
Nail Enhancement Removal 
Health and Hygiene 
Marketing and Starting your own Salon/Nail Business 
To achieve your Level 3 Nail Technician course certificate, you will need to complete a series of question papers. You will be issued one after each lesson, with the questions based around the modules you have covered. Each paper will be marked by an experienced Nail Technician tutor, who will provide feedback, helping you progress through your online Nail Technician course. 
Once you have achieved the qualification from your Nail Technician course, you can pursue further studies, perhaps enrolling on a practical course, or you can begin working professionally as a Nail Technician. As mentioned, you will need to have insurance before you can work in this role. 
Given that our online Nail Technician course touches on the requirements of starting your own nail business or salon, you could step out on your own and work as a mobile Nail Technician. Whatever avenue you choose to take, studying dedicated courses will certainly help you get there. 
Along with our Nail Technician – Professional course, we also offer the following online nail courses: 
You can browse through our range of courses by accessing our Nail Faculty. 
What is a Nail Technician Salary? 
The salary differs depending on the Nail Technician jobs and their settings. For example, someone who has set up their own mobile Nail Technician business may earn a different annual figure compared to a professional Nail Tech that works for a private salon or nail bar. 
Generally, though, the average starting salary of a Nail Technician is £15,500 in the UK, but with experience, it should rise to around £25,000. In terms of work time, the average weekly hours are between 35 and 39, while it is possible that you may be required to work some weekends and evenings, so it is important to be flexible.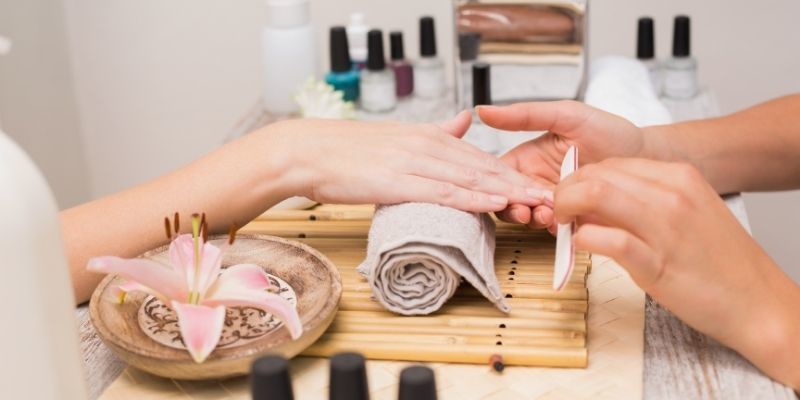 How to Start a Mobile Nail Technician Business 
If it is your ambition to be your own boss and become a mobile Nail Technician, or set up your own nail salon, then there are steps that you will need to take. Once you have achieved qualifications from regulated Nail Technician courses, UK professionals will be able to embark on their own venture. Below, we have outlined the process of setting up your own nail business. 
Register Your Business 
If you are making a profit from providing nail services as an individual, then you need to register as self-employed and make sure that you pay tax on your Nail Technician earnings. Remember, you must register if you are making more than £1,000 from your Nail Tech services. To be responsible for your finances, you will need: 
Your national insurance number 
A record of the incomings and outgoings of your business over the financial year 
To fill out self-assessed tax returns each year 
To pay income tax on Nail Technician profits over £1,000 
Get Insured 
To legally operate your nail business, you must obtain Nail Technician insurance that will cover you. There are various types that you should consider, including: 
Public liability insurance 
Property insurance (not essential for mobile nail technicians) 
Employers' liability insurance 
Personal sickness/accident insurance 
Create a Business Plan 
If you want to build a nail business, then planning is an essential component. Without adequate planning, your Nail Technician business will no doubt struggle. The main components of the plan are to highlight what your business is, how it is going to make a profit, and what you need to do to reach this financial goal.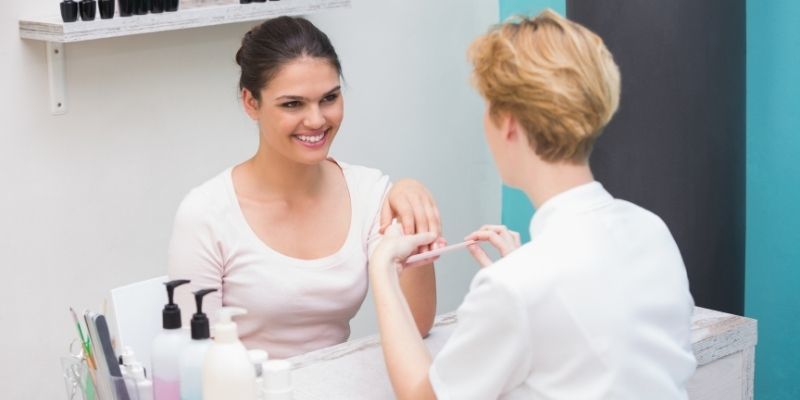 Focus on Marketing 
Many people wonder how to build clientele as a Nail Technician, a lot of which relies on spreading the word about your nail services to the local area. To bring customers into your salon or hire your mobile Nail Technician services, you need to market your business. This is an essential part of your Nail Tech operations, and marketing will be covered through our online Nail Technician courses, so you can educate yourself on the principles of marketing before setting up your own business. 
The first thing you need to do is create a marketing plan, setting out the various methods you can use to get the word of your Nail Technician business out there. From identifying your target audience to using SEO and social media to promote your nail services, having a plan will help put your Nail Tech business on the map! 
Take Steps Towards An Exciting Career! 
If you want to become a professional Nail Technician, either working in a salon or as a mobile Nail Technician, then studying the art of the role is incredibly important. Get clued up by studying one of our regulated online Nail Technician courses. UK residents can get the information they need by giving one of our Course Executives a call on 01202 006 464. You can also reach out by contacting us online or explore our course offerings by clicking below.