Becoming a Dental Nurse is a great way to earn a living. Although you'll focus on oral health, your workday will be ever-changing as each dental patient requires individual treatments and procedures.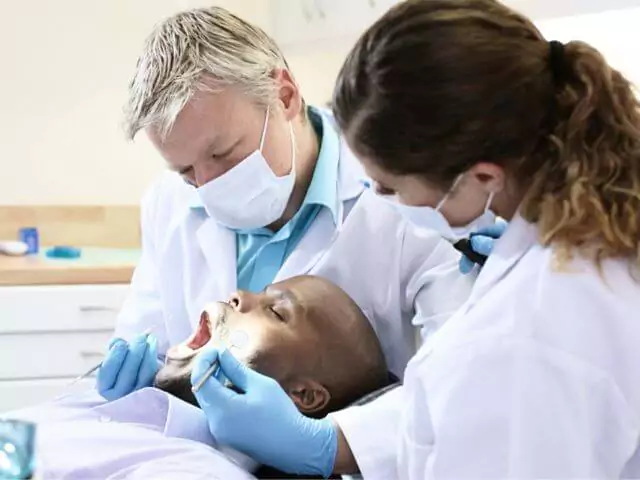 You'll be providing excellent service alongside a team of other dental care professionals. Not only will you be required to assist with medical procedures, but as a Dental Nurse, you'll also be there to support the patient.
As dental practices can be a source of anxiety, many dental nurses need to provide emotional support. For this reason, you'll need to have a caring disposition and be able to work well under pressure.
As a Dental Nurse, you will be able to find work in private or public healthcare across the UK. This could be in a dental practice, hospital setting or even as a Community Dental Nurse. Though, your Dental Nurse training doesn't have to end there. Once qualified, you'll have the opportunity to develop your career in other roles in dentistry.
With further training, you can find yourself working as a Dental Practice Manager, Dental Hygienist, Orthodontic Therapist or in dental photography. So, there's plenty of room for growth if you have the ambition and drive.
Read on to learn more about what Dental Nurses do, how to become a Dental Nurse and a more in-depth breakdown of Dental Nurse responsibilities in different roles.
Getting Qualified
As a career that is well paid in comparison to other caring professions, Dental Nursing provides ample progression opportunities, and the ability to constantly build on your skills, making it a popular career move. This is why you will find many people searching for an answer to the question, How can I become a Dental Nurse?
The answer to this is relatively simple, to become a qualified Dental Nurse, you'll need to enrol on a GDC-approved Dental Nurse course.
GDC stands for General Dental Council. They are an independent organisation in the UK that regulate dentistry courses to ensure quality content is provided.
GDC approved Dental Nurse courses are offered through:
Local Colleges
Online Learning Providers
Dental Nurse Apprenticeship Schemes (restrictions will apply)
Entry requirements will vary depending on your provider and the style of Dental Nurse course you choose.
Colleges and online learning providers will offer dental nursing diplomas. They will most likely ask for GCSEs in English Language, Maths and preferably a Science too at C/4 or above.
The Nursing Examination Board of Dental Nurses (NEBDN) is an awarding body that provides a GDC-recognised qualification.
Though a NEBDN-certified qualification isn't necessary, it follows the GDC Scope of Practice. This means that you can be confident in knowing the Dental Nurse training you'll receive will be to a high standard.
Roles and Responsibilities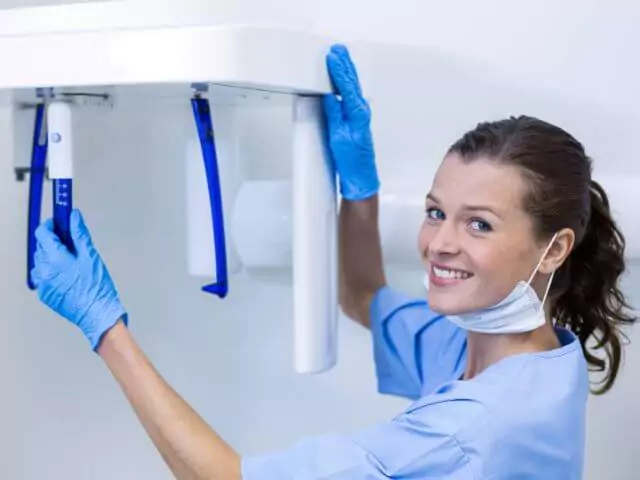 Dental nursing appeals to lots of people because of the varied nature of the role. You will see a variety of different patients from different backgrounds and no two days will be exactly alike.
A 'normal' workday for a Dental Nurse will consist of the following core responsibilities:
Preparing fillings and other materials
Providing support and reassurance to the patient
Sterilising instruments
Processing and filing X-rays
Decontamination
Maintaining and filing patient records
Advising patients on oral hygiene
Carrying out stock control
Outside of these, your Dental Nurse job description can vary depending on your setting of work.
Dental Clinic
Dental clinics operate during traditional working hours and are often a little more routine. As a Dental Nurse in a dental clinic, a key focus of yours will be assisting the Dentist calmly and efficiently with procedures and treatments.
Your Dental Nurse role will also extend to having a part in the upkeep and maintenance of the clinic. This consists of making sure hygiene guidelines are met and files are organised.
With further training, you could find yourself in an Orthodontic Dental Nurse job. Orthodontics is a specialised area in dentistry that mainly focuses on correcting bites and straightening teeth.
Orthodontic dental nursing is available for qualified dental nurses who wish to train further and develop their skillset.
Hospital
Working alongside a myriad of other professionals in oral care. This can range from postgraduate dental students to consultants in charge of whole departments. So, your days will be quite varied in terms of what is required of you.
Although general check-ups can still be part of your day-to-day, in Dental Nurse hospital jobs, you can also be involved in extractions or surgical procedures.
Dental Nurses working in a hospital would also benefit from studying further and achieving certificates in sedation and radiography.
Sedation requires further training due to the importance of understanding the side effects. By completing this advanced dental nursing training, you'll learn how to identify areas of concern and respond accordingly if need be.
Gaining a certificate in radiography allows dental nurses to work as IR(ME)R operators. If you complete a Dental Nurse radiography course, you'll be qualified to take intra-oral and extra-oral radiographs of patients. under prescription.
Community Dental Nurse
Community Dental Nurses provide care to members of the community who are unable to go to a dental clinic. As such, the Community Dental Nurse job description typically entails travelling locally to patients and making sure their oral health isn't compromised.
As you'll be working with vulnerable members of the community it can be helpful for you to receive extra training in these areas.
A certificate in special care dental nursing will give you the knowledge to carry out oral care to those in need. Through your studies, you'll learn about conditions of impairment such as Down's syndrome, autism, and cerebral palsy.
As well as acquired disabilities in adults and medically compromised conditions such as:
Multiple Sclerosis
Rheumatoid Arthritis
Cardiovascular Disease
Bleeding Disorders
Lastly, you will also learn about mental health disorders such as schizophrenia. By covering a broad range of special care requirements, you'll understand the importance of effective teamwork in oral care, as well as be able to follow proper protocol and guidelines.
There are also courses in safeguarding for Dental Nurses which can help you further protect more vulnerable members of society.
Study a Dental Nurse Course Online
learndirect is the UK's leading online learning provider, with a host of Dental Nurse courses available to start, that will help you advance your career and get the best Dental Nurse salary possible.
Online learning is a flexible alternative to attending classes so you can learn without impacting your current schedule. With our online Dental Nurse courses, there's also an expert tutor to guide you through your studies and flexible payment options to help you spread the cost.
You can learn more about how to prepare for your distance learning journey in our blog. Alternatively, if you're ready to become a Dental Nurse, you can view our NEBDN-certified and GDC-approved National Diploma in Dental Nursing.
Should you need more information before enrolling, call our Course Executives now on 01202 006 464 or reach out to us online.